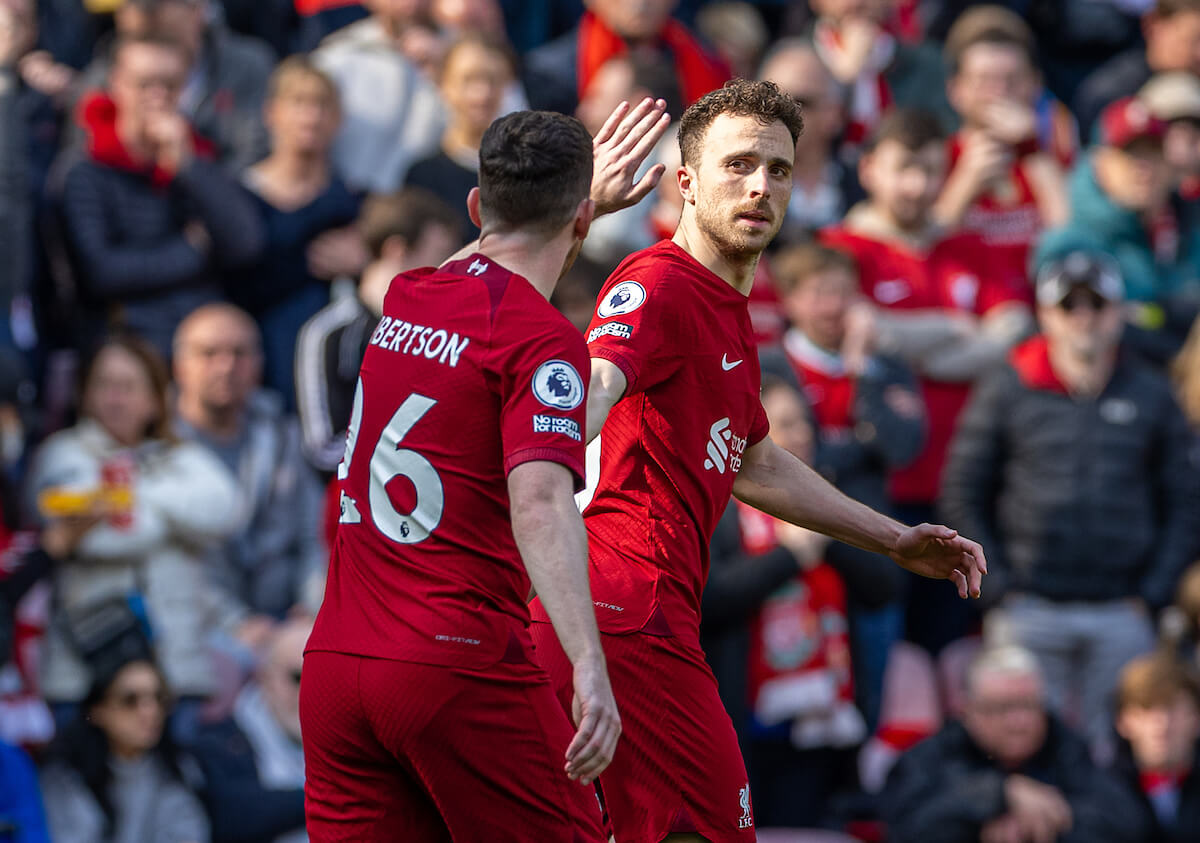 Liverpool 3 Nottingham Forest 2 | Man of the Match
 Diogo Jota
I was writing just a few days ago about how this could be the last season of our once-prolific Portuguese forward. With some truly horrendous displays and having shown little ability to play the game, it was not until the game against Leeds that we were reminded just how vital he can be.
Today, Diogo was able to get the goals that won the game, with a clinical and decisive show of attacking intent. His movement and purposeful running had been painful to watch until last Monday, yet he looks rejuvenated after a successful week up top.
Diogo Jota vs Nott Forest

• 24/26 (92%) passes
• 41 touches
• 4 shots (=1st)
• 1/1 tackle
• 2 clearances

No goals for a year and then 4 come in a week! Great to see 👌 pic.twitter.com/f3dw7EZru4

— LFC Stats (@LFCData) April 22, 2023
As the stats point out, Diogo had four shots which were the joint-most in the game and converted with 50% of those to grab two goals on the day.
The first goal was a poacher's effort, with a nodded effort past the helpless keeper. This came after he probably should have scored from a lofted ball into the box, only to head just wide of the post. The second goal was pure instinct and showed why he is so important to this team. His goals and ability to dig us out of holes can be infectious, with such a knack for scoring now returned to his locker. Was unlucky not to have scored a third, with Navas able to tip a good effort over the bar.
Diogo can do it all. pic.twitter.com/8gdkLq9LQv

— Liverpool FC (@LFC) April 22, 2023
It wasn't all Diogo Jota though, Trent deserves a mention after a dangerous display of control and chance creation, but with four goals in two games Diogo Jota deserves all the plaudits that he's receiving at the moment.