 The Salah Free-Kick Conundrum - Stats Analysis
The rarer something is, the more valuable it becomes. It's simple supply and demand, as any student of GSCE Economics – I got an A, #humblebrag – can tell you. A copy of Northern Soul belter 'Do I Love You (Indeed I Do)' by Frank Wilson once sold for over £100,000 as there are only two originals known to be in existence.
Nothing that uncommon happened at Anfield last Saturday when Liverpool beat Nottingham Forest 3-2. There were some relatively unusual occurrences though.
The Reds scored three set play goals, which (according to LFCTV's Review Show) is only the sixth time they've done that in a Premier League match. Liverpool's 9-0 victory over Bournemouth is another example, as was the 3-0 victory against Crystal Palace last season. Yet again, Jürgen Klopp's side are doing something which their predecessors in Red rarely did (and if you know the other three examples then tweet me, I'd love to know).
Something else atypical took place in L4 last weekend. Mohamed Salah won not one but two free-kicks. Count 'em up, boys, that's a good haul we got here.
Despite being the top Premier League goal scorer since joining Liverpool, Salah suffers mystifyingly few fouls in the eyes of the PGMOL lads. His average could barely be more perfect; 194.9 per 90s completed, 195 fouls suffered.
It shouldn't be too great a surprise that he earned two free-kicks against Forest as the man in charge was Michael Oliver. As the table of Salah's top 10 most frequent Premier League referees shows, the Northumberland native is one of those who treats him most kindly.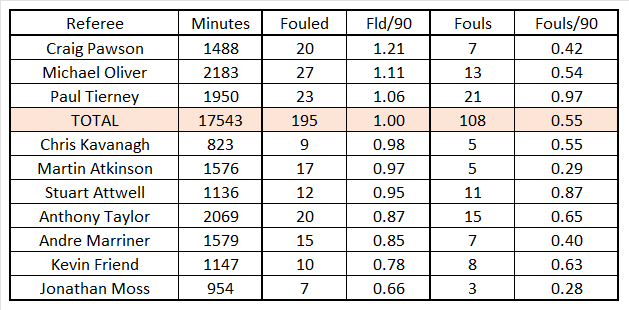 The figures between different officials don't fluctuate too wildly, and the fact Oliver and Paul Tierney are two of the top three for minutes means they have a greater influence on the total number than many of the others. But notice how only three men are above the overall average; six of the 11 other referees who have officiated Salah and aren't in the table have given him more than one free-kick per game (albeit in tiny sample sizes). Are the regular refs tired of what they perceive to be Salah's antics?
Whatever the reason, Liverpool's number 11 does not earn the free-kicks merited by the level of close attention he receives. You may have heard this trivia nugget before but it bears repeating: across Salah's first four seasons with the Reds, he earned 136 free-kicks in the league, five fewer than Jack Grealish tallied in 2019/20 alone.
As extreme an example as that stat may provide, it isn't particularly unusual. There are very few attackers who win free-kicks less often than Salah. The following table shows the top 25 players for final third touches over the last six Premier League campaigns, though anyone who doesn't have 'forward' listed within their position on FBRef (the source of the data) for at least four seasons has been omitted.
You will see that the men listed are certainly not all Salah clones, but it gives a flavour of players with broadly similar roles. They are sorted by how many final third touches they have for each free-kick they win.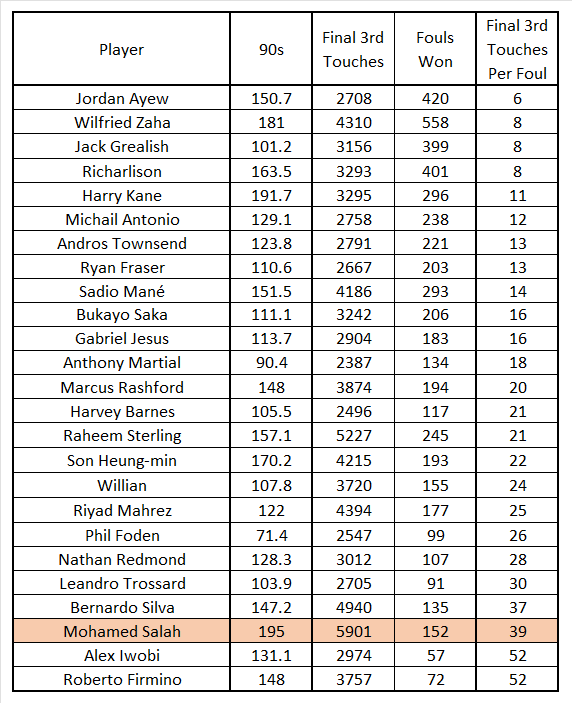 This is not an exact science. Not all fouls will be suffered in the final third and the data is not available to check, though it's fair to assume the majority of free-kicks won by these players will have been earned in opposition defensive regions.
While it stings Kopites to see their hero not get rewarded by referees as often as he should, what makes it harder to accept is that Liverpool are so good from set plays. Their tally of 93 goals from dead-ball situations since Salah joined is the most in the division, ahead of Manchester City (with 87) and Arsenal (74). How many might they have scored if the Egyptian won even an average number of free-kicks?
Thanks to the data on FBRef, we can take an estimate. They have a metric called shot/goal-creating actions, which is essentially the same as chances created and assists except that they factor in shots, take-ons, defensive actions, and being fouled as well as passes. A goal attempt following a foul is converted approximately 13 percent of the time, yet for Salah the rate is far, far higher; he has the second-best figure among the 14 players with at least 40 such actions across the last six seasons.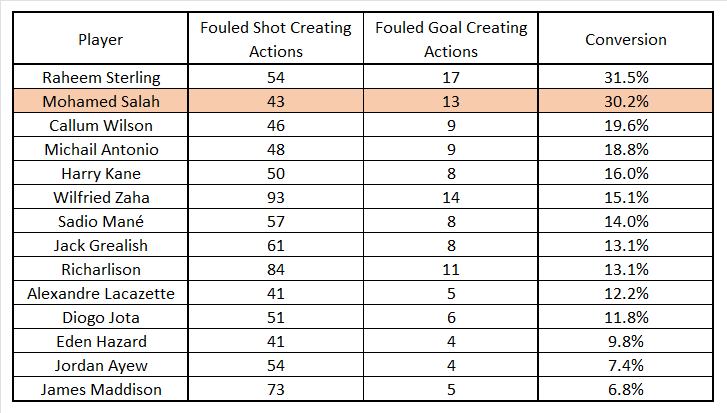 Random chance will play a part here, thanks to the relatively small samples. Yet it seems that chances following free-kicks won by Salah tend to be high in value, no doubt as they are often in very dangerous areas.
The 30-year-old was fouled ahead of his winning goal against Forest to prove the point. It's just a shame referees don't find in his favour as often as they do for similarly talented players, as it could make a huge difference to Liverpool's potency.
Statistics correct following the Premier League matches played on 25 April 2023