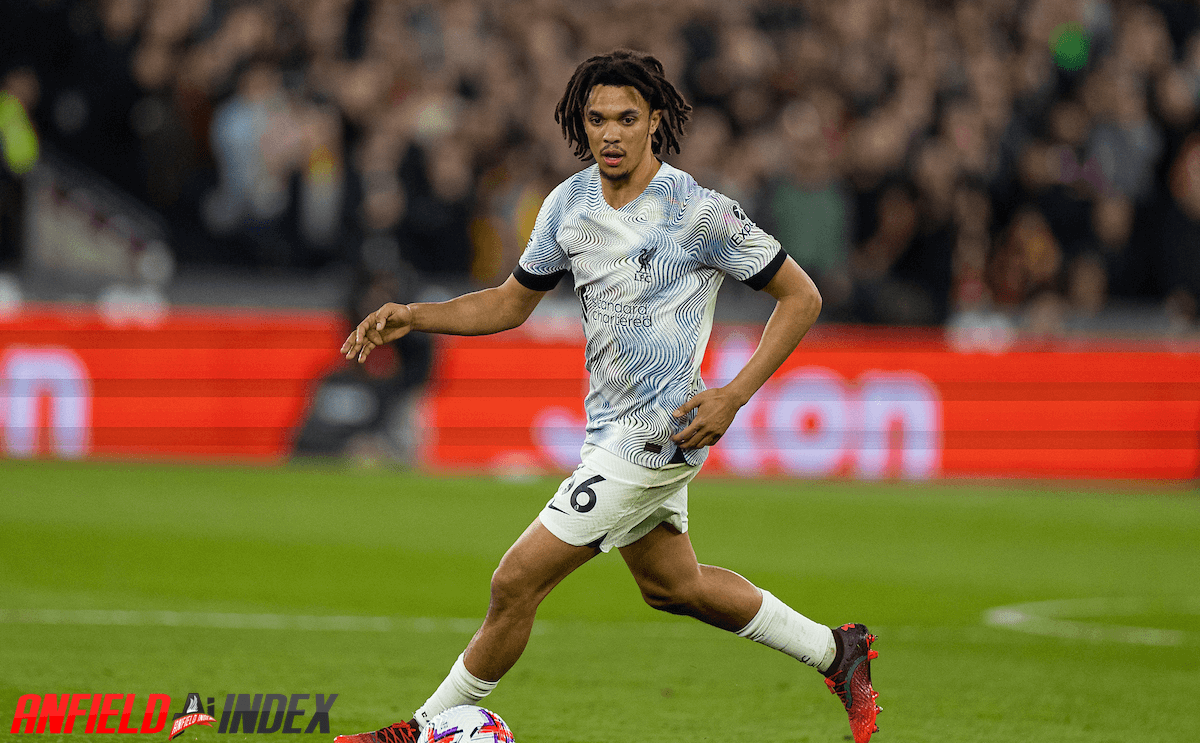 West Ham 1 Liverpool 2 – Man of the Match
Trent Alexander Arnold
The young playmaker looks reinvigorated in this dual role of his, whilst continuing to work hard throughout a busy first half. The England international was keen to drop in and solidify the backline as required, whilst springing into the middle ground to orchestrate the Merseysiders' possession-based patterns of play.
The Reds' first goal (scored by Cody Gakpo) was a peach of a strike; however, it was the incisive pass through the lines by Trent which allowed that shot to be unleashed. Our number 66 offered great coverage when needed and made a crucial interception, as a dangerous ball threatened to reach its man late in that opening period.
The second half offered a tougher opening period of challenge, with some control and tempo departing the visitors. Trent was able to wrestle momentum back, especially when Thiago was brought in to add more on-ball finesse. The two gifted technicians were able to exploit and combat a fiery London side, yet TAA was continually committed and energetic in his work. Fabinho offered a solid foundation for Trent to build our play through the field.

The experiment of Trent in midfield will surely become a permanent part of Anfield life, especially with his in-game statistics, as listed below. His rise to prominence will soon see him starting for England (in that central area), which is good for everyone. The incoming players need to be selected to enhance the abilities of our academy product, who once again produced a man-of-the-match performance.
Trent Alexander-Arnold vs West Ham

• 82/98 (84%) passes (3rd)
• 2 chances created (2nd)
• 1 assist
• 123 touches (2nd)
• 14 passes into final 3rd
• 6 ball recoveries
• 4 interceptions (1st for LFC)
• 2 clearances

Outstanding again. Looks comfortable in midfield 👌 pic.twitter.com/PGNTFS7KDY

— LFC Stats (@LFCData) April 26, 2023
It is not just his on-ball working which is shining though, but his defensive instincts seeing him fruitful in recoveries, clearances, and especially his interceptions.
It is a shame that our German manager didn't push this idea earlier in the year, as the standard of this current Premier League may well have seen him drag us safely into the top four. These types of games are now becoming common, which is clearly why now has been chosen as the time to implement them. With a vital summer ahead, I believe this to be the start of our pre-season plans, one which will at least allow a working system, structure, and formation to be ingrained within its components of it.  This game was another clear representation of our 24-year-olds huge potential to dominate games, with so many of our pieces working around and to the tune of his work.
This coming Sunday sees Tottenham arrive with many issues that they also need to address. With so much vitality and aggression in the play of our hybrid defender/midfielder, the remaining games (for Liverpool) could see previous recruitment avenues averted, due to the stunning portrayal of our current standout player. With five assists in four games, he is building a new means of hurting teams, which could see the birth of a new Premier League midfield powerhouse.
Very well played and the deserved man of the match in yet another red victory.