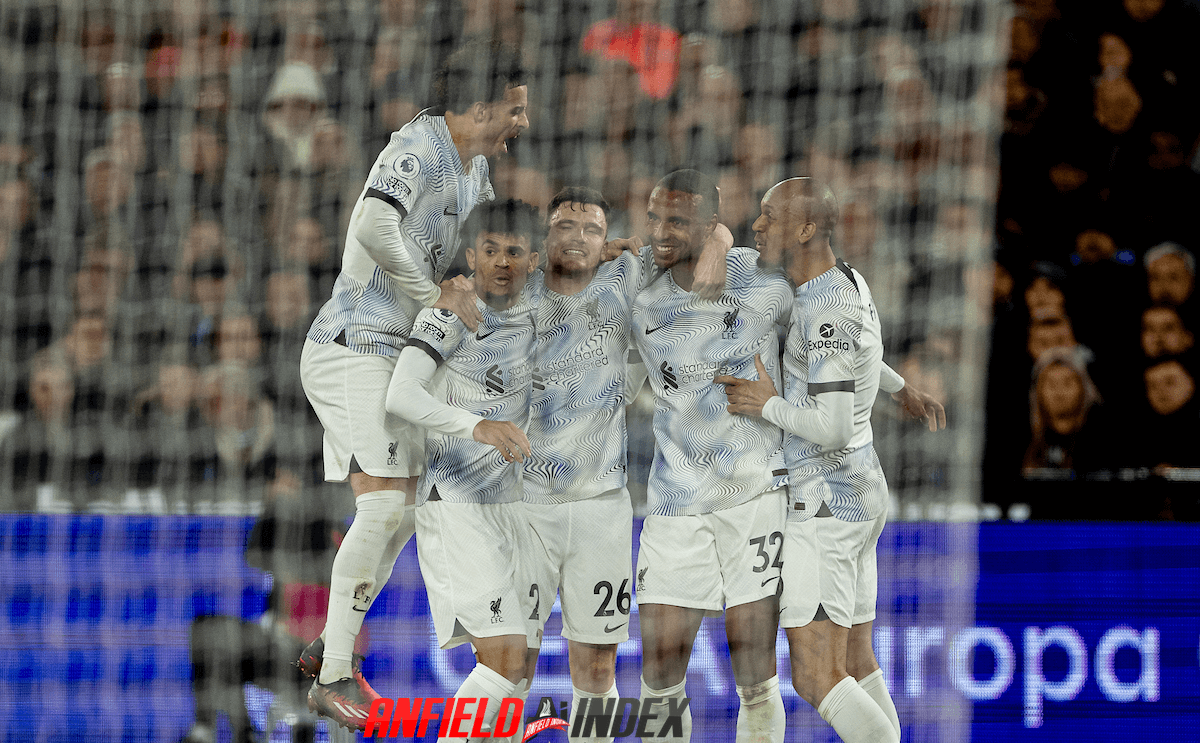 West Ham 1 Liverpool 2 - The Post-Mortem 

Both Liverpool and West Ham headed into this game in fine recent form, despite both enduring difficulties in their own domestic campaigns. This was an entertaining midweek battle, one which allowed a cut and thrust that shone under the London Stadium's lights. There could and probably should have been more goals, yet for Jürgen Klopp and his men, three points were all that mattered.
Below was Jürgen Klopp's starting eleven & subsequent in-game changes.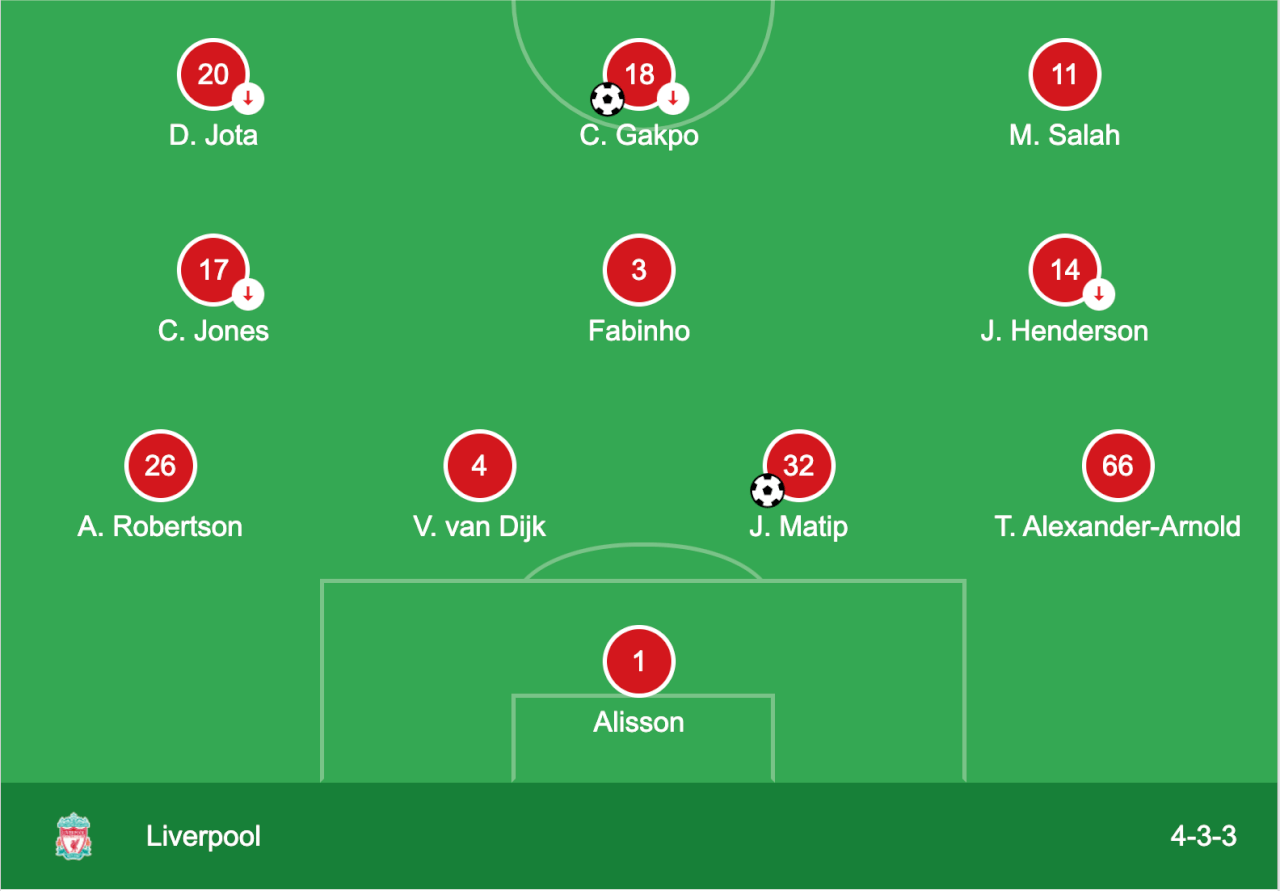 With the lineups and substitutions as shown above, the match started with the Reds once again dominating possession. With a final tally seeing them retain 72% of the ball, it shows just how uncertain we can be when trying to break through a rigid and well-drilled backline. The sporadic threats from the home side never subsided (despite just 28% of possession), as David Moyes was happy to see his side absorb continuing pressure, before launching their own counterattacks.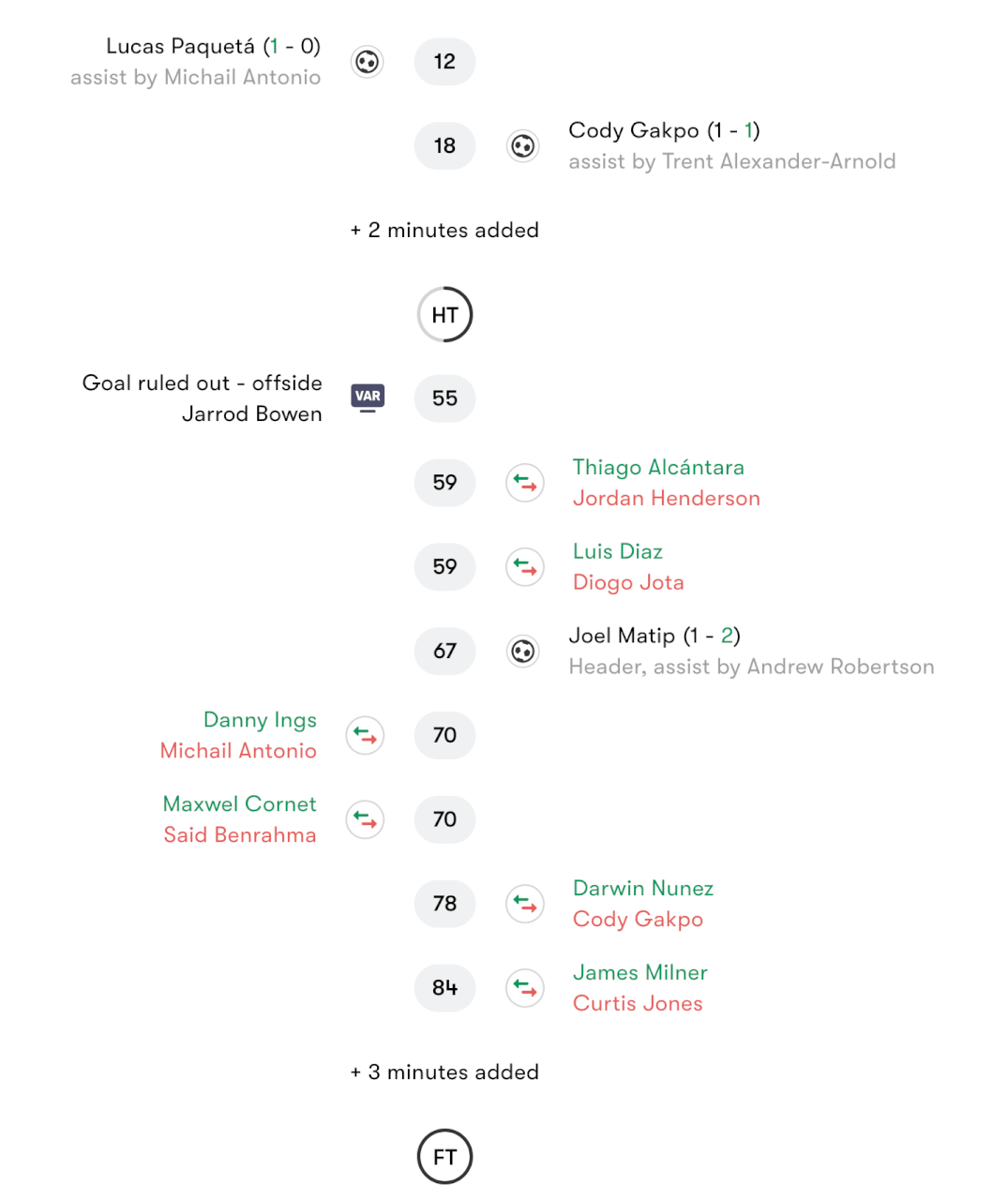 With just the one change for this game, it saw only Joël Matip drafted into the starting eleven. Ibrahima Konaté was deemed unfit for selection, with yet another injury which hopefully will not define his potentially world-class career. We once saw Daniel Agger have his own Anfield career limited by persistent muscular injuries, to a point where he never reached the elite levels that should have been attained. Klopp needs to start rotating his group more fluidly, otherwise, susceptible players will undoubtedly start to struggle. For most of this group, it represented three starts in nine days. I can completely understand the need for consistency and starting reward for wins, however, logic has to play its part also. Additionally, the skipper looked like he was running through cement for his 59 minutes on the pitch, with only a couple of good moments in the second half. He was at fault for the opening goal, with an inability to stay with the eventual scorer. Merely passing a player on in such a dangerous situation is now a common theme for the 33-year-old, which was nearly repeated late in that opening period, as Antonio easily cruised by him.
The initial minutes of the first half were dominated by Liverpool, as the Hammers seemed intent to sit in and limit space. When the three forwards (specifically Salah) received the ball, they would be set upon by multiple players in claret and blue. The organisation of this David Moyes team has now returned, but it was the brilliant skill set of one of his recent signings that allowed his side to take an early lead. With a patient start, Lucas Paquetá was able to cut through the middle and lose the Reds' captain. In full flight, he was able to glide along the Reds' defensive line and unleash a well-placed shot beyond our keeper. The venom and urgency in the strike meant that Ali was probably blinded by Virgil (attempting a block) and all of a sudden, the team without the ball had the lead.
The response from the visiting team was solid and Cody Gakpo was able to find the bottom corner with a well-driven shot. The goal was good, yet the incisive ball to find the Dutchman was the kind of intricate play we need to break these resilient teams. In Trent, we have a confidence-filled player that now has five assists in four games. His attitude and work rate are superb right now, which should allow this system to be perfected with new and more viable parts. With Klopp's men then controlling much of the remainder of the half, it was a repetition of starting attacks before then recycling possession. As the seconds ticked away (in the first half), Antonio was able to surge away from our struggling captain, before driving towards goal. His attempts were eventually thwarted, luckily, but it became clear that changes would have to be made early in the second half.
As the second period kicked off, you could sense a desire from the Eastenders to cut through the Liverpool lines. With an end-to-end battle ensuring, the manager made good choices in drafting both Diaz and Thiago into the game. Diogo Jota had had a quiet and non-scoring game to this point, whilst our number fourteen had once again been unable to add much positivity to the game. The changes made sense and you saw a quick turnaround in our play.
With Trent & Thiago controlling possession, Fabinho was able to play a smart positional game and occupy important areas. Curtis was vibrant and ready to receive the ball in the final third, whilst the front three seemed more at ease with a better-structured midfield to supply them. The winning goal was a thing of absolute beauty, as Matip was able to rise above everyone to power home a bullet header. Only moments prior, the Cameroonian had had a chance to prod home from close range, with Andy Robertson intent on delivering danger from repeated corners. Despite an unsure start, Joel was able to enjoy a good overall game in this slightly altered role at RCB.
West Ham certainly had their own moments, yet it still seemed unlikely that they would break back into the game. A penalty shout became the rhetoric of the final whistle; however, Thiago merely falling onto the ball with his arm would have been a harsh call for VAR to deliver. The result was close but the fight and performance were more encouraging. With Spurs set to visit on Sunday afternoon, this could be a very fine run for the Reds.
We are now fighting to win games and managing to keep dangerous teams at bay. That is the Liverpool we need to be seeing each and every week. Therefore, with more quality added over the summer, it is also something our opponents will not be happy to see.