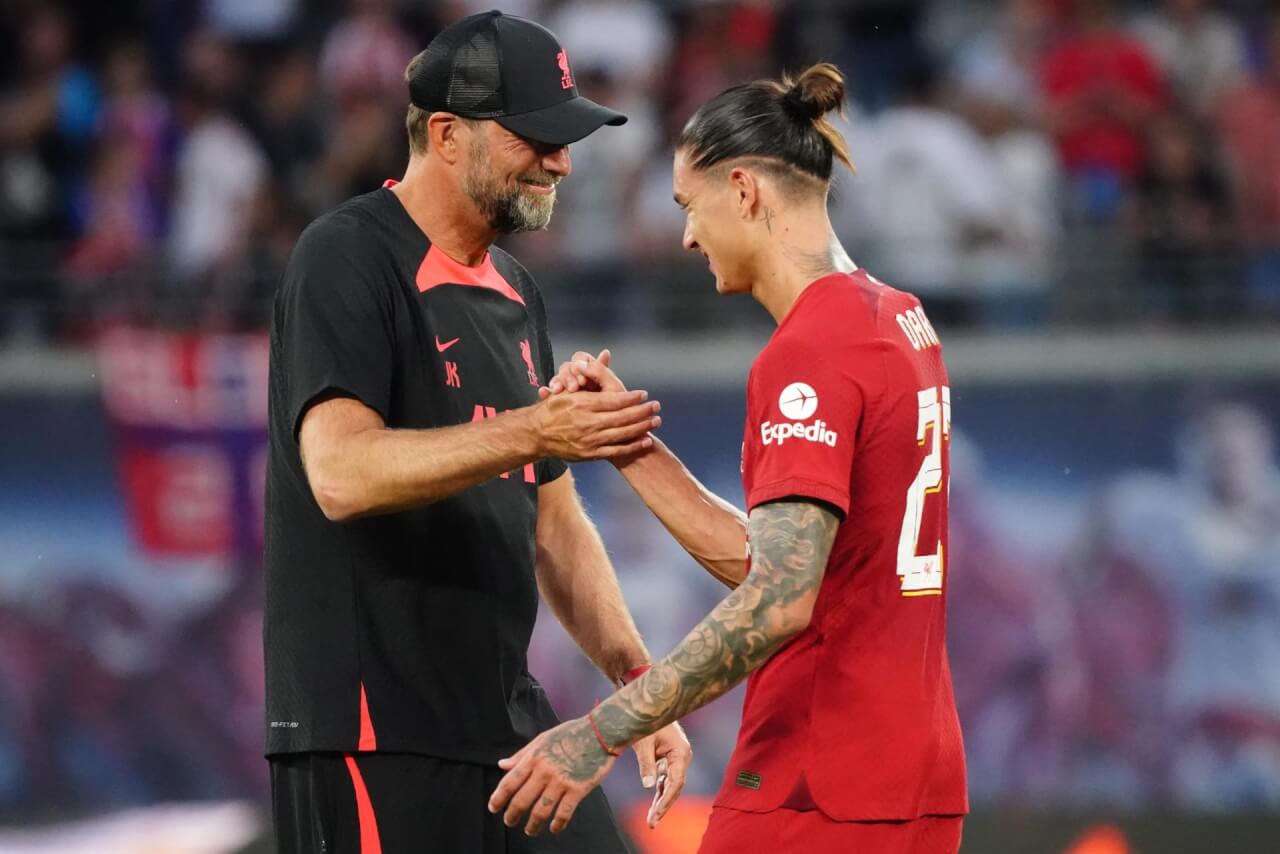 What Comes Next for Darwin Núñez…

In a deal that could eventually (and hopefully) reach £85m, the capture of our Uruguayan striker, Darwin Núñez, was heralded as the perfect response to Manchester City's signing of their phenomenal goal machine, Erling Haaland. The Community Shield (back in August) offered great hope to all Liverpool fans, as our monstrous defenders pocketed Haaland that day, whilst our new striker imposed his will against their own. The result that day ended 3-1 to the reds, with our former Benfica man netting the final goal. That Wembley meeting seems a long time ago and despite our number 27 enjoying a good overall season, recent weeks have seen him starting continually on the Liverpool bench. After Cody Gakpo was brought in during the winter transfer window, it did seem that Klopp had reverted to a more consistent false nine, instead of the unpredictable and ferocious style of Darwin. Additionally, to this, the two games prior to our win at West Ham had Diogo Jota scoring four goals, to potentially nudge his teammate further down this current pecking order. Luis Díaz is now back in the reckoning and primed to start on Sunday, therefore the question begs…
What comes next for Darwin…?
Jurgen Klopp in Darwin Nunez:

"With Darwin Nunez, we are still getting used to each other. Now we play a new style, so we have to adapt – but he's a machine." #lfc [bt via caughtoffside] pic.twitter.com/EHavrDAQTG

— Anfield Watch (@AnfieldWatch) April 27, 2023
Recently, we heard our German manager speak about the slow progress of Darwin's fluency in the English language. With many months at the club thus far, it's a possibility that frustration has reached the boss with regard to this predicament. In a period where system alterations are very much afoot, it does appear to be a vital moment for players to receive and fully understand their varying on and off-ball instructions. The days of a rigid 4-4-2 do not exist in elite footballing sides any longer, therefore, despite the fundamental wants of Fabian Delph, top-level players need to achieve more than just the basics. This could be where the shuffle has seen Darwin used more sporadically, with a desire to fine-tune our current formation.
The historical front three of Sadio Mané, Mohamed Salah, and Roberto Firmino, had the ingredients that produced world-class levels of attacking play. The power and penetration of our former Senegalese man dovetailed beautifully with the cutthroat nature of our Egyptian King. The conduit for these two was always Bobby Firmino, who was able to link them both together with a vital pattern of play. The role of that false nine would also allow the midfielders to either engage or control space, with a super intelligent and hard-working list of duties attributed to our Samba number nine. The system was just about perfect, yet at some point last season, our coaching team decided to relinquish with this false nine variation and target an out-and-out central striker.
With so many games (over the previous few seasons) seeing an abundance of possession for the Reds, it was deemed the natural step to incorporate a more prolific and front-footed center-forward. This ideology was all well and good and should have been applied successfully. The major issue was, however, that our manager ignored the decreasing physicality levels of our midfield, whilst adding only ill-fitting teenagers to bolster that middle area. This most recent period has been about creating a system that can serve the moment, whilst engineering a sustainable pathway into the next season. The on-ball transition of Trent (into midfield) has been an enormous success, yet could only be achieved with another system player ahead of him. Cody Gakpo is an amazingly talented player that can be molded into something very special, yet at this moment in time, his role is to roam the half spaces ahead of the midfield and allow this transitional moment to develop. Where one young attacker off ball intelligence if seeing him prosper, the tenacious and explosive nature of another is seeing him held back. Receiving information and carrying out specific tasks is seeing this choice made pretty easy (for Klopp), with continued training and match observations important facets.
Our celebrated former Borussia Dortmund manager is a man that requires trust and clear communication with his players. Once you are in the exclusive bear hug club, it appears you will forever stay. In terms of incoming players that require time for adaptation and guidance, I imagine there would be a want for that player to become fluent in the required language quickly. Only recently, we have seen tactical breakdowns relayed to Darwin through Thiago, which is a commendable trait that is important in all senior players. A big stumbling block is that we are refining and creating a new version of play, that demands so many parts to be performed simultaneously. Though we adore the chaotic enthusiasm of our 23-year-old striker, it can perhaps make our strategy less sustainable throughout the game. Without continual control assured, he does appear to be that impact player who can penetrate against teams chasing the game. This situation is surely a short-term method, with the team ethics being preferred to the player's wants.
It's difficult to see how all the pieces will eventually fit into one side, as we remain unaware of who the summer recruits will be. Project Darwin is going to be a longer and more interesting journey than Cody's, though it is not inconceivable to see both playing in tandem. A midfield double pivot could at some point allow Gakpo to integrate into a 10 role, especially with Trent moving into the on-ball midfield to make a three. That scenario would then allow our 25-cap Uruguayan to cause chaos, though only with new players and consistent dominance of the pitch. This ever-evolving sport requires coaches to stay open-minded and fluid in their approach, with various players affording plentiful skill sets. I can see our 6ft 3inch striker starting this upcoming game, whilst continuing (predominantly) to be used from the bench.
The upcoming week sees LFC entertain a wounded Spurs, therefore, their fragile state may represent the perfect target for our Raging Bull. We cannot keep rolling out the same eleven players, especially with home games against both Fulham and Brentford next week. Though there may start to be some murmurings of discontent (regarding our club recorded signing), I think the plan is to mold and communicate with clarity, rather than confuse and isolate. Unleashing this talented specimen would be very easy and very popular with the fanbase, yet not at the expense of what is needed most. A working formation and understanding of on-pitch responsibilities are more critical than ever, which is why the team has remained pretty much unchanged in the last batch of games.
The long-term project will start to integrate both new and project players over the next year or so, ones who can emerge as part of the next phase of Liverpool FC. For me, Darwin Núñez is primed to become the devastating tip of our red spear, which is something I believe to be inevitable. For the moment, he might just have to be patient before he truly gets there.