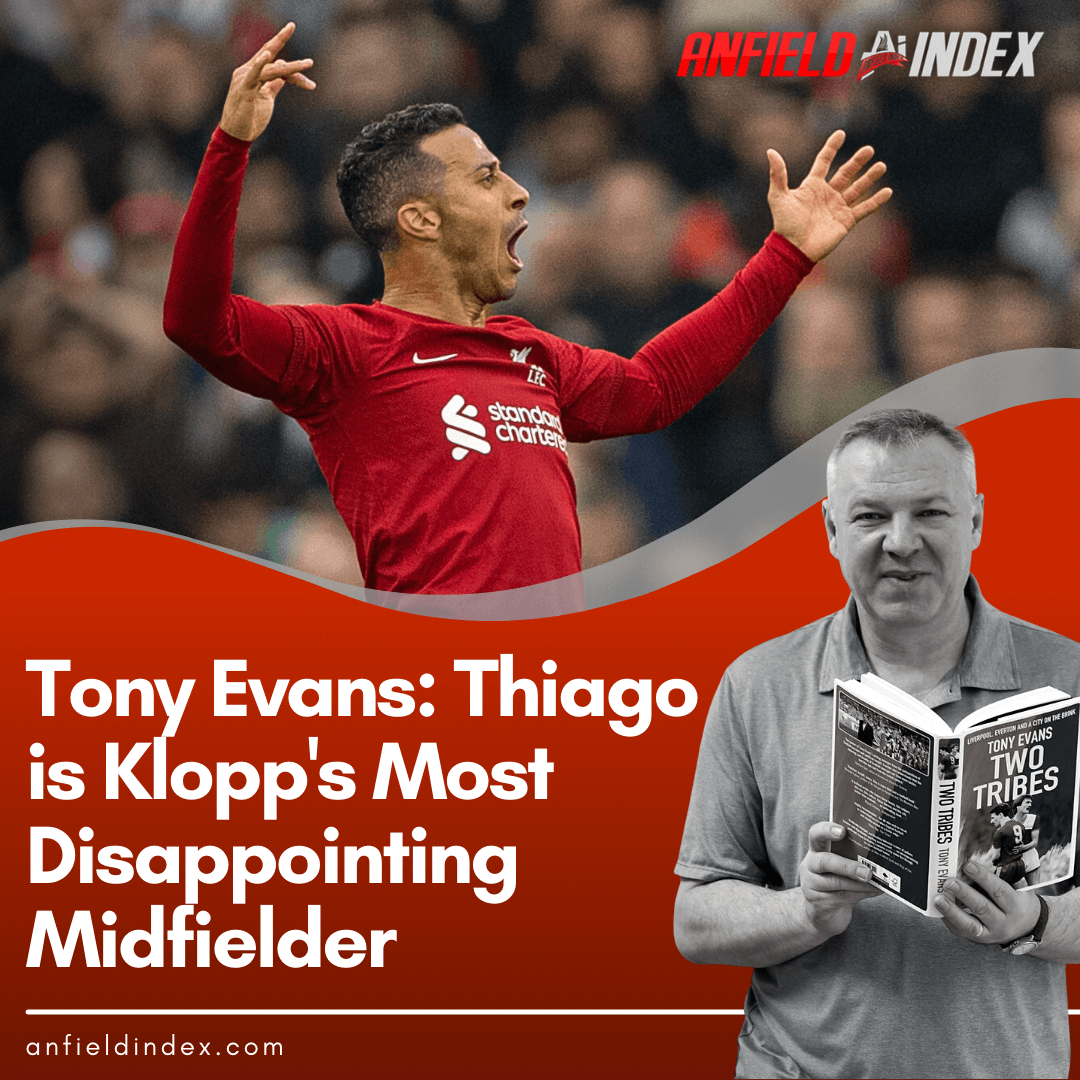 Thiago is Klopp's Most Disappointing Midfielder
Who is the most disappointing midfielder for Liverpool during the Jurgen Klopp era? The obvious answer is Naby Keita. But for me it's been Thiago.
Trent Alexander-Arnold's performances over the last few games and especially at West Ham have shown the damage direct passing to the forwards can do. Everyone's favourite floating full back has been picking out men in dangerous positions and feeding them the ball. He caused havoc against the Hammers and Cody Gakpo, in particular, took advantage.
This is the sort of role I expected Thiago to perform – getting possession in the middle of the park and looking to get a pass down the channel to the attackers. The 32-year-old certainly has the range to do it but too often he stroked the ball out wide.
Yes, he looked stylish doing it but when all hands were gushing about him and saying he is a joy to watch, some of us were waiting for him to hurt the opposition. Look at his stats. Just four assists in 67 Premier League appearances. He's got the talent to get one a game.
And don't give me all this 'pre-assist' bollocks. Liverpool needed more production from him going forward.
That's not to say he hasn't contributed. His work pressing opponents and running off the ball has been exemplary. Last season he put in shift after shift for the team. Yet his presence in the midfield – especially in the light of TAA's recent efforts – feels like a missed opportunity.
It's not all Thiago's fault. His arrival made sense. At a time more and more rivals were concentrating on shutting down Trent and Andy Robertson, he was supposed to change the point of attack and open up new options. That probably needed a tactical tweak similar to what we're seeing now. But it never happened and the man who won a Champions League with Bayern Munich was thrust into a midfield unit that kept on doing the same thing — and he joined in willingly.
The bottom line is that Thiago has been subverting his own game to help the team. But, yeah, for me it's a matter of regret that Jurgen didn't adjust the tactics enough to get Thiago passing like Trent.
Side-to-side is pretty. A dagger through the heart of the defence is better. Screw pretty.
*
Curtis Jones is keeping Thiago out of the side. The 22-year-old has played in the past five Premier League matches and provided vigour and balance to a central unit that's been a huge problem for most of the season.
Again, though, Jones has had to curb his natural instincts to claim his place. When he first arrived on the scene, his attacking abilities stood out. He's less flamboyant and more disciplined these days — and all the better for it.
A significant amount of money needs to be spent on the midfield this summer and no one in the right mind would say trim down the targets on the evidence of Jones's five-game run. The suspicion is, though, that he'll get plenty of playing time next season and, of the midfielders already at the club, he has the biggest chance of being a regular in the coming campaign — even more so than Stefan Bajcetic.
After a grim winter there are green shoots. Let's not go overboard with the positivity but things are looking up.
*
Tottenham Hotspur were never real rivals. They were a bit like Chelsea. Liverpool jousted with them for a while and the temperature rose when the teams met but there was never going to be an enduring enmity.
They look ripe for the taking on Sunday but no one should take a team that contains Harry Kane and Son Heung-min for granted. Kane has managed 24 league goals in a side that have sometimes stunk out the grounds.
VVD can't afford to be as lackadaisical as usual (saying that, his challenge to stop Antonio scoring at the London Stadium was brilliant). Jurgen said after the West Ham game that defensive improvement was the key to the recent good run but the back line needs to tighten up considerably. Kane and Son are dangerous. They can't be allowed a sniff.
*
John W Henry was in London for the West Ham match. Let's hope the performance didn't persuade him that the team is in good shape. The squad remains in need of serious work if they're going to compete for the top four — never mind the title — next year.
He met Klopp at the hotel and no doubt the manager got his points across.
It's interesting that he was in the capital rather than at Anfield. He was probably over on business. Could that be the business of selling the club? It could be but there are still no suggestions knocking about that there's any sort of buyer out there. Things are very quiet. Perhaps too quiet. Watching this space.
*
Arsenal found out just how good Manchester City are. The country finally seems to be waking up to how big an achievement it was for Liverpool to challenge the champions, never mind beat them to the title and stop them winning the league for five successive seasons.
Eight years ago, I had a conversation with someone at City. I mentioned that they would probably be the first club to win the title five times in a row. The individual dismissed that idea and said they were building to monopolise the trophy for 10 consecutive years.
City will probably win the treble. It'll be grim. They'll be better next year, too. Haaland is contributing more to the all-round team play with every week.
Arsenal can't stop the unstoppable. Klopp's done it once. Liverpool went toe-to-toe with City in three seasons and twice lost by a single point. I'm not sure many people understand how impressive that was.
Perhaps they will as Pep Guardiola's team pull away from Arsenal.
*
Cody Gakpo is a clever player. A lot of us grumbled when he came in January that Liverpool needed a midfielder. They did. But getting someone who looks like a legitimate heir to Roberto Firmino appears to be a real result. Something else to feel positive about.