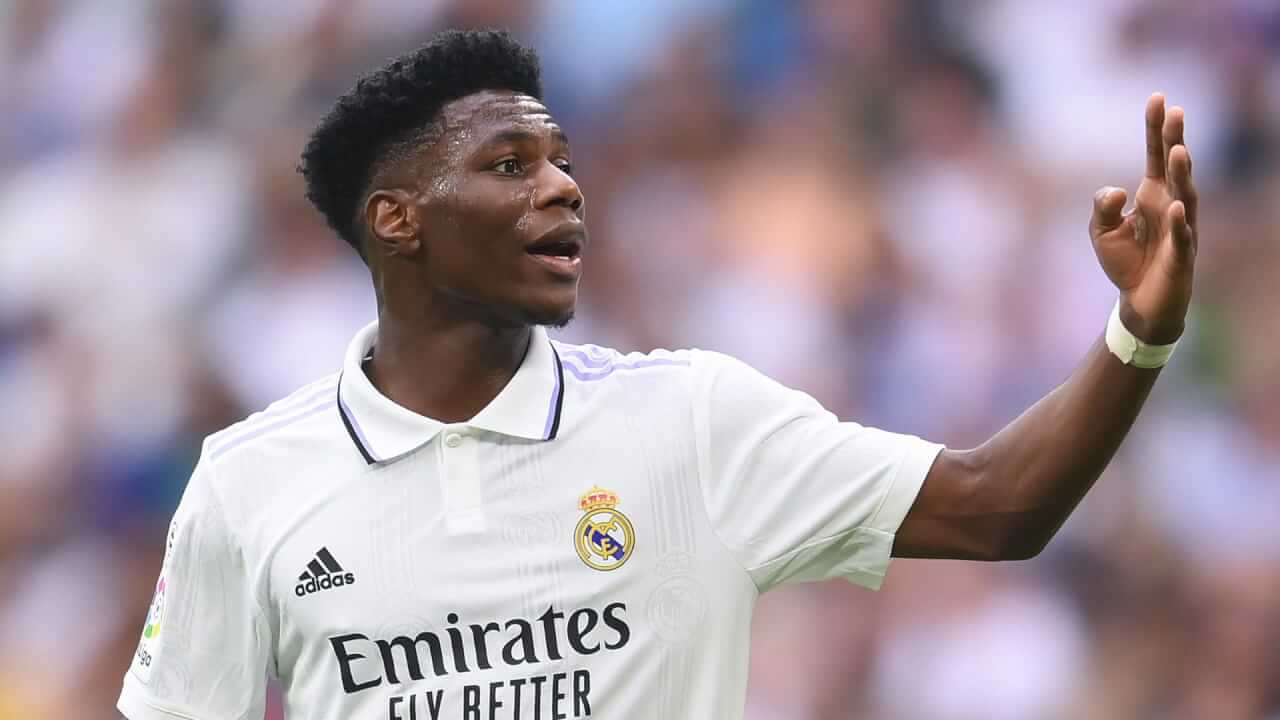 Tchouameni For Sale - Liverpool Ready For Transfer Tussle

With Aurelien Tchouameni reportedly available, the Premier League elite are on alert; and Liverpool, Manchester United, Manchester City or Arsenal could pounce for the highly-rated midfielder.
Real Madrid are ready to let Aurelien Tchouameni leave the club: alerting Liverpool, Manchester United, Manchester City and Arsenal to the possibility of a bargain.
That's according to Spanish outlet Fichajes (opens in new tab), who claim that Los Blancos "would welcome the departure" of the 20-year-old, just 12 months on from a €100 million transfer from Monaco. Tchouameni has failed to consistently start for the European champions, even despite Casemiro's exit – and with Jude Bellingham rumoured to be wanted by Real, Tchouameni going could open the door.
The report states too that only the Premier League would be able to afford the player just a year after such a big move – giving four English sides a huge opportunity…
Last year, Real Madrid beat Liverpool to Tchouameni's signature – and the Reds' need for a top-quality midfielder has already intensified.
You just had take one look at the Transfer Chat on the Anfield Index Discord Community last May, from mock 'Tcho Tcho' merchandise to an array of steam train themed animated gifs; the excitement was palpable. Liverpool's need for a midfield dynamo like Tchouameni is even more heightened now than it was in 2022, because quite bluntly FSG and Jurgen Klopp sat on their hands after the Frenchman opted for the Spanish capital on the back of Real's Mbappe hopes collapsing.
Liverpool were heavily linked with Bellingham but with the Borussia Dortmund star seemingly no longer on the radar, Tchouameni is a realistic plan B who offers the kind of all-round game that Klopp was looking for in his midfield. Even if Real were just to loan Tchouameni for a season, he could well provide season-long cover before the Reds find a more permanent solution.
It could work out similarly to how Arsenal originally brought Martin Odegaard to the Premier League. The Gunners were able to snare a talent originally thought to not be good enough for the Bernabeu, with the player himself proving Madristas wrong spectacularly.
Arsenal, actually, have a good relationship in recent seasons in with Real, having brought Dani Ceballos over from there on a loan deal, too – and with Mikel Arteta seeking midfield reinforcement, Tchouameni can't be ruled out for the north Londoners.
Again, though, Bellingham becomes key in whatever happens in this deal. If Real Madrid sign the England teen, that leaves Manchester City scrambling for a replacement – assuming that Ilkay Gundogan really could be leaving for Barcelona, per MARCA (opens in new tab). Just as the Bellingham deal to Real might still work out for Liverpool, it could be the start the domino chain that pushes Tchouameni into the grasp of City.
Manchester United, meanwhile, have been linked with Bellingham – but not extensively. Their need for Tchouameni would seem limited, too, given that they have Casemiro – ironically, the player whose exit was sanctioned because Tchouameni was coming to Madrid.
Yet according to RMC Sport (opens in new tab) last year, United held talks with the Frenchman. United have fielded Christian Eriksen next to Casemiro as a creative ball player deep in midfield and Fred as a hard-runner and marker: this player could be both to them.
The Frenchman's future is still up in the air. It remains to be seen who, if any, Premier League clubs will return for his signature if he gets put up for sale just a year into his Madrid career. Judging by the interest first time around, though, we could be set for an intriguing transfer saga – and a subplot to the Jude Bellingham drama.