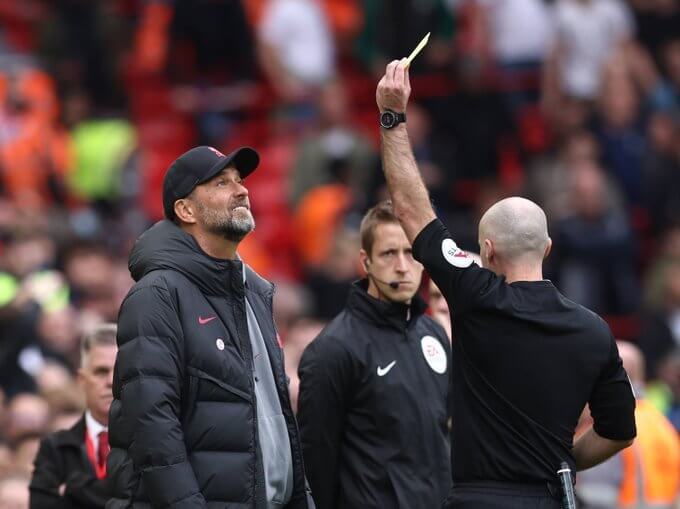 Klopp Slams Ref Tierney: "What Does He Have Against Us?"

Jurgen Klopp was not chuffed with Paul Tierney against Tottenham Liverpool's gaffer, Jurgen Klopp, has had a proper go at referee Paul Tierney following Sunday's win over Tottenham. The German suggests the official has been telling porkies about not having a problem with him and his club.
Tierney was the man in the middle for a nail-biting clash at Anfield. Liverpool just about fended off a sensational comeback from Spurs to win 4-3, courtesy of a last-minute Diogo Jota belter.
Klopp got his name taken for his celebration after the decisive goal, but has now unleashed a scathing review of Tierney. He reckons he's got some "history" with the 42-year-old, who's previously claimed he's got no beef with either Liverpool or Klopp.
However, Klopp's having none of it in a livid post-match tirade. He told Sky Sports: "How they can give a foul on Mohamed Salah [before Spurs' third goal]? We have our history with Tierney, I really don't know what he has against us, he has said there is no problems but that cannot be true.
"How he looks at me, I don't understand it. In England nobody has to clarify these situations, it's really tricky and hard to understand. My celebration was unnecessary, which is fair, but what he said to me when he gave me the yellow card is not ok."
Liverpool raced into a 3-0 lead within the first 15 minutes. Curtis Jones bagged his first goal of the season, connecting with a cracking Trent Alexander-Arnold cross.
Soon enough, it was two, with Luis Diaz netting on his first start since October, followed by Mohamed Salah making it three from the penalty spot. Spurs clawed one back before half-time through Harry Kane as Liverpool took their foot off the gas.
Ryan Mason's lads fought back, with Heung-min Son reducing the deficit to one with 13 minutes left on the clock. Richarlison then hopped off the bench to score his first league goal for Spurs in the 93rd minute, seemingly snatching a point.
But Lucas Moura's monumental blunder set Jota up for a goal. The Portuguese star kept his cool to slot in his fifth goal in four games, securing all three points for Klopp's men.
Klopp discussed how Spurs made life difficult for his team and concedes they "got away with" a win. He said: "For a long period of the first half, it was the best game we had played so far. First half was good, we conceded a goal but it was the first time we didn't defend properly.
"Apart from that, the first half was good. The problem is Spurs don't change at all, they go for counter-attacks even at 3-1 down. They just defend, counter-attack and get set pieces, and that makes it tricky.
"We got away with it thanks to Diogo Jota, it makes it spectacular and everybody goes home buzzing, but I am the manager of the team, so I have to mention everything else as well. In three days' time, we have to do better.
"They had a defensive set-up, but the way we started the game was brilliant, everything was there. It was nearly perfect, but it seemed to lead us on the wrong path."