Yesterday, Anfield was the stage for a performance that had more twists and turns than an episode of Top Gear. Jurgen Klopp, Liverpool's very own Stig, found himself flabbergasted by a peculiar touchline moment involving Thiago and Darwin Nunez during the Reds' thrilling 4-3 victory over Tottenham Hotspur.
Picture the scene: Liverpool's gaffer, with his trademark glasses perched on his nose, staring in bewilderment as Thiago Alcantara, the maestro of the midfield, leapt off the bench to give Darwin Nunez a quick pep talk before his entrance onto the hallowed turf.
The internet has gone bonkers over Klopp's gobsmacked reaction to the sight of Thiago whispering sweet nothings, or rather tactical advice, into Nunez's ear.

The match itself was an absolute rollercoaster. Liverpool bolted out of the gates with a 3-0 lead in the first 15 minutes, only for Spurs to claw their way back, courtesy of an extra-time equaliser by none other than ex-Evertonian Richarlison. But hold onto your hats, folks, as Diogo Jota made the most of Lucas Moura's dodgy back-pass, sealing the victory for Liverpool and leaving Spurs with their tails between their legs.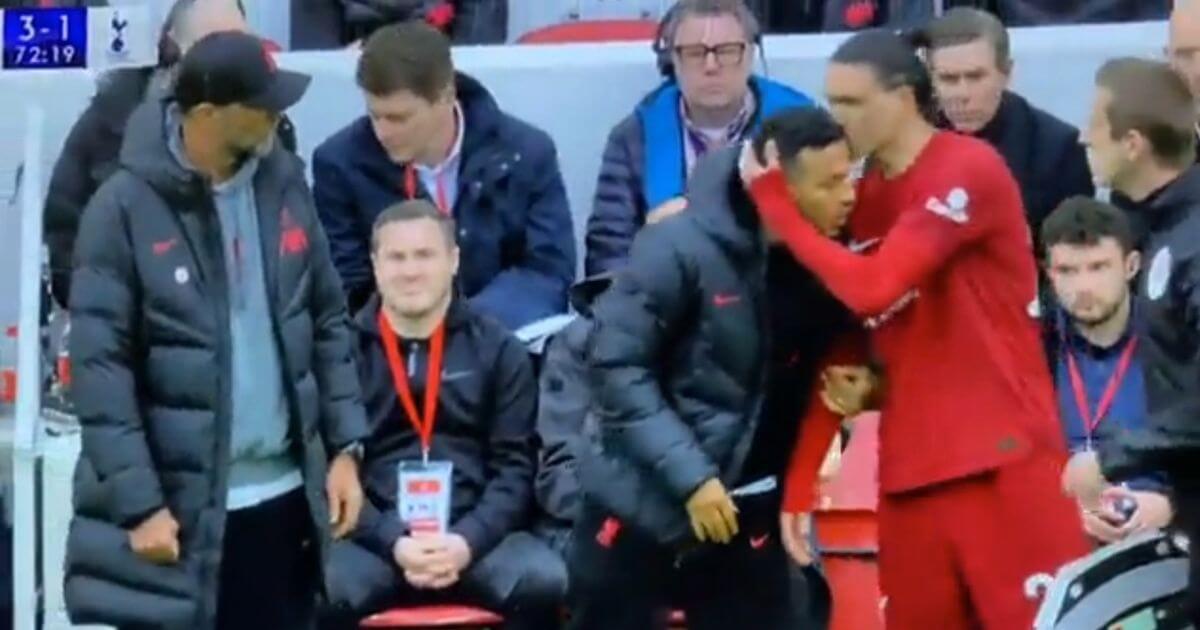 Interim boss Ryan Mason was left in a state of disbelief, much like our friend Klopp, who couldn't fathom the pre-substitution exchange between Thiago and Nunez.
Nunez himself has admitted that he struggles with Klopp's Scouse-German linguistic concoction. "The truth is, I honestly don't understand anything when he talks in lectures," he confessed to TNT Sports back in October.
However, fear not, for Thiago has played the role of interpreter before, translating Klopp's pearls of wisdom for the Uruguayan during pre-season training last summer.
That special bond was once again on display in the 72nd minute when Thiago shared a word or two with Nunez, leaving Klopp in a state of utter astonishment.
Klopp has acknowledged Nunez's language barrier, saying, "He is still adapting. His English is still not great. How can a striker shine when the team is struggling? But he has had super moments. This is a long-term project."
But worry not, for Klopp is already looking ahead: "After this season there is another and that is already on my mind now. Maybe we can learn some things to use now, that's how I see it."
So, the moral of the story: learn English, score goals, and maybe, just maybe, you'll leave your boss speechless on the touchline.