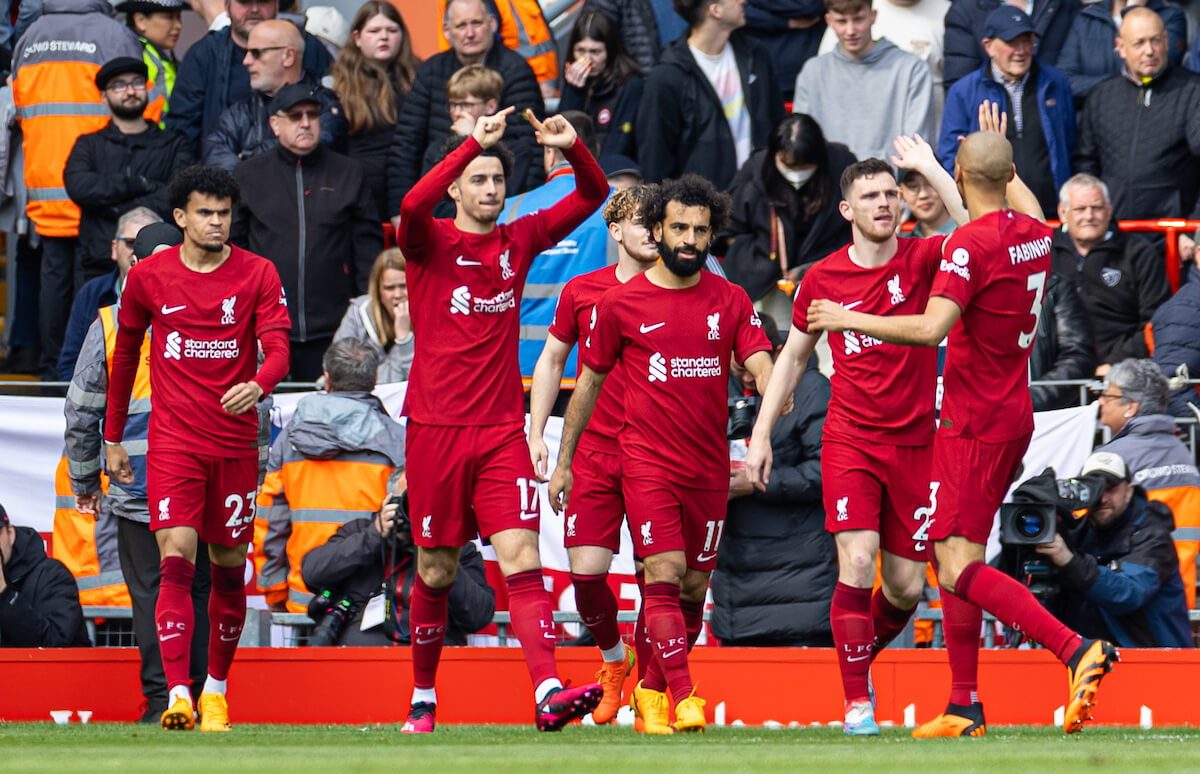 Liverpool 4 Tottenham 3 - The Post-Mortem 

This was the same match-up that contested the Champions League final in 2019, where one ultra-organised and ruthless team was able to overcome a team built upon growth, desire, and team spirit. That contest became a chess match that Liverpool were able to game-manage with relative ease, absolute professionalism, and control in abundance. The start of this game, however, was a spectacle built upon Liverpool's ability to explode, before reverting to their common want to implode. Three points were awarded at the end of this seven-goal thriller, though Klopp's men certainly did not make easy work of it. Much can be made of the controversial refereeing and intangibles, yet ultimately, the contest should have been over before everyone had even gotten to their Anfield seats.
Below was Jürgen Klopp's starting eleven & subsequent in-game changes.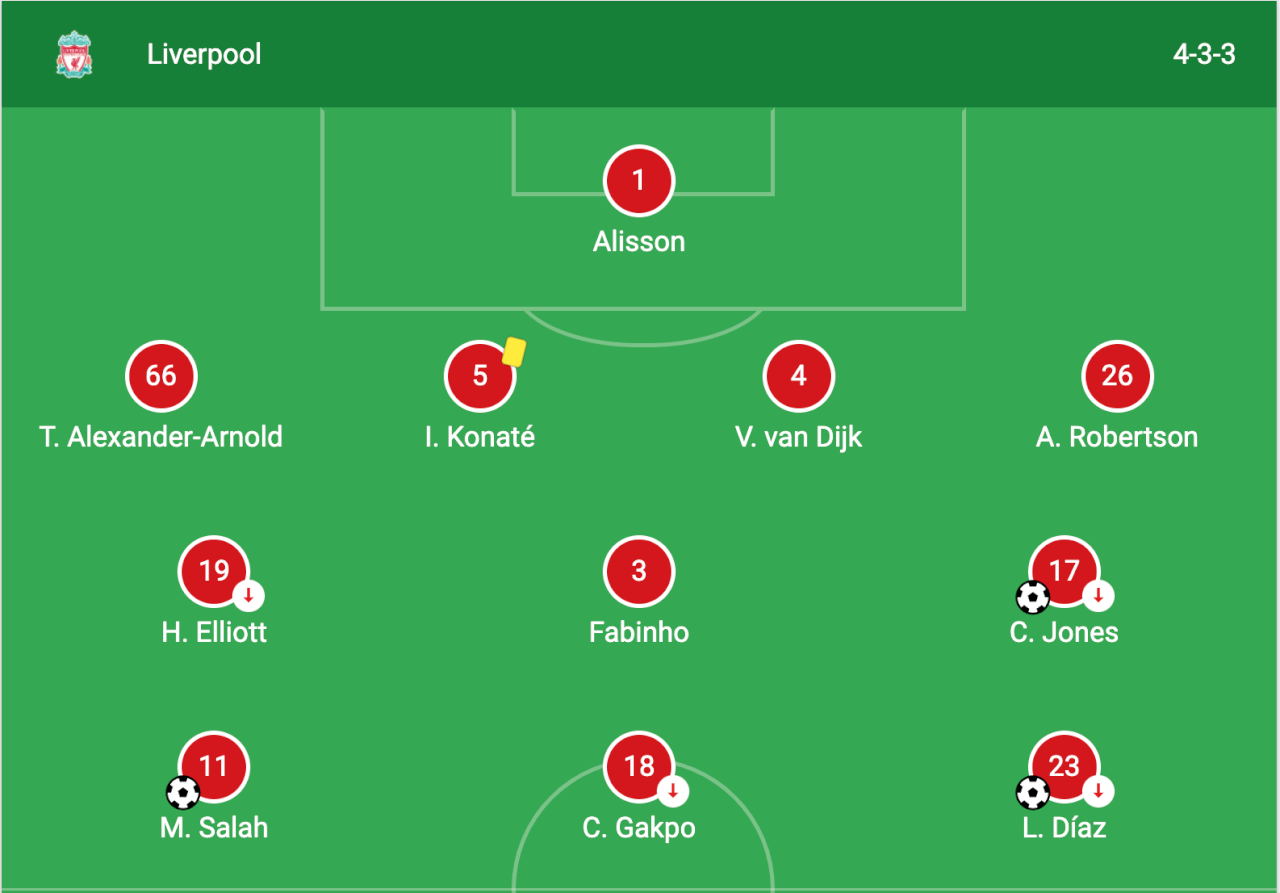 With the lineups and substitutions as shown above, the match started with the Reds dominating possession. With a final tally seeing Liverpool retain 69% of the game, it certainly showed how susceptible to counterattacks the home side are continuing to be. With a 3-0 lead taken in the opening 15 minutes, the remaining scores make for some amazing reading.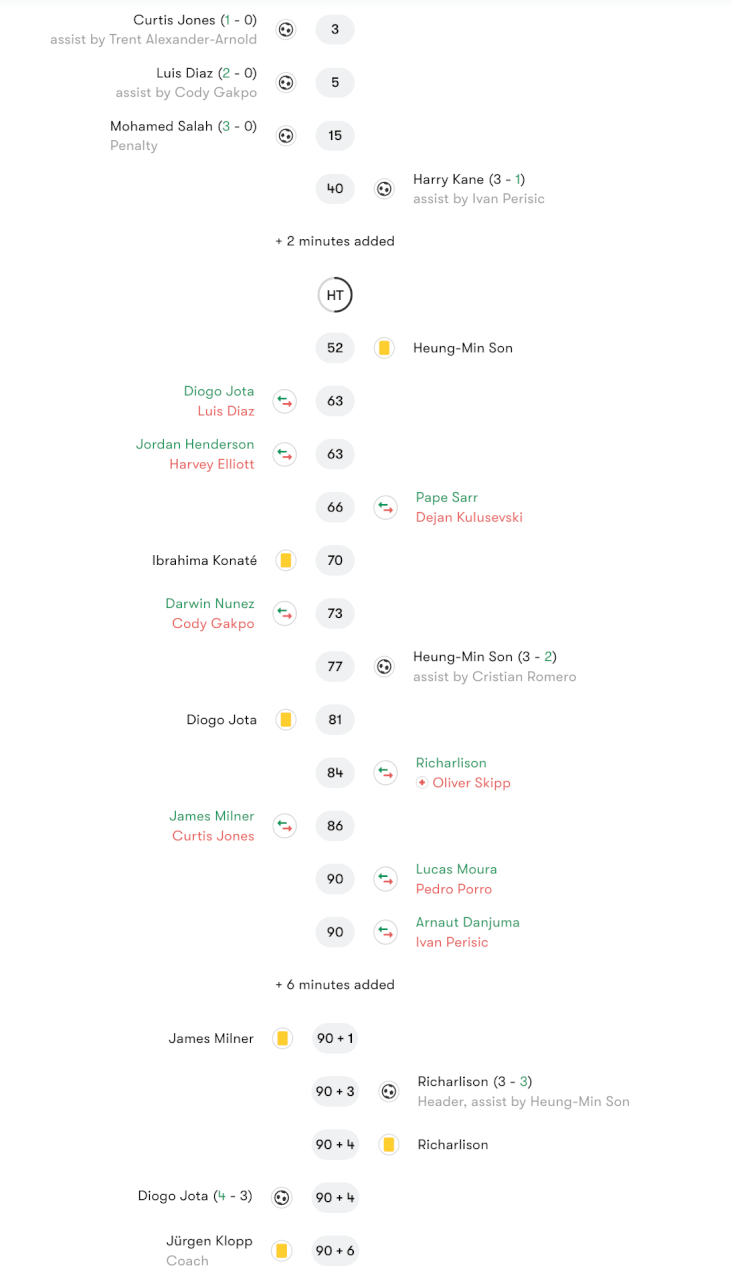 With just the three changes for this game, it saw Jordan Henderson, Diogo Jota, and Joël Matip drop out, as Ibou, Luis Díaz, and Harvey Elliott were drafted in. The altered system is incorporating a box midfield (in possession); therefore, you could sense the desire to have both youngsters in the two more attacking midfield roles. The contest started with Curtis latching onto a sublime Trent assist, which again showed how wonderful the England international is performing in that central role. The second goal soon followed as the returning Luis Díaz managed to drive across the box and meet a smart ball by Cody Gakpo. The Dutchman was then able to provide another form of assist, with his smart play creating a foul within the Spurs box. The resulting penalty saw our Egyptian King do what he should always do from the spot, blast the ball beyond a helpless keeper.
At that point, everyone linked to the Reds was getting very excited and a little prematurely expectant.
https://twitter.com/lfcdata/status/1652752024914542600?s=46&t=rxgukmqdoXc4muVFLSx2EQ
With moments then being created by both sides, it showed how much in-game intelligence and nous this squad is currently lacking. When competing with Manchester City in their 90+ point seasons, these such games would have ended with that third goal. The match would have been slowed, avenues would have been closed off and the points would have been guaranteed by a team that never got carried away by a quick clutch of goals. With what has unfolded so far this season, you could see the lack of maturity in the home team's play, with an exciting period taking away the fundamentals which had given themselves such an amazing early lead.
With the post saving Alisson Becker on numerous occasions (before and after Harry Kane had clawed a goal back), it really should have acted as a reminder of how vulnerable the backline has been this year. Despite the score line at the time (3-1), the remainder of this game became an even contest of talented teams that had misplaced their tactical brains. With over-exuberance stemming from the touchlines, it became a spectacle for the Premier League and a wonderful watch for all unrelated supporters. The goals came and came again, with Liverpool seemingly intent on throwing away yet more points. The eventual masking of the horrid play was allowed only by a late Diogo Jota winner after he had planted a stud in a Tottenham player's head of course.
The joy of an impending victory was evident and disruptive to the home side's mindset, yet it was again proof to the mass changes must occur in the coming summer. The team needed experience and leadership in order to steady the ship, yet the introduction of a skipper only added less intensity and energy against an opponent with their tails up. The evolution of Trent Alexander and the rest of the team must involve players that can swarm and overpower adversaries that challenge us, with a ruthless end endeavour to do what is needed.
Again, all that matters in this final batch of games is maximum points. Yet, we are rapidly approaching the moment where more is needed, if we are to emerge as an elite footballing entity once more.