 Trent Alexander-Arnold: The Strangeness of Assists
Data correct prior to Liverpool's home game with Fulham on Wednesday
Mohamed Salah and Trent Alexander-Arnold seem to be engaged in a weekly battle to see who can equal, break and set new records most frequently at the moment. With his penalty against Tottenham, the former moved past Robbie Fowler and clear into sixth on Liverpool's list of all-time goal scorers. By the time you read this, Salah may have scored three more to put Steven Gerrard behind him too.
For Alexander-Arnold, his achievements are obviously in the field of creativity. He recently became only the third defender to record at least 50 Premier League assists – teammate Andy Robertson is another example – and against Spurs he set up a goal for the fifth league match in a row.
The Reds' right-back previously did this in 2019 and is the only player to record an assist in five successive Premier League games on two occasions. Think of all the wonderful creative dynamos seen in English football over the last 30 years and this (admittedly niche) record has been set by a defender.
This latest burst of assists has coincided with Jürgen Klopp's latest tactical switch. As you're no doubt aware, Liverpool now adopt a 3-2-5 shape when in possession, with Alexander-Arnold forming a midfield duo with Fabinho. Since the change was implemented for the 2-2 draw with Arsenal, the Reds' number 66 has picked up an assist in every game.
By playing in central areas more frequently, Alexander-Arnold gets more touches and has extra opportunities to wreak havoc. In the 6-1 victory at Leeds, he completed over 100 passes with an accuracy of over 90 per cent while also collecting two assists, becoming just the fourth player to achieve this in the top flight since records began two decades ago. If you're reading this article then you probably lap up weird football trivia, and that's a shining example for your scrapbook.
The obvious assumption is that Trent's new position in possession explains his upturn in setting up goals. Yet a closer look at the assists themselves and his data for both this season and his career tells a slightly different story.
Let's start with the Gunners. Against Arsenal, Alexander-Arnold could not have been playing more like a full-back/winger when he dribbled past Oleksandr Zinchenko to cross for Roberto Firmino's equaliser. While he was certainly more central for his key passes at Elland Road, the assists were broadly duplicates of ones he provided for Cody Gakpo (versus Everton) and Darwin Núñez (at Newcastle) in the recent past.
The winner against Nottingham Forest came from an Alexander-Arnold set piece, an area in which he has long been supreme. His assist at West Ham was a good pass but the goal owed plenty to Gakpo's fine finish, while the opener in the ridiculous 4-3 victory over Tottenham could not have been more down to a trademark Trent cross if it tried.
None of this is to undermine how well he has been playing lately, it's merely highlighting that the goals he has created have fingerprints from history in their make-up and are not purely down to the obvious tactical change Klopp has deployed. Without wanting to lean on our old friend 'regression to the mean' too heavily in this weekly column, there's been a hint of that occurring recently.
Alexander-Arnold has created 24 Opta-defined clear-cut chances – opportunities where you would expect the attacker to score – this season, and the outcomes of them break down very neatly indeed: eight scored, eight saved and eight off target. But if you divide them into three chronological groups of eight, you find the first contained no goals, the second saw three converted while the most recent octet produced five goals.
If you prefer the more modern analysis of expected goals, look at the following charts. They show how Alexander-Arnold's last six Premier League seasons have progressed in terms of total expected and actual assists (according to Understat).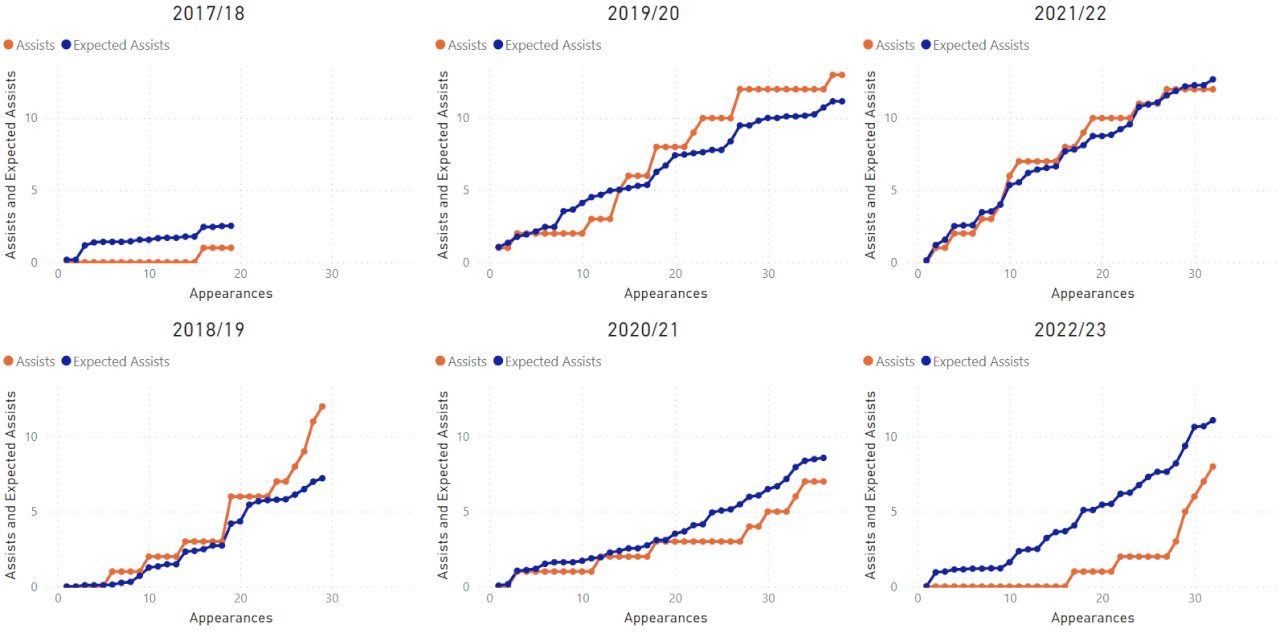 You can see that the first five campaigns were closely aligned between the underlying numbers and the goals created (save perhaps for a late burst of output at the end of 2018/19). Look at the chart for this season, though, and the yawning chasm between expectation and reality which it displays.
Following the recent 4-1 loss at Manchester City, Alexander-Arnold had amassed 7.65 expected assists in 2022/23, yet had only seen two chances converted (by Alex Oxlade-Chamberlain at Brentford and Núñez at Newcastle). In the five games since, 3.4 xA has led to six assists.
Full credit where it's due, the 24-year-old has never previously compiled so many expected assists from a run of five league games. Liverpool's new system appears to help, but other forces may be at play too. If all that Alexander-Arnold's tweaked position has done is enabled him to attain career numerical alignment – 53 Premier League assists from 53.27 expected – it remains exciting to see what unfolds next.