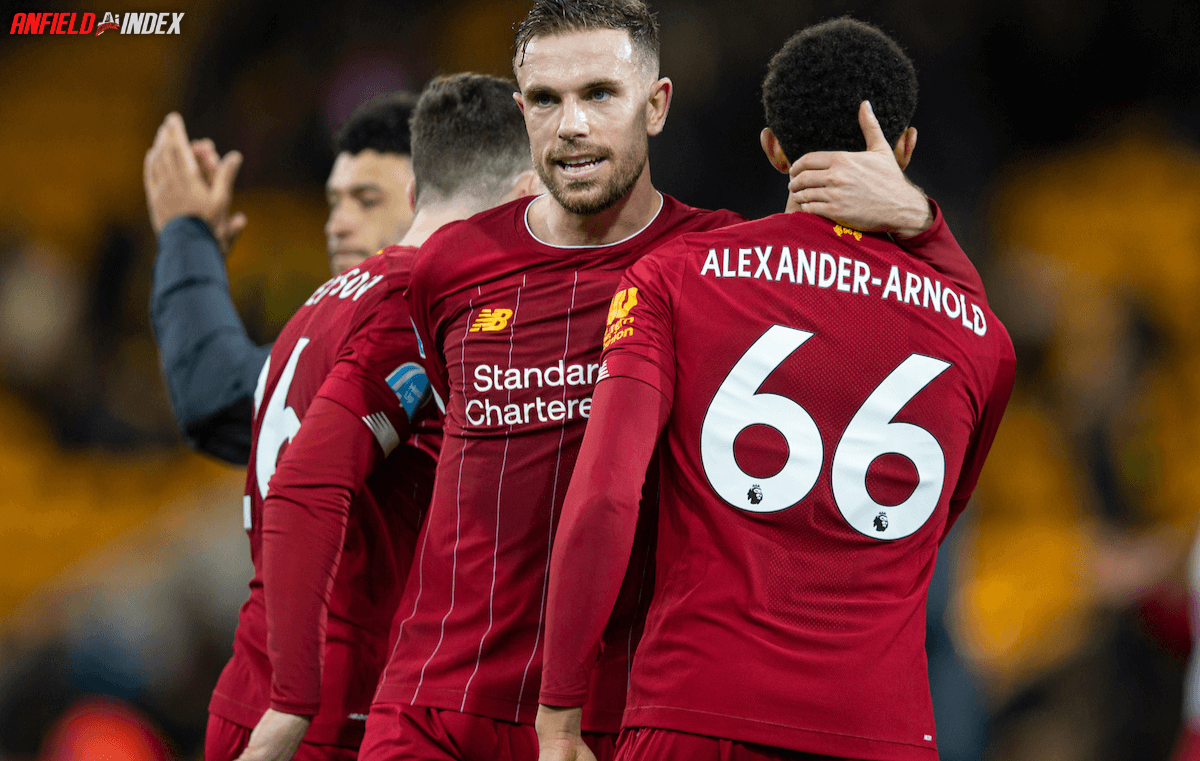 Is There a Place For Trent At The Leadership Table?
For the entirety of Jürgen Klopp's reign as Liverpool manager, Jordan Henderson and James Milner have acted as the captain and vice-captain of this glorious football club. With our former Leeds midfielder about to leave the club (for Brighton), it will leave an opening for that vice captain's position. In seasons gone by, there has often been four prominent leaders within the squad, selected by our German head coach. Before his own departure, Georginio Wijnaldum was seen as one of those four, whilst Virgil van Dijk remains as perhaps the strongest leader in the team. Next season will see the big Dutchman at 32-years of age and Jordan Henderson at 33. Though Andy Robertson probably replaced the outgoing Gini at the head table, he will turn 30-years old in the second half of next season. Given that scenario, now could be the moment to introduce some young and exciting ideas to that leadership table.
I remember a few years ago seeing an interview with Trent Alexander Arnold, when he spoke about his desire to one day lead Liverpool FC. It's clear that Steven Gerrard was his idol (when he was growing up) and I do feel that he could be on the path to emulating one of Anfield's greatest ever players. Under the guidance of our 55-year-old manager, our famous number 66 rose to become the most attacking and destructive right fullback in all of world football. With a powerhouse formation and system designed to give space to a select few, our 18-cap England international was able to revolutionize that position to an entirely different level. This season, however, the system has faulted under the weight of tired legs and the lack of physicality in the midfield. The elite performances of Trent started to subside, as he was set upon by enthusiastic opponents on a weekly basis. the 24-year-old was never built to be an ultra-defensive fullback and despite key requirements often failing him, this was due to the years where he was incorporated into the progressive patterns of play.
In the past month or so, an altered system and adjusted dynamic has been utilised, in order to regain consistency and control of the pitch. The most tinkered member of the squad has undoubtedly been Trent, whose on and off ball requirements are now very different to the years prior. Without delving too much into the fundamentals of this changed role, it has placed Trent into a position where he becomes the playmaking quarterback within a possession heavy team. Whereas the electric passing, wonderful touches, and control of play has probably stood out the most, I have been equally impressed by his super attitude and desire. Moments in game can incapsulate a mindset and hunger, which we are seeing in abundance in the last five or six games. 
When the Reds were losing horrendous games and continually putting out disastrous performances, you could see the heads of many players drop. One of the most high-profile names to show a lack of effort, was most definitely Trent. You could see that he was losing desire and intensity, with so much of his natural game being underutilised. I wrote a piece only a few months ago, where I questioned the intensity of some, I considered one of the Premier League's best players. I was hopeful that that period was nothing more than a learning curve moment, which I'm thankful to say appears to be the case. Our assist king is well underway to reinventing himself, with a real intensity and purpose rising to the top.
I still recall when Sami Hyypiä was replaced as Liverpool captain back in October of 2003. It was a move not so much to undermine the giant centre back, but to help push the team and one particular player to new heights. Rafael Benítez would most certainly benefit from the decision of his predecessor, the late Gérard Houllier, as Champions League glory would entail in 2005. Gerard had been the 22-year-old rising star of the team, yet had struggled with inconsistent moments, given to his tender years. His style of leadership very much embodied the idea of leading by example, with his ability to win high pressure games almost single handily. You often saw Jamie Carragher barking orders and organising the team, whilst Stevie would concentrate on inspiring his teammates with both ability and a desire to drive forward his hometown club.
I'm now starting to see more temperament parallels with Stevie and Trent, who both hold so many similarities in their playing style and persona. With added responsibility, you can see TAA growing bigger, much in the way our famous number eight once did. Though I'm keenly aware it would be controversial to start changing the armband (whilst the sitting skipper still resides), I do feel that a large-scale transition would benefit the players and the overall evolution of the squad. To take away some of the responsibility from Hendo, may just allow him to streamline his game and concentrate on improving his performances. I do not believe Virgil to require an armband to lead the defensive line, with some leadership parallels to Jamie Carragher's former vice captaincy. That leads me to whether a new hierarchy could be established, one which serves everyone, whilst allowing the current skipper to save face.
As a potential successor, our academy graduate would embody what we want for this club. To elevate a young man who adores this club, would surely bring pride and a want to succeed into Trent's world. 
Captain – Trent Alexander Arnold
Vice-Captain – Virgil van Dijk
Leadership table – Jordan Henderson, Thiago Alcântara.
This is the group of four I would endorse for that fabled leadership table, with our right back getting my nomination for captain. Virgil would make the perfect running buddy, one who could be sold on the idea of mentoring the next generation of leader. I believe Trent could take his position and level of play to unfathomable levels, especially if he were to be the skipper of the team he cherishes. With a shuffle of players incoming, now would also be the perfect moment to reassign the captaincy.
I have seen a resurgence in our hybrid player that gives me hope for the next phase of this team. To see him lead this next generation could be a pivotal step, especially with certain members capable of dragging this side to more silverware. For me, Trent Alexander Arnold is front and centre of that charge and should most certainly be considered for that coveted role of Liverpool captain.