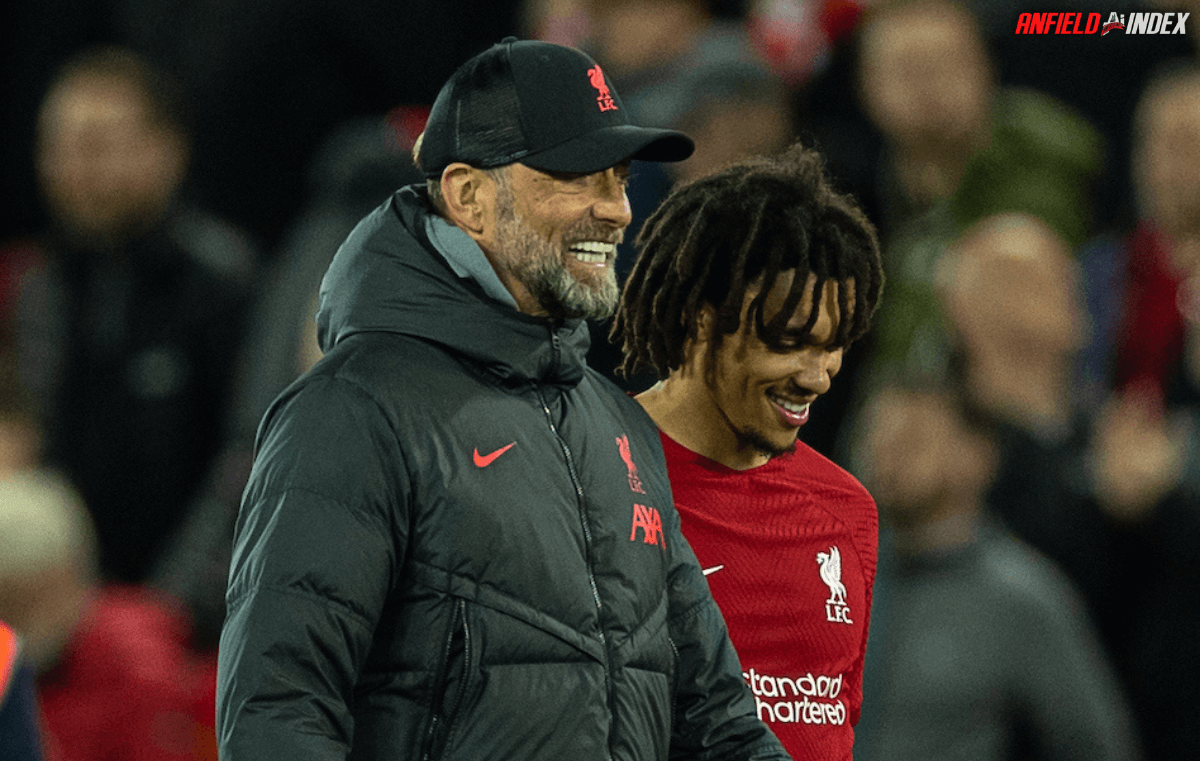 Liverpool 1 - 0 Fulham - The Post-Mortem 
This was the return fixture after the Reds drew 2-2 on the opening day of the season. That game at Craven Cottage appeared to open the eyes of all our enemies that our lack of physicality and tired bodies were there to be gotten at. As we approach the end of our rather dismal campaign, I can at least start to look at the promise of change and what is to come. This win makes for five victories on the spin, with a whiff of Champions League qualification just about hanging in the air. As I write this, Manchester United travel to Brighton for Thursday night's game (which they lost – editor), before their weekend trip to face West Ham. I believe Liverpool can still attain a top four finish, though United will have to lose at least the next two away games. With that, Liverpool simply had to get the three points against Fulham on Wednesday evening, which was delivered without much drama at all.
Below was Jürgen Klopp's starting eleven & subsequent in-game changes.
GK – Alisson Becker

RB – Trent Alexander Arnold
LB – Andy Robertson
RCB – Virgil van Djik (c)
LCB – Ibrahima Konaté
CDM – Fabinho
LCM – Curtis Jones
RCM – Jordan Henderson (c)
LF – Luis Díaz
CF – Darwin Núñez
RF – Mohamed Salah
Substitutions;
63' Cody Gakpo – Luis Díaz
63' Andy Robertson – Kostas Tsimikas
83' Diogo Jota – Darwin Núñez
84' Harvey Elliott – Mohamed Salah
84' James Milner – Curtis Jones
With the line ups and substitutions as shown above, the match started with the Reds maintaining solid possession. With a final tally seeing Liverpool retain 58% of the ball, it allowed a fairly fluid game to unfold. The end product was all that was lacking for both sides, with the only goal of the game coming from the spot.
All the scores went as follows…
39' Liverpool 1 – 0 Fulham
Mohamed Salah (Penalty)
This was a match-up that had moments, yet felt pretty routine for both. The visitors seem intent on staying resolute and organised, whilst still galloping forward whenever we felt like looking far too open. Marco Silva has built a team that is hard to break down, thereby making for more of a game of patience than anything else. With Kostas coming into the side, his physical approach actually had him having a solid performance as the left sided defender. Ali was wonderful in goal (again), whilst the centre backs were bullish and dominant. I was very impressed with the snap and aggression of Fabinho, who seems to be settling in nicely, essentially with Trent sat in next to him.
I awarded Trent Alexander Arnold the man of the match award, as I believe he is now dominating games to a superb level. I can see real intensity and purpose in his play, with much of the team willing to dance to his elite footballing tune. We saw glimpses of the all-action middle man he is so desperate to be, which is why I have just written a piece detailing how he could lead the next phase of Klopp's team. Curtis Jones was once again impressive, which is a delight to witness. He has grown and worked into the manager's thinking, with a demeanour that suggests he'll be unwilling to give up his shirt without a fight. Jordan Henderson had himself a good evening's work, with his game always looking better when he concentrates on the simple jobs at hand.
The attack once more looked a placing of individuals, who did individual things. With Cody taken out of the team (for Darwin), you could see the lack of cohesion between the three men on the frontline. Diaz looked electric if sporadic, Mo looked dangerous if surrounded, whereas Darwin looked unsure yet won a penalty. Decisions will have to be made in the summer, but you do feel as though our Uruguayan striker could find himself as the 5th choice forward by the time next season rolls around. The substitutions did little to impact proceedings, with the final whistle coming around without much fuss.
To see our Egyptian King blast the ball into the opposition net was joyous, with that goal taking his overall tally to 29 for the season. Game management seemed to dictate the remainder of the contest, with a tough game against Brentford to come on Saturday. Ali was called upon to make a huge save late in the second half, as the Reds failed to really take advantage of their control of the game. It is these big chances that we must stop giving up. Unless we are intent on bombarding teams with pressure, we simply must make sure that when we shut up shop, it stays shut.
Not all games can be roller coaster goal frenzies, especially if we are to become an elite force again. These types of contests need to be about strangling the team of the ball and grinding them into submission. The style and ferocious nature of our play is changing, yet the brief moments of excellence are still there to see. We wanted the three points, which is exactly what we got.
Now we go again, with Brentford acting as the next team on Jürgen Klopp's bucket list of revenge. If the results of that and United go our way, then it could make for a very interesting final few weeks of the season.