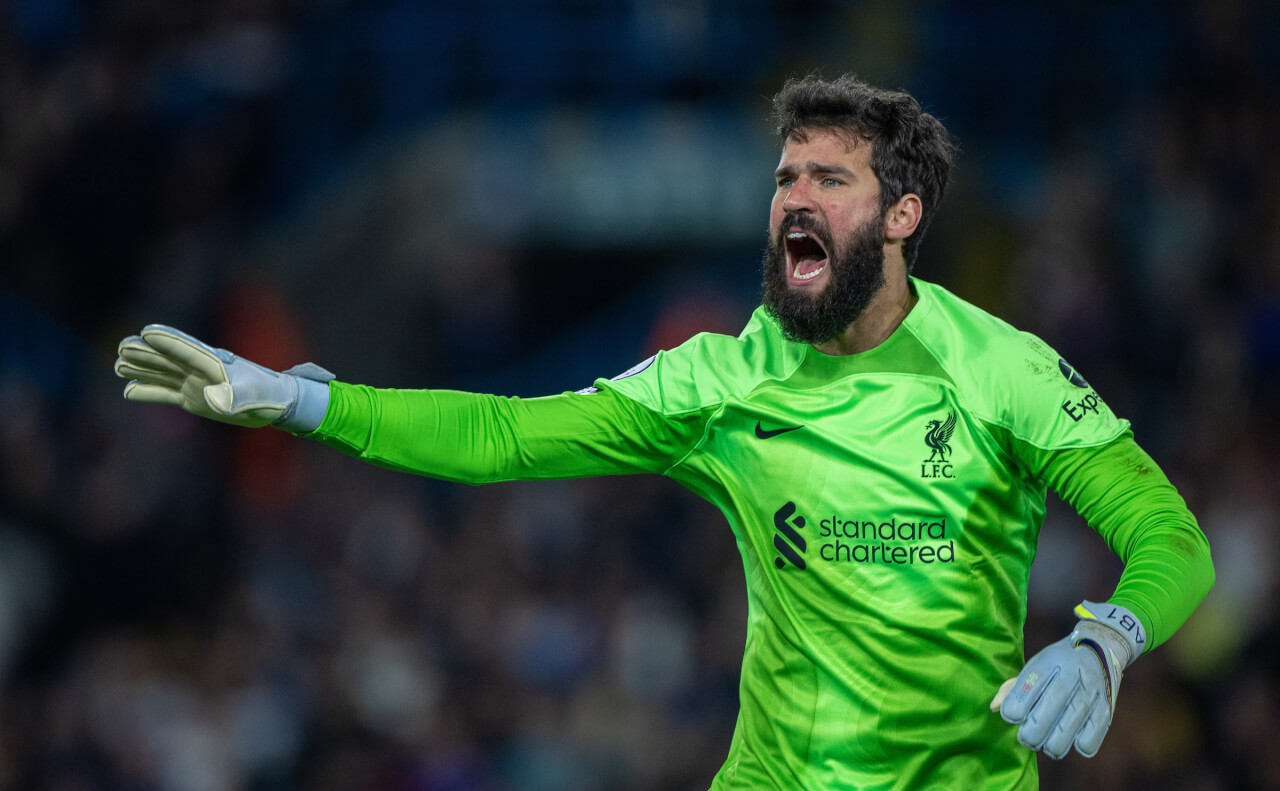 Alisson Close To Tears as Clean Sheet Boosts Golden Glove Bid
Alisson persisted in his quest for the Premier League's Golden Glove with a clean sheet during Liverpool's 1-0 triumph over Fulham, which brought him to the brink of tears.
Considering the Reds' challenges this season, it may astonish some that Alisson currently ranks third in the race for the Golden Glove.
The Brazilian trails only David de Gea (15) and Nick Pope (13), with his 12 clean sheets equalling Arsenal's Aaron Ramsdale and surpassing fifth-placed Emi Martinez (11).

As Liverpool clung on for a fifth consecutive victory, Alisson made crucial saves, twice thwarting compatriot Carlos Vinicius, and was thrilled with his first clean sheet in six matches.
Speaking to Premier League Productions following the win, Klopp quipped that his No. 1 was "close to crying," such was the importance of his clean sheet.
"Alisson was close to crying with a clean sheet. It's quite rare for us this season!" he remarked.
"It's very nice, particularly for him."
During his post-match press conference, the manager was queried whether he believed Wednesday's performance epitomised Alisson as the most consistent player of the season.
"Absolutely, absolutely," he responded.
"I've mentioned it a few times: he was genuinely moved that we got a clean sheet tonight; it's been that long.
"He kept a clean sheet for us, especially in that situation [with Carlos Vinicius].
"He is undoubtedly the most consistent player we have this season. That's not actually bad news; it's good news.
"If we're not in great form and the level of the goalkeeper drops as well, then we would have been utterly lost."
Klopp's final point was echoed by a statistic from Squawka, revealing that Alisson has made more saves this season than in any previous Premier League campaign.
He has been called upon 100 times in this season's top flight, primarily due to Liverpool conceding more chances than they typically would.
Liverpool can credit their goalkeeper for maintaining their hopes of a top-four finish this season, and it is perhaps no wonder, then, that Alisson's emotions were apparent after the 1-0 victory.