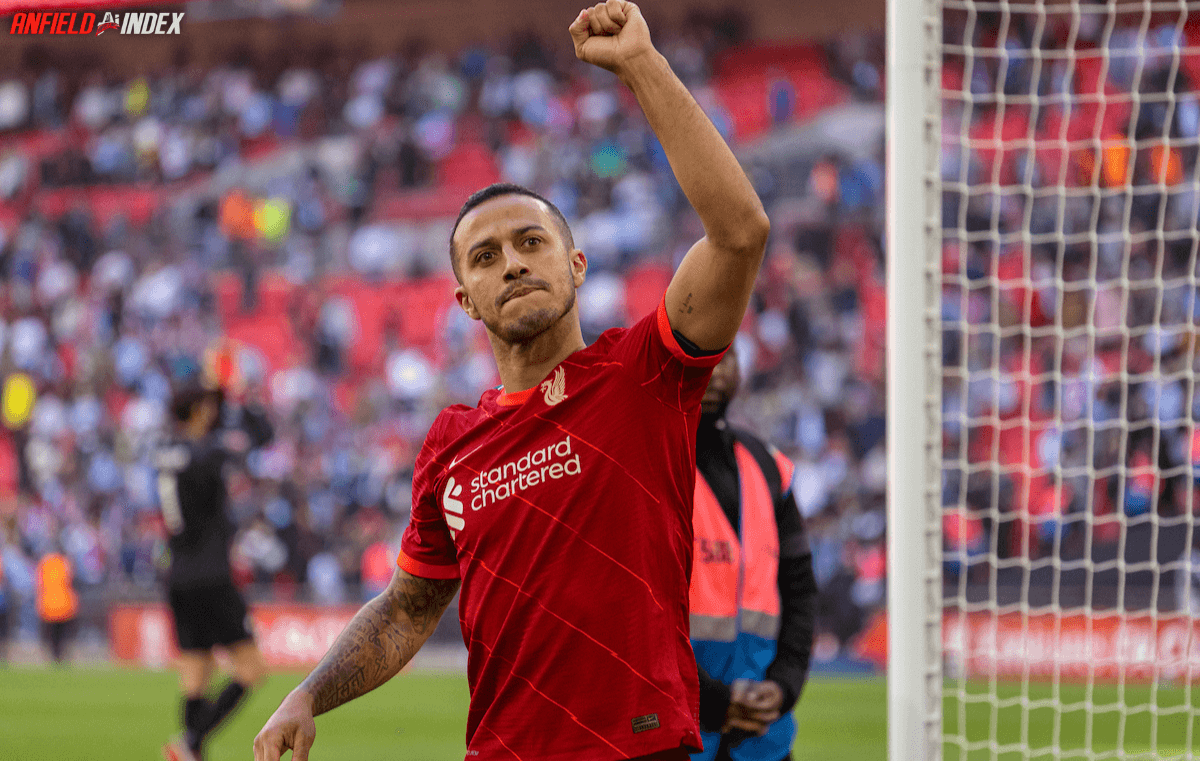 Thiago Must Stay For Leadership & Brilliance in Transition

I keep reading this last week how Barcelona is expressing a desire to recruit their former player, Thiago Alcântara. Having left the Nou Camp in 2013, he did so in order to fully establish himself as one of Europe's leading midfielders. As an academy product, he had the world class trio of Xavi, Andrés Iniesta, and Sergio Busquets all ahead of him. Prior to his leaving, the Spanish giants had also signed Cesc Fàbregas back from Arsenal, to create an eye-watering array of central midfield talent. As a 22-year-old full international, he chose to move to German giants, Bayern Munich. It was in fact Pep Guardiola who insisted on the capture of the Italian born maestro, with his own 2013 step to the Allianz Arena creating a period of domestic dominance. 
Whilst playing in the Bundesliga, Thiago managed to orchestrate his side to seven consecutive league titles, after aiding Barca in capturing four La Liga titles during his five seasons in Spain. This type of serial winning and magical footballing ability is exactly why Jürgen Klopp insisted on the signing of the 46-cap Spanish player. When FC Bayern were themselves approaching a period of change, the former Flamengo man clearly felt one last huge challenge should represent his next move. Though the Reds had previously been targeting powerful and athletic players to overrun opposition midfields, the Spaniard (born to Brazilian parents) was a man chosen to unlock the ever-growing list of club's intent on low blocking their way through games. The talent and stature have never been in doubt, however, this theory of selling a broken magician needs to be shut down, as his continuing Anfield stay could be vital to the red's regeneration.
When Thiago arrived, we all immediately saw the brilliance of his control. The style of the team shifted to allow him full autonomy in playmaking, whilst Trent and Robbo would supply ammunition from the flanks. When teams feared us, it papered over the cracks in our engine room. The likes of Gini were never replaced, whilst Milner & Hendo simply got old and slow. Equally so, Fabinho and his level dropped off, especially given teams became eager to engage a group with limited midfield power. The recruitment department clearly had a vision to supplement the midfield area last summer, with a deal for Aurélien Tchouaméni so close to getting done. That kind of athleticism would have given a huge boost to our ranks, instead we have simply seen too many of our players run through, time and time again. 
During this period of struggle, Thiago was tasked with becoming a combative, box to box engine, which inevitably broke his body. In the season prior, there was a common rotation between our number six and Naby Keïta, which ensured a controlling presence in the side. In the last month or so, we have shifted the shape to introduce Trent as the prime controlling entity, but to dismiss the former Barca man would only create more problems. Alexis Mac Allister, Manuel Ugarte, and Mason Mount appear the trio of middle men that we will be looking to replace the outgoing James Milner, Alex Oxlade Chamberlain, and Naby Keïta in the squad. With that (and a left sided defender), I am pretty happy. A couple of minor squad additions aside (a backup right back and back up keeper), that is a solid enough window. That window though, could become very different if we were to allow our Spanish midfielder to leave. In leadership alone, he is a vital cog in the machine, whereas his on pitch influence would absolutely be improved by having a better squad of players around him. In a refined rotation role, you would maximise his output, much like in the season where we nearly won the quadruple.
The 2021/22 data when rotation with Naby was undertaken (and the rest of the squad was capable), 39 games played.
The 2022/23 data when rotation with Naby was not possible (and the rest of the squad was incapable), 28 games played.
To surround an elite player with the components to elevate the team is required, not taking away that elite level entity because we have ravaged him. Luka Modrić and Toni Kroos have been used with an abundance of energy immersed around them, which enabled them to produce brilliance when it was needed. Thiago is a leader among men who can guide and help develop the next generation of superstars at this club. With Trent being moulded into something new, he could learn so much from our 32-year-old, by playing with him for the next two or three seasons.
Successively transitioning into our next phase requires new blood, but it also requires certain players that can guide and influence the side through this period. We cannot expect to become that which we once were, by allowing world class players to walk away, when we are hopefully on the cusp of delivering that which they need most. Thiago should have his contract extended and used in the major games of note, whilst new additions find their feet. This is big club mentality and this is what I hope will eventually happen.
Nobody puts Thiago in the corner.