 Scouting Report: Youssouf Fofana
Another day for Liverpool fans and another link to a potential midfield addition for the summer. This time it's a face that we've been linked with in previous windows and the same publication has doubled down on their original take. A reduced price because of a contract, a consistent performance level and competition from a familiar foe means that this one doesn't seem likely at this stage but can't be ruled out. Jurgen Klopp needs midfielders and there's plenty of quality ones out there as he said. Time to take a scouting report on one here..
What's Been Said?
It's been a busy week for the Daily Mail aside from the coronation and Harry bile, as their sports writers have focused on the link between Youssouf Fofana and Premier League clubs. First their main transfer protagonist claimed that Liverpool and Chelsea were competing for the French midfielder's signature earlier in the week, whilst Tamara Prenn's feature piece on the 24 year-old reiterated the desire that both clubs have to sign the player. The former pizza delivery driver has been linked with a move to Anfield in previous windows, so it maybe an easy link to make but Get French Football News have also reported PSG have withdrawn their interest and a move to England looks likely.
What Does He Bring?
A natural six whose aloe capable of playing in the eight role, Fofana has been one of Monaco's most consistent performers for some time. The former Strasbourg youngster is famed for his physical prowess and ability to regain possession in the middle third. With more of a focus since Tchouameni's departure to Real Madrid, Fofana has top level experience having come off the bench to play in a World Cup final against Argentina. Aside from his impressive aerial duel success, the nine-times capped player is more than adept at dribbling and his progressive passing stats have stood out.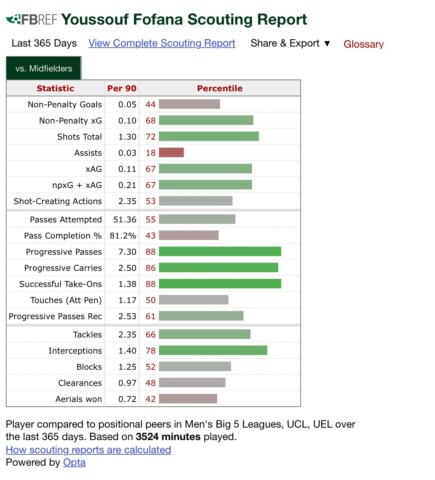 Stats and Info
The fact his contract with Monaco seems set to expire in 2025 (the club have a year they can exercise in 2024) and he shows zero willingness to negotiate new terms makes it seem that a move is likely this summer. The Paris native earns a paltry €280k per year in football terms according to Capology and personal terms shouldn't be a remote issue for the Reds. The concerns are that French football outlets have reported a dip in form since his return from the World Cup and his passes attempted is well below what you'd expect from a Liverpool midfielder.
Price Tag and Realistic
If it's not Liverpool, then a player with Fofana's ability, who has a rumoured price tag of €25 million and whose wages demands shouldn't be prohibitive will be of huge interest to other premier league clubs. The reds are naturally looking at a lot of midfielders this summer and it would be no surprise if the Clairefontaine graduate has been discussed by the transfer committee. However, with no other main patch journalist mentioning him as a serious option and concerns around certain metrics, it would appear to need main targets rejecting the reds overtures to bring him to the top of the list. It shouldn't be dismissed but it shouldn't be classed as realistic just now.