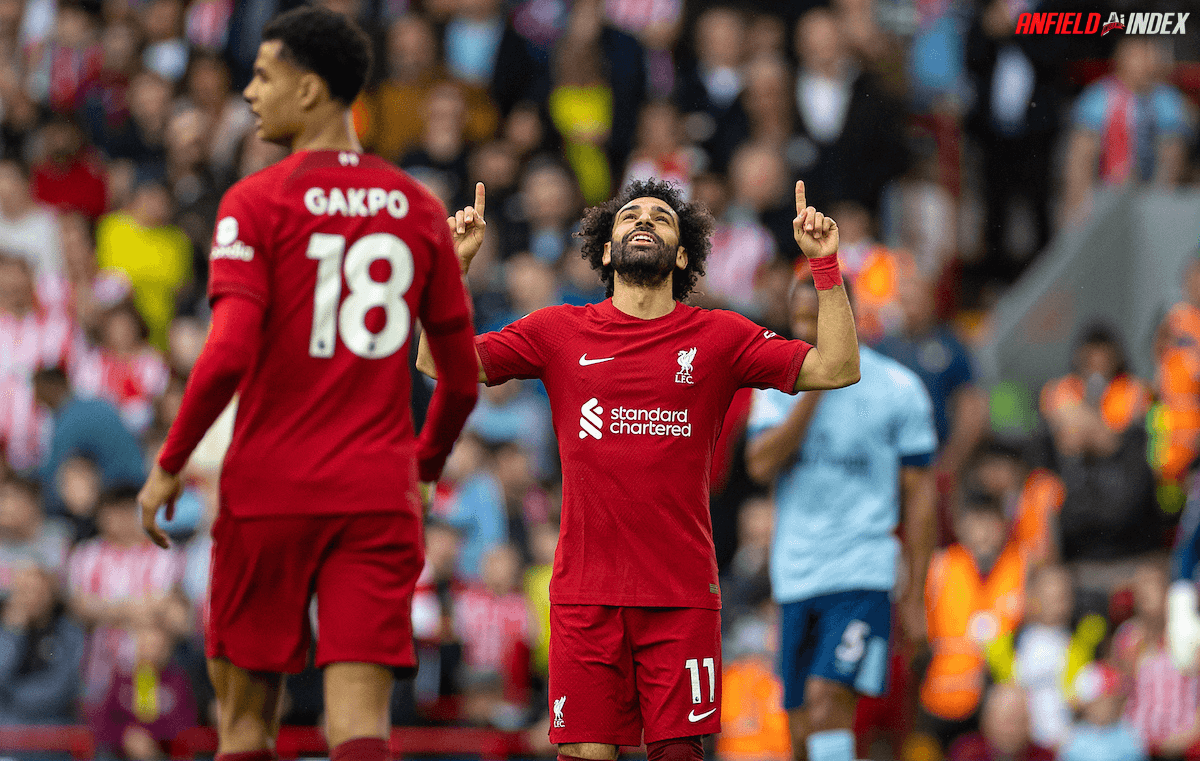 Liverpool 1 - 0 Brentford - Man of the Match
Liverpool 1 – 0 Brentford – Man of the Match
Mohamed Salah
This was far from a perfect performance, yet the former Chelsea forward was the difference between the sides at Anfield.
Thomas Frank was looking to become the first manager (of an English side) to record two wins against Klopp, in a singular season. His team tore the reds apart on their home ground in January (3-1), therefore arrived with a clear intent to bully and harass their richer opposition once more.
In this refined and altered system, Salah is outperforming by a huge margin, given the requirements to be so wide and support his teammates on the flank. His touch and awareness always attract multiple defenders, which enables space and creation for his teammates. The common theme of this game was being able to give the ball to Mo, with the knowledge that he could alleviate any growing pressure from Brentford.
The opening goal gave the home side a platform to try and control the match, which was a constant Ivan Toney risk away from becoming another problem game. The Egyptian King was able to aid the creation of the goal, before prodding (eventually) the ball over the line from a Virgil van Djik header. The nerves settled a touch and the rest of the game was about managing areas of the pitch, whilst restricting the obvious threat posed by the West London team.
The three points were all that mattered in this game (again), therefore the reliance on our world class player ls was clear. Alisson Becker was strong and alert in goal, whereas Mohamed Salah was clinical and decisive at the other end. In this off season where thirty goals have been scored by our legendary number eleven, he allows these types of difficult games to be decided by a moment of greatness. Our leading scorer is the master of these moments and was able to be enough throughout the game to ensure yet another win.
No single player had a glorious game here, however, the final whistle saw the reds move within one point of Manchester United, as our Champions League qualification hopes continue to sustain themselves. Our fiercest of rivals have two games in hand on the reds, yet the pressure is surely mounting on a team that is looking susceptible to clubs that require urgent points.
This scenario and unlikely event of finishing in the Premier Leagues top four, continues to be a lingering hope due to the goal of Mohamed Salah. His important to this team is sometimes overlooked, especially when opposing fans and pundits try to compare his standards to largely inferior players. This world class player has set the bar immeasurably high, with today's performance allowing a stuttering team the faintest of hope to achieve the impossible.
Mo Salah hit a few landmarks today:

• Equalled Steven Gerrard (186) in the all-time scorers list.
• 100 Anfield goals
• Goals in 9 straight Anfield games (club record)
• 30 goals for the third successive season
• Minimum of 19 PL goals in each of his seasons at Liverpool pic.twitter.com/AnwKOehLLU

— LFC Stats (@LFCData) May 6, 2023