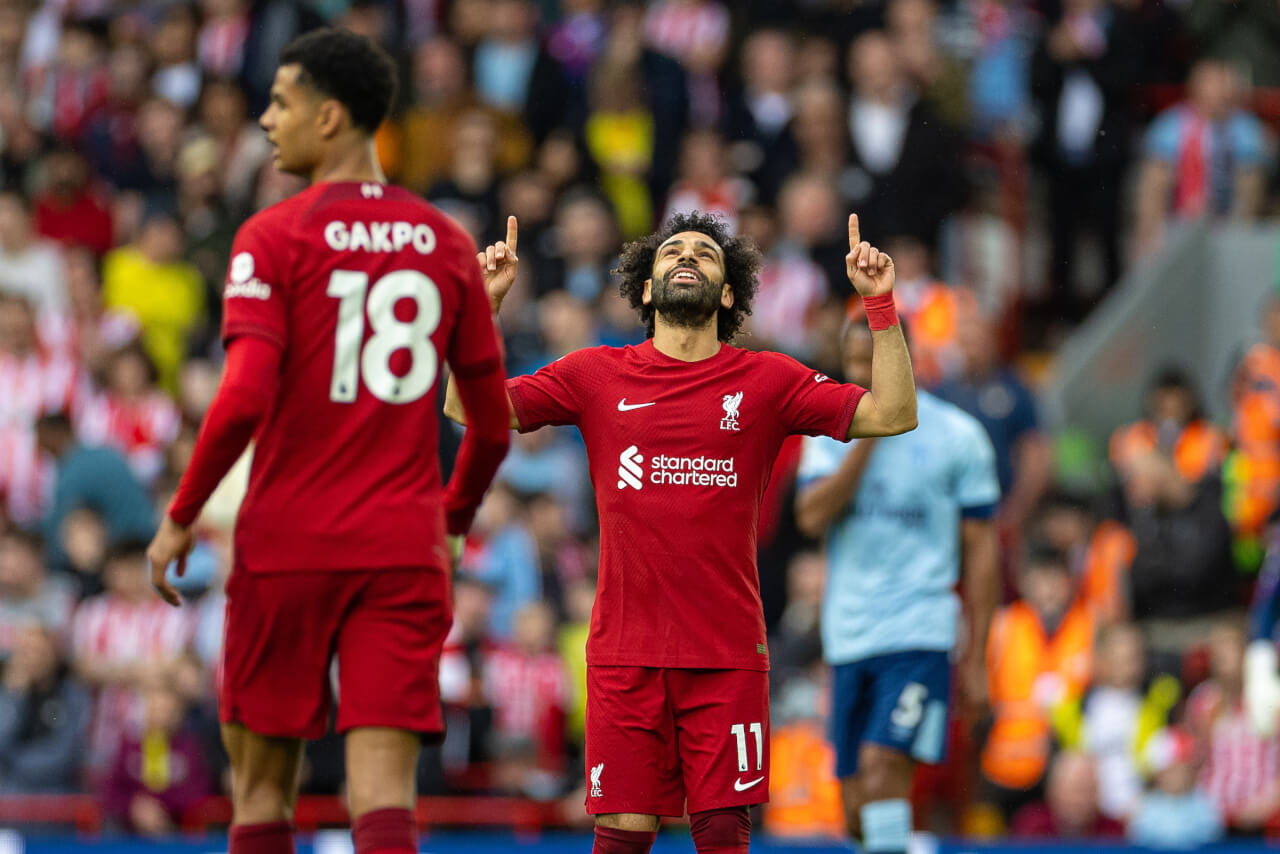 King of Anfield: Salah Equals Gerrard's 186-Goal Record
Mohamed Salah's determination to keep shattering records for Liverpool was evident as he reached three significant goalscoring milestones during his side's 1-0 triumph over Brentford.
In the 13th minute, the 30-year-old Egyptian's near-post finish not only marked his 100th Liverpool goal at Anfield, but also placed him alongside Steven Gerrard on 186 goals for the club – joint fifth on the all-time list.
Additionally, Salah became the first Liverpool player to net in nine successive home matches.

"It means a lot to me. I feel at home here, I'm happy," Salah divulged to Sky Sports. "Hopefully we just need to finish the season in the best possible way. As much as I'm scoring goals, the team is winning games, that's the most important thing.
"It's something that makes me proud. I work really hard, everybody knows that, everybody sees that. And then I'm just motivated to keep breaking records and scoring goals and winning games for the team."
Liverpool's victory, their sixth consecutive win, closed the gap with fourth-placed Manchester United to just one point, albeit having played two more matches than their rivals.
The Reds also celebrated their second clean sheet on the trot, following Wednesday's 1-0 victory over Fulham, with Salah underscoring the significance of their solid defensive displays.
"We've improved a lot the last couple of weeks," he continued. "We've won six in a row, we had a couple of clean sheets which is really important for us because once you don't concede a goal you just have to win 1-0 and that's it; that's what happened this game and the last game.
"So I think we have motivation at the moment in the team, we need to carry on. Three games left, we need to carry on."
Anfield heard the national anthem prior to kick-off, marking the coronation of King Charles III, but it was met with jeers from some sections of the Liverpool crowd.
Liverpool supporters have a complex relationship with the anthem, shaped by politics and social history as much as sport. Jurgen Klopp highlighted the importance of freedom of expression for both those celebrating and those dissenting the coronation.
"First and foremost, today is a big day for England and I respect that a lot," Klopp said. "Everyone who wants to be happy about it and wants to celebrate it is allowed to celebrate it. We have, thank God — and not everything now is better than it was in the past – but we have freedom of speech. That means a free opinion as well.
"It was clear that something like this would happen, I think everyone knew it. And that is allowed, meanwhile. That is fine. Nothing else happened and there was not any kind of chants or anything like that. It was just that the people showed (their feelings). I don't know exactly what it is, some things I know about, not all. But the people of Liverpool in the past were not always happy with how the city or the club was dealt with. So that is what they did.
"I think really today, for all other people who love the day — and I am not sure if you say congratulations to the King but if you did then I do that here — but people who celebrate it, they do that here. Other people who are not happy about it they say it and then that's it. I think that is absolutely OK."
Liverpool's next outing sees them travel to face Leicester on Monday, May 15.