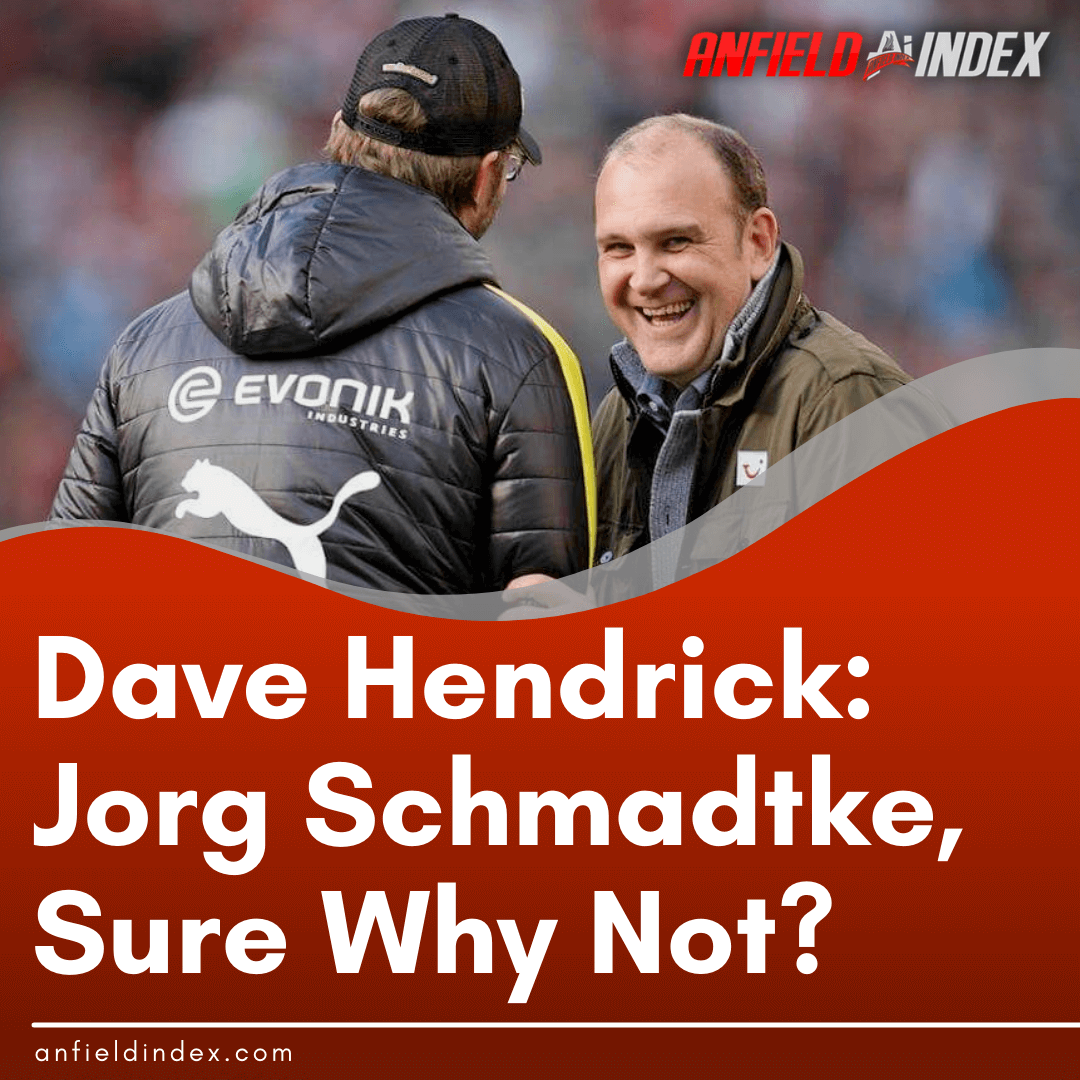 Jorg Schmadtke, Sure Why Not?
It's probably fair to say that Matt Law and Sam Wallace dropping a Saturday night exclusive about Jorg Schmadtke being the new frontrunner for Liverpool's soon to be vacant Sporting Director came as a bit of a surprise. In part because it wasn't one of the local patch journalists who had the story, but moreso because Schmadtke hadn't been mentioned by anyone up to that point and likely wasn't on the short list, or long list, of anyone who'd put much time and thought into the subject.
Schmadtke was, after all, retired. When he left Wolfsburg in February, after just over four and a half years in charge of Volkswagen's sporting arm, he said his plan was to retire. Following a distinguished playing career, he had spent 22 years working in pressure cooker situations at Alemannia Aachen, Hannover 96, 1.FC Koln and Wolfsburg and decided the time had come to step away from the game. He did put in place a caveat though. That his wife might get fed up having him around the house and send him back to work. It would appear that within three months he'd gotten on her last nerve and decided she needed him out of the way.
There's been a lot of speculation, fuelled by the Law/Wallace article, that he is an ally of Jurgen Klopp. That may be the case. Their paths have crossed during their playing days, and they are reported to have mutual friends and some shared interests. Given Klopp was reported to have been heavily involved in the process of finding a new Sporting Director to replace Julian Ward, it could be seen as a case of jobs for the boys, and Klopp bringing in a potential yes man who wouldn't challenge him on certain things like contract extensions and potential transfer targets. If that is the case, it's obviously slightly concerning.

In truth it was concerning that Klopp would have input in the appointment of a new Sporting Director to begin with. The Sporting Director should be the one choosing the manager, not the other way around. The Manager should, in a normal club structure, answer to the Sporting Director. Obviously Jurgen Klopp isn't just any Manager and winning a Champions League and Premier League give a Manager a lot more job security than one without those major honours might have, but the very least the Sporting Director should operate on a similar level to the Manager. For the club to function properly, and for the long term stability of the club, that has to be the case otherwise you find a situation where the tail is wagging the dog. If the Manager is picking the Sporting Director then, as Trev Downey put it, the poacher is appointing the game keeper.
Regardless of who's made the decision, and what level of power Schmadtke might or might not have at the club, it's important the process be allowed to play out. Schmadtke's track record is that he has improved each club he's been at, and left them better off than he found them. Admittedly he's never worked at a club the size of Liverpool but his personality suggests the size of the club is irrelevant to him. The job is just the job.
The other part of his track record is that he does have a tendency to fall out with people, mostly managers, and has left all bar Wolfsburg on bad terms. That suggests something of a firebrand personality, so even if Jurgen has gotten him the job because they're friends there's likely a good chance that Schmadtke won't be shy about voicing opinions. Conflict can often breed positive results if it's constructive and with a healthy respect between the two men it could well turn out to be a good thing for Liverpool on the whole.
There's no real point in digging into his signings at prior clubs because Liverpool are able to attract a higher calibre of players, but some notable players signed by Schmadtke include Maxence Lacroix, Ridle Baku and Micky Van De Veen who would all fit very well into the upcoming Reds' rebuild. He seems to have a strong eye for defensive talent and that could be of huge benefit for the club.
_____________________________________________________________________________________________________
Can we stop with the "Liverpool need to sign home grown players" nonsense? Please? It's a false narrative.
There is no rule that says Liverpool need to have a specific number of home grown players in their squad, they just can't have more than 17 non-home grown players. With Harvey Elliott not counting as a home grown or non-home grown player and likely to continue to have a significant role next season, Stefan Bajcetic likely to have an increased role and also not counting towards either, and potentially Conor Bradley taking up the role as backup right back he would be another that count towards the quota, there really is no need to worry about the quota.
With Keita, Firmino, Arthur and Adrian all leaving, that opens four non-homegrown slots. Does anyone expect Liverpool to sign more than four players? Liverpool could buy four non-home grown players and increase the roles of some of their under 21 players to replace any home grown players that do leave.
There's also better ways to add home grown players than overpaying for starters. Back-up goalkeepers, fifth choice central defenders and the like. Sepp Van Den Berg, Rhys Williams and Curtis Jones will all become classified as home grown for next season, as will Leighton Clarkson. Van Den Berg, Williams and Clarkson might not be good enough to play in anything other than the early rounds of the league cup, but as the 23rd, 24th and 25th men in the squad they could keep the quota watchers happy, while Elliott and Bajcetic play ahead of them.