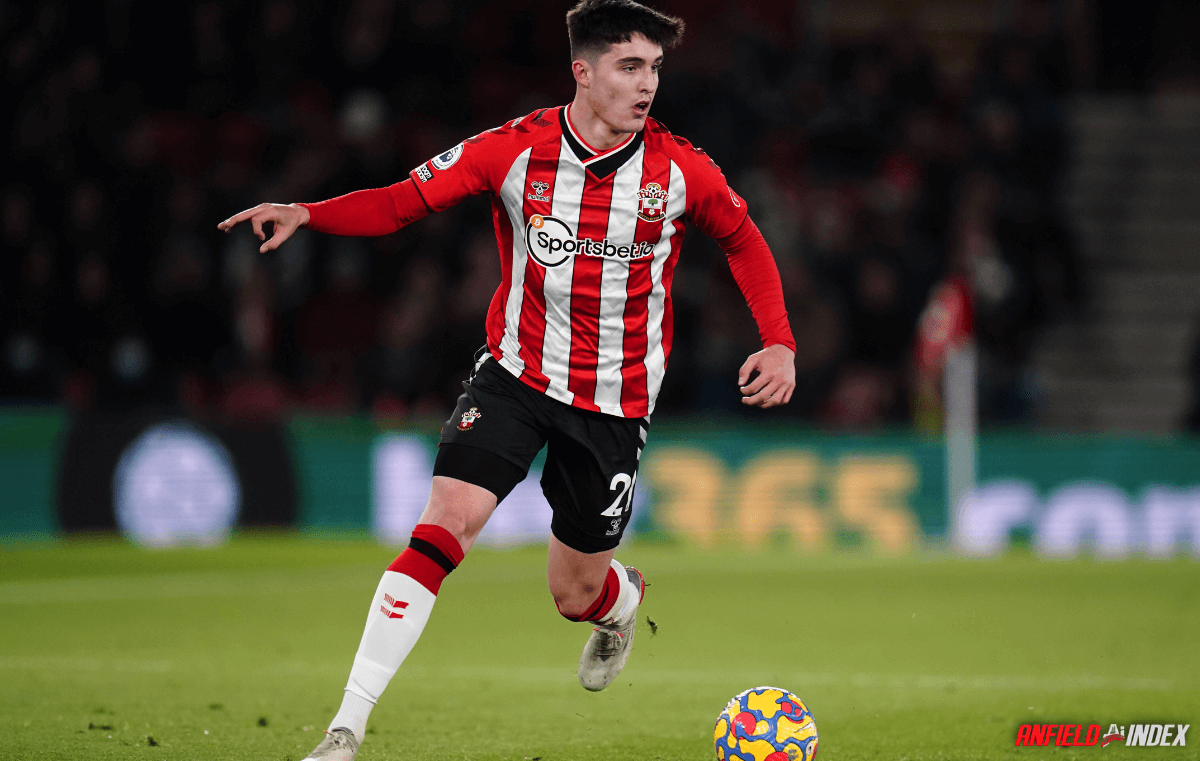 Tino Livramento And the Right Back Solution…
With our right back now spending so much of his time dominating the reds midfield, it was inevitable that a new fullback would be targeted by the reds. Some believe that this new on ball 3-4-3 box formation will become permanent, whereas some believe that a more refined 4-2-3-1 will be incorporated next season. In either scenario, it would absolutely require a new right rack to come in and offer either competition or back up. When considering the impact on the team of Thiago, we seemed to become utterly immersed in the Spaniard's patterns of play, with an inability to cope in his absence. This controlling entity eventually forced the hand of Jurgen Klopp, who finally utilised our number 66 into that stagnant middle ground. What must be avoided, however, is to also become too over-reliant on our 18-cap England man. Injuries will always come, therefore to recruit a young and potentially dynamic understudy makes sense. Despite having Calvin Ramsay and Joe Gomez, these two players are very much typical versions within a limited role. What we require, is someone that can become a viable replacement for Trent, thereby allowing the system to work whenever he is unavailable.
I would say it's very 50/50 as to whether our 24-year-old becomes a full-time midfielder, or continue to be that off ball hybrid that drops into his fullback position. The entire system
discussion remains very dependent on who we eventually recruit to cover the LCB slot, in addition to various formation adjustments we will likely make next season. Ultimately, we are likely to have multiple midfield and attacking options (after the summer transfer window), that allow us to navigate according to the game at hand. Ideally, we do require that adaptive right sided full back that could push into central midfield zones. Neither Ramsay or Gomez possess the guile or on ball ability to become influential in that zone, which is perhaps why a well thought of name has come to the fore over the bank holiday weekend.
Tino Livramento
Age – 20-years old (DOB 12/11/2002)
Current club – Southampton
Nationality – English
Height – 5ft 8inch
Weight – 72kg
Senior Club appearances – 34 games
Senior goals / assists – 1 goal / 1 assist
Total minutes played – 2.470
International caps & goals – 0 games / 0 goals
Contract Expiry – 30-06-2026
Transfermarkt value – €25m
The fact that he shares the same birthday as me (albeit 21-years later), means this is a deal that surely has legs. With pretty much equal games being played across either right back or right midfield (across all levels), he certainly ticks the progressive box. With a forceful culture to his play and a confidence on the ball, he could well possess the ideal ingredients needed to mould accordingly. The major issue is clearly the ongoing injury concerns that have blighted his progress for Saints.
🚨Tino Livramento felt "discomfort in his knee" after playing for the B team and is doubtful to return this season.

Scans show there is no new injury, but has stopped him from playing any more academy games.

Updated story with quotes below:#SaintsFC https://t.co/MCvNpU6bBV

— Jacob Tanswell (@J_Tanswell) May 5, 2023
His manager, Ruben Selles, has all but confirmed that the 5-cap England under-21 international will remain side-lined until the end of this current season, after suffering a ruptured ACL a year ago. The former Chelsea prodigy was well on his way to becoming a Premier League star, but for that devastating injury. This year has seen the south coast outfit struggle all season long, with clubs now circling to pick apart their bright young squad. Their latest result saw them beaten 4-3, in a fantastic game of football, away to Nottingham Forest. With a mere 24 points taken from their 35-games played, a relegation to the Championship is now almost guaranteed.
In terms of Tino Livramento, despite the injury, I could still see this as a very smart move for incoming Sporting Director, Jorg Schmadtke. With a keen ability to press, an ingrained desire to carry the ball and create moments to intercept, he would offer very similar attributes to the Trent that was excelling in the multiple seasons before this campaign. His crossing, passing, and crossing range are very encouraging, with Chelsea only letting him leave due to the emergence of Reece James. Though there are some questions over his aerial prowess, whilst often being susceptible in one on one battles, this is surely something that can be ironed out at the AXA training ground. With a projected fee in the region of £25m, there may even be an avenue for Calvin Ramsay to head to Saints in an extended loan. With a season also spent on the side-lines (for varying reasons), a year or two in the Championship could do wonders for the young Scot's progression.
With a new Sporting Director on the horizon, and the chance of a top four finish building with renewed hope of things to come, a couple of squad filling signings would most certainly be needed in the coming months. Though this deal is not the marquee signing that some are craving, it could be a great piece of business that vastly improves both our squad and formation possibilities. We must be proactive and take advantage of teams that hold the signatures of good players, especially with a common desire to not overspend. Tino Livramento could be moulded and transformed into exactly the hybrid player we need; therefore, this is a deal that I hope gets done.