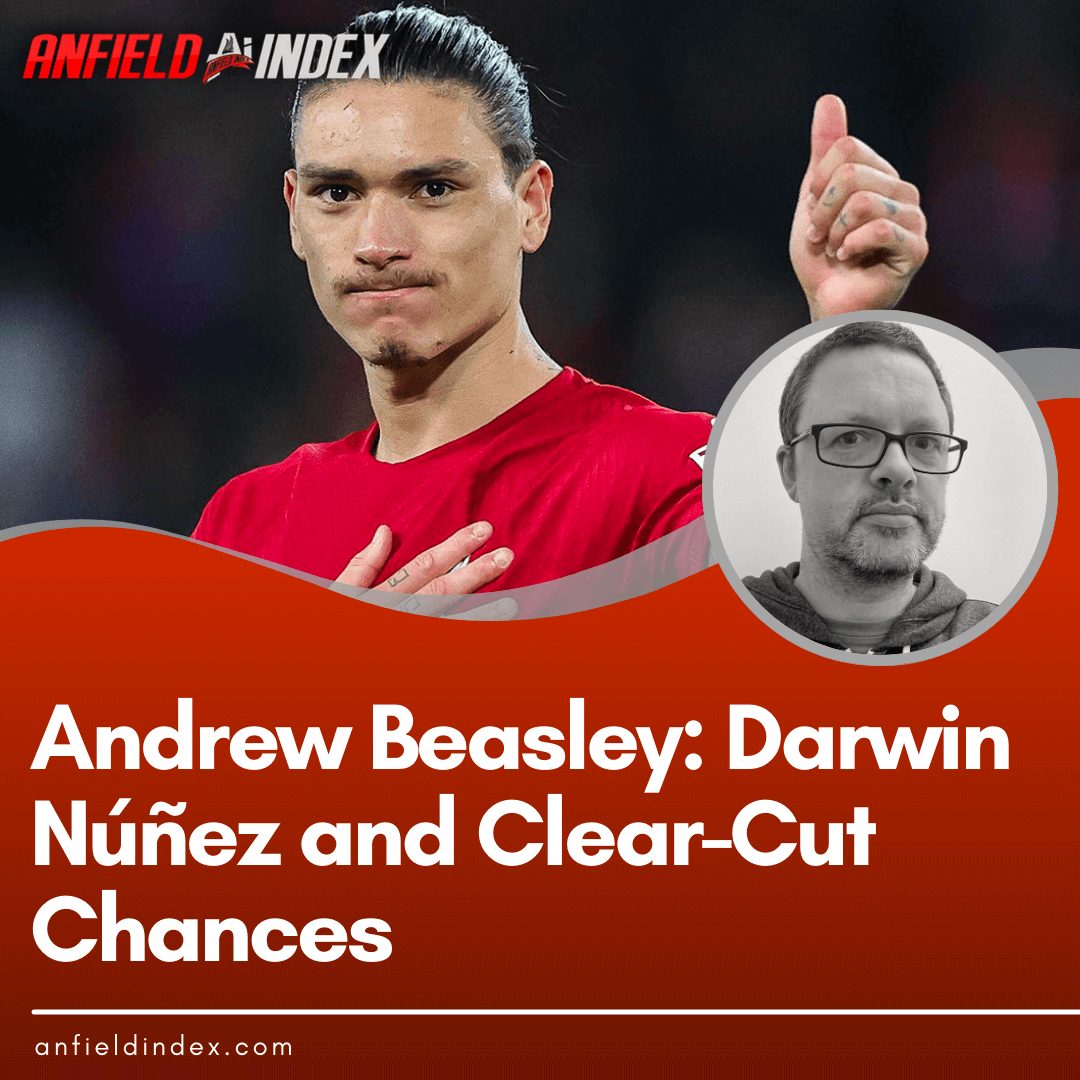 Darwin Núñez and Clear-Cut Chances

You know the problem with Mohamed Salah? He's ruined realistic expectations for the rest of time.
When an attacking player signs for a new club and casually delivers 44 goals and 14 assists in their debut campaign like it's the easiest thing in the world, what hope does anyone who follows in their footsteps have? Darwin Núñez' first season in England is widely being considered a disappointment, yet he has made 19 goal contributions by scoring 15 times and assisting four goals.
The quartet of Peter Crouch, Dirk Kuyt, Roberto Firmino and Sadio Mané all logged exactly 20 contributions in their rookie year with the club, and Núñez may yet join them. In reality, he should have long since smashed through that benchmark, and the reason he hasn't rests largely with the conversion for clear-cut (a.k.a 'big') chances.
This was one of the metrics of choice among amateur analysts long before expected goals become embedded in the discourse. For a chance to be classified as big by Opta, it must be when "a player should reasonably be expected to score, usually in a one on one scenario or from very close range when the ball has a clear path to goal and there is low to moderate pressure on the shooter."
They are incredibly important in dictating the outcome of football matches; clear-cut chances might only account for around a sixth of all shots but they lead to over half of all goals. As Núñez is discovering, they can shape the narrative around a career too.
The far less immediate impact has occurred with his assist figures. Only three of the 12 big chances the Uruguayan has created have been converted, with players other than Salah drawing a blank with the six they've received from Darwin. While finishing is inevitably random and sample sizes are small, Firmino has seen three of the six clear-cut chances he has fashioned become assists, suggesting Núñez has been unfortunate with his figures.
But it's the 23-year-old's own form in front of goal which has inevitably drawn more attention. The latest example of a bad miss from Núñez occurred in the 1-0 victory against Brentford last weekend. With the Reds a goal to the good, Trent Alexander-Arnold lofted a delightful through ball from his new central position, sending it perfectly behind the Bees' back line and into the path of Liverpool's number 27. He took the shot first time but skewed the ball wide of the Anfield Road end goal. It would prove to be the former Benfica man's final attempt of the match.
In fairness, his recent form with golden opportunities is at a level you would expect. From the FA Cup game against Wolves at Anfield onward, Darwin has converted five of his 12 clear-cut chances, as close to average hit rate as it's possible to be from that number of opportunities.
He was in the same boat prior to the World Cup break, with seven of 19 big chances tucked away. It's what happened immediately following his time in Qatar which has dragged down his average, as can be seen in the following chart.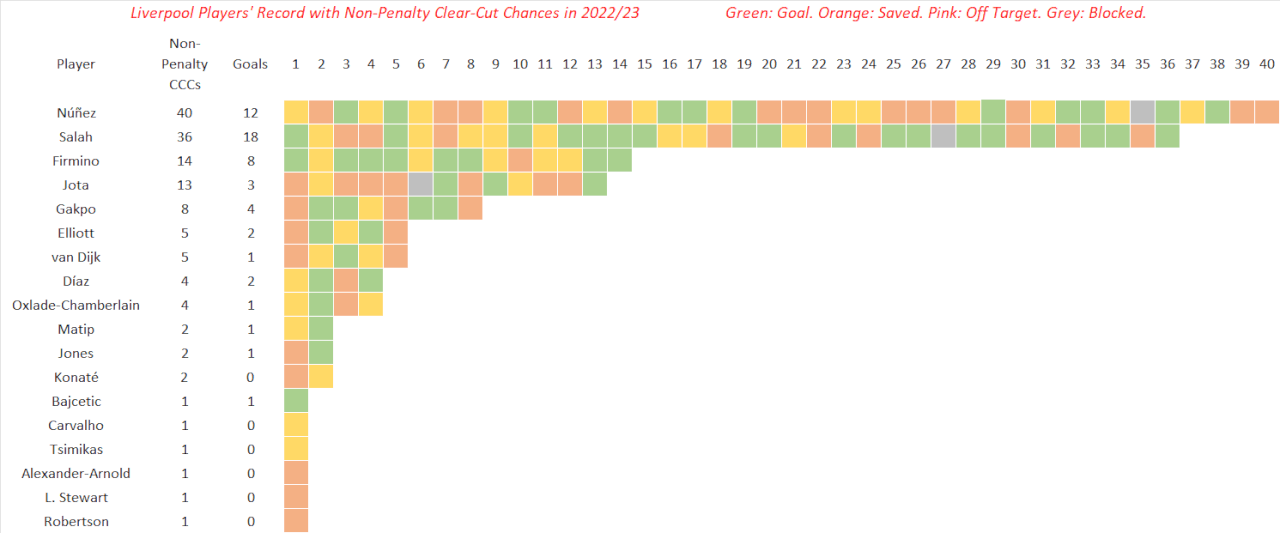 Núñez' first nine clear-cut chances following the restart were squandered. This run included two in the Carabao Cup defeat to Manchester City, a scarcely credible four at Villa Park, two against Leicester City and one at Brentford (while the score was 0-0; might've made a big difference). Using an expected goal simulator and the average value for a big chance (0.387 xG) reveals a miniscule 1.2 per cent chance of nine being missed, yet that is what occurred for Darwin in late December and early January.
The form of his colleagues shows how unlikely that bad run of form is too. Diogo Jota began his injury-hit campaign by missing six consecutive clear-cut chances but the longest drought for both Firmino and Salah has run to just four. Equally, Bobby missed 11 in a row in 2019/20, these things can easily happen.
And as the cliché goes, Núñez has at least been in the right place to miss. Arsenal legend Ian Wright was very positive about the Uruguayan on Match of the Day last Saturday. "Next season he will liven himself up, get more intense in respects of his goalscoring, and then he will finish those," he said (via Liverpool Echo). "I am not worried for him."
In terms of 2023/24, Núñez can draw inspiration from a predecessor countryman (and not Sebastian 'one shot, one amazing goal' Coates). The parallels between the current Liverpool front man and Luis Suárez have reached mathematical symmetry.
In this season and 2011/12 respectively, Núñez and Suárez both scored seven out of 27 non-penalty clear-cut chances in the Premier League. In the intervening 11 years, no player to take at least that many had as poor a record as the Reds' former number seven but his fellow Uruguayan has now matched it to the letter.
There's no way to know if Darwin's goal scoring will explode in the same way as Suárez's did under Brendan Rodgers, of course. Luis was the only real striker at the club in 2012/13 and Núñez will not be in that position next season. But if the latter matches his elder's second (full) season conversion rate and has as many clear-cut chances, then he'll net 21 goals from those opportunities alone in 2023/24.
It might be time to pick up the phone to get some advice from your international teammate, Darwin.