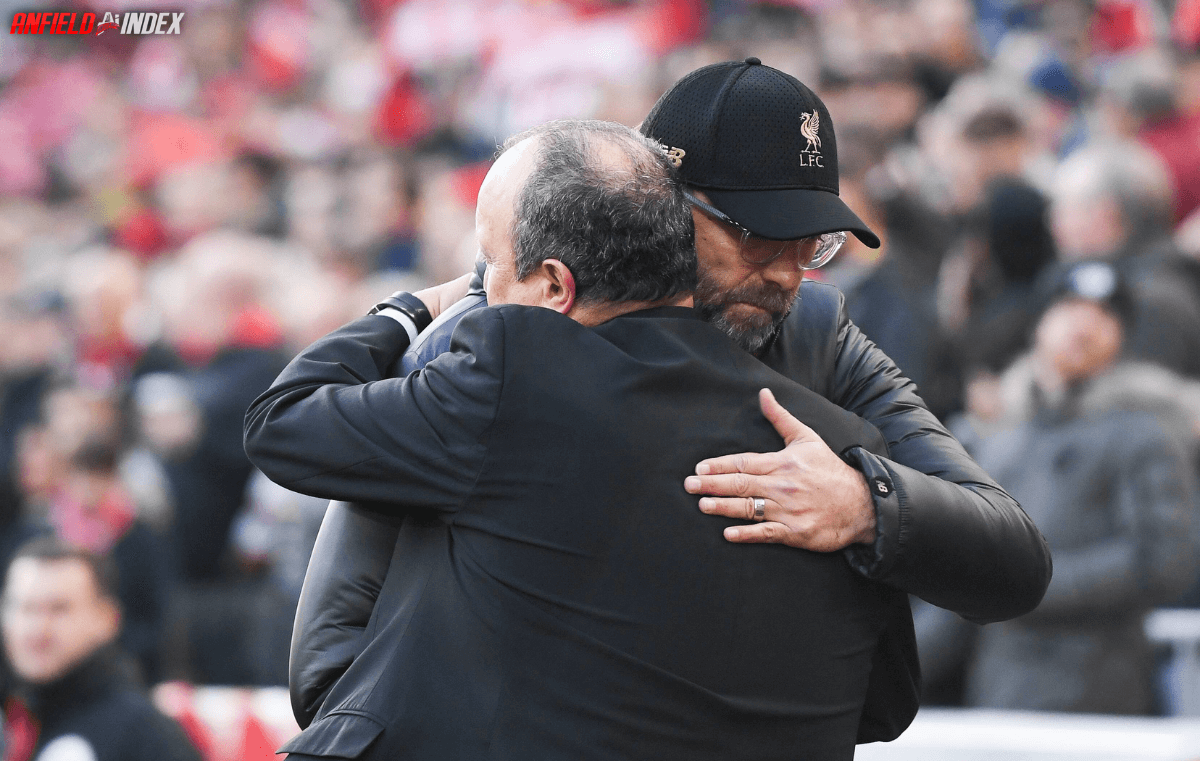 A Rafa & Jürgen Combined Eleven…

News will continue to circulate, with LFC-related transfer rumours now a daily part of a Liverpool supporter's life. The ongoing transition in our squad will now be overseen by the mildly controversial Jorg Schmadtke, who has just been appointed as our new Sporting Director. It is unclear whether he is merely an extension of Jürgen Klopp's circle of trust, or whether he can challenge and drive our German manager to the tough calls he seems so reluctant to make. This latest development is yet another twist in a peculiar season, which we all hope settles down over the summer months.
Regardless of all that, only time can truly tell what the next few months will bring. This moment (and within this very article), I will be looking at player's that represented our last two Champions League winning managers. Rafael Benítez defied all logic to take his team to glory in Istanbul, whereas Klopp achieved his destiny with a marvellous build, one that saw his side as the undoubted best team on the planet. Both these two infectious managers had some wonderful players, so I will be looking at how a strongest starting eleven (and some subs) would play out.
Rafa Benitez: "Miracle in Istanbul changed my life – and it can be the same for Jurgen Klopp." 🇺🇦🏆 #LFC pic.twitter.com/QqAucQVkZZ

— Anything Liverpool (@AnythingLFC_) May 23, 2018
Goalkeeper
Though I was a huge fan of Pepe Reina, he could never be compared to the wonderful Alisson Becker. Jerzy Dudek perhaps enjoyed some greater individual moments than either (with his Champions League antics), however only one rose to an undoubted world class status. The success of an elite team can sometimes be defined by the brilliance of their keeper. In the case our current number one, he has outperformed every stopper on the planet since his arrival, which makes him the easiest pick for this combined eleven.
Verdict – Alisson Becker
Right Back 
Steve Finnan was a steady and reliable fullback, one who allowed a consistency within that position. Álvaro Arbeloa became a similar entity, with a workmanlike attitude to his game. At some point, Glen Johnson was identified as the expensive replacement. His Anfield career was built upon good (yet rare) offensive moments, though mediocre defensive play. Trent Alexander Arnold has helped to revolutionize the role of the modern-day fullback, contributing to the team in a magnificent manner. I could easily liken him to the greatest right back the game has seen, Javier Zanetti, especially for his ability to control entire periods of a game. The next phase of our homegrown player could be even greater, which may see him finally achieve the international acclaim he so rightly deserves.
Verdict – Trent Alexander Arnold
Left Back
Fábio Aurélio should have become one of the reds greatest ever left backs, with a skill set and natural ability that created tremendous periods of play. Injuries limited his actual contributions, with a mere 87 games in the famous Liverpool shirt. Andrea Dossena and Alberto Moreno were players that probably enjoyed more cult status than professional success, which led Michael Edwards to spend £7m on the left back of a recently relegated Hull City. Andy Robertson came into the team, eventually showing himself to be an aggressive and energetic player, that fit perfectly within the style of play the manager required. His desire and willingness to outwork his opponents place him firmly into this starting eleven.
Verdict – Andy Robertson
Right Centre Back
On the right side I am going to force through a man that actually operated from the left. This was a giant defender that brought control, leadership, and brilliance in defending to Gerard Houllier's team. Sami Hyypiä was an underwhelming signing that rose to become one of the Premier League's elite central defenders. In picking the giant Finn, it nudges out Jamie Carragher, who was a very fine player who added incredible urgency and will to Rafa's team. Though Sami was approaching his final days under the Spanish coach, he still deserves a place in the combined eleven. Ibrahima Konaté will eventually become the option here.
Verdict – Sami Hyypiä
Left Centre Back
Daniel Agger should and would have made the central defensive picks very tricky, if not for the continued injuries that blighted a career that was eventually cut short. A very underrated defender (outside of Anfield), a wonderfully gifted ball player, and a man that possessed a thunderous left foot. Despite all this, he was never going to displace Virgil van Djik in this team. The giant Dutchman remains the best centre half in world football, even when having a poor overall season. He took centre back play to a completely different level, with VAR creating an avenue to almost perfect high line defending. His ability to cut a pitch in half and overcome any attacker, nearly saw him awarded the Ballon d'Or. With pace, strength, dominating aerial prowess, leadership and brilliant decision making, he stands alone as the reds greatest ever defender.
Verdict – Virgil van Djik
Defensive Midfield
There are only two players that can be considered for this CDM role, with both players emanating from South America. Fabinho allowed much of our recent success, with his ferocious ball winning, combative nature, and brilliant positional play. His capture from Monaco was one of the final pieces which allowed Liverpool to become the world's best. Despite all this, I simply have to pick Javier Mascherano. This was a monstrous tackling machine that would take the ball off of his opponents at will. With a beautifully crafted middle ground, he was the rampaging shield that allowed the likes of Stevie and Xabi to dominate games. Wasn't good enough for Alan Pardew and West Ham, apparently.
Verdict – Javier Mascherano
Left Central Midfield 
As a controlling presence on the left of the midfield, it really came down to three players. My heart told me to pick Thiago, my head told me to pick Xabi Alonso, yet this very season of woe has me selecting (only just) Georginio Wijnaldum. In terms of the ability, it is Thiago all day long, with his unique manner to control every pattern of play. Alonso was a brilliant ball playing midfielder, yet with both the Spanish maestro's, they simply tailed off. For the former Barca man, it is the injuries and struggles this year which has me leaning towards another. In terms of absolute reliability, consistency, and assurance in maintaining possession, I am swaying about towards Gini. His (underrated) importance to this his team was only recognized once he was gone. With his selfless displays, he was able to offer freedom to both Sadio Mané and Andy Robertson on the left-hand side. With a common nature to move inside and offer coverage alongside Fabinho, it makes him the ideal system player.
Verdict – Gini Wijnaldum (Could be Thiago)
Right Central Midfield 
That box-to-box role is absolutely perfect for Steven Gerrard. There is no close second, therefore there is no need to talk about any other player. This Klopp era and style of play would have seen Stevie attain endless team silverware and personal glory. The Ballon d'Or would have been won, whereas all player of the year awards would have been at his mercy. To let this man loose in a Jürgen Klopp team would be sensational. As a destructive presence and match winning captain, he would have scored, assisted, created, and destroyed everyone in his path.
Verdict – Steven Gerrard (c)
Left Forward 
The likes of Harry Kewell, Albert Riera, and Ryan Babel, do not compare in any way to the exploits of Sadio Mané. The Senegalese captain is the most forceful left winger / forward since the world beating John Barnes. With his accomplishments and legacy secure, he simply walks into this team. His tenure was littered with brilliant play and strong leadership, which is something we are scrambling to replace. His powerful patterns of play dovetailed beautifully alongside his attacking partners, with a venomous tendency to score goals at critical moments.
Verdict – Sadio Mané
Centre Forward
This was the most difficult attacking decision, between two strikers that had very different styles of play. Both these individuals became elite in their roles, with one allowing an entire system to function, whilst the other became to world class tip of an attacking spear. Roberto Firmino will quite rightly make the team of many fans (that are younger than me), however, I suspect that many supporters (similar to my age) will find it hard to ignore the brilliance of Fernando Torres. The former Atletico Madrid captain was box office from the second he stepped on the Anfield surface, with a pure striker's instinct that made him Europe's most fearsome marksman. His stock fell with that horrible spell at Stamford Bridge, yet to imagine him in this side could have you daydreaming for days.
Verdict – Fernando Torres
Right Forward
I loved Dirk Kuyt, yet there is no point even trying to make this position in the team a competition. Mohamed Salah is an all-time great that could become Liverpool's greatest every player. His goal scoring achievements from a wide position are almost unexplainable, with no sign of regression at all. His influence within this era is about as important as any Liverpool player in the club's illustrious history, especially given our financial coping adversaries. Untouchable.
Verdict – Mohamed Salah
Substitutes:
Pepe Reina, Daniel Agger, Thiago Alcântara, Fabinho, Xabi Alonso, Roberto Firmino, Luis Díaz.
Manager – Jürgen Klopp