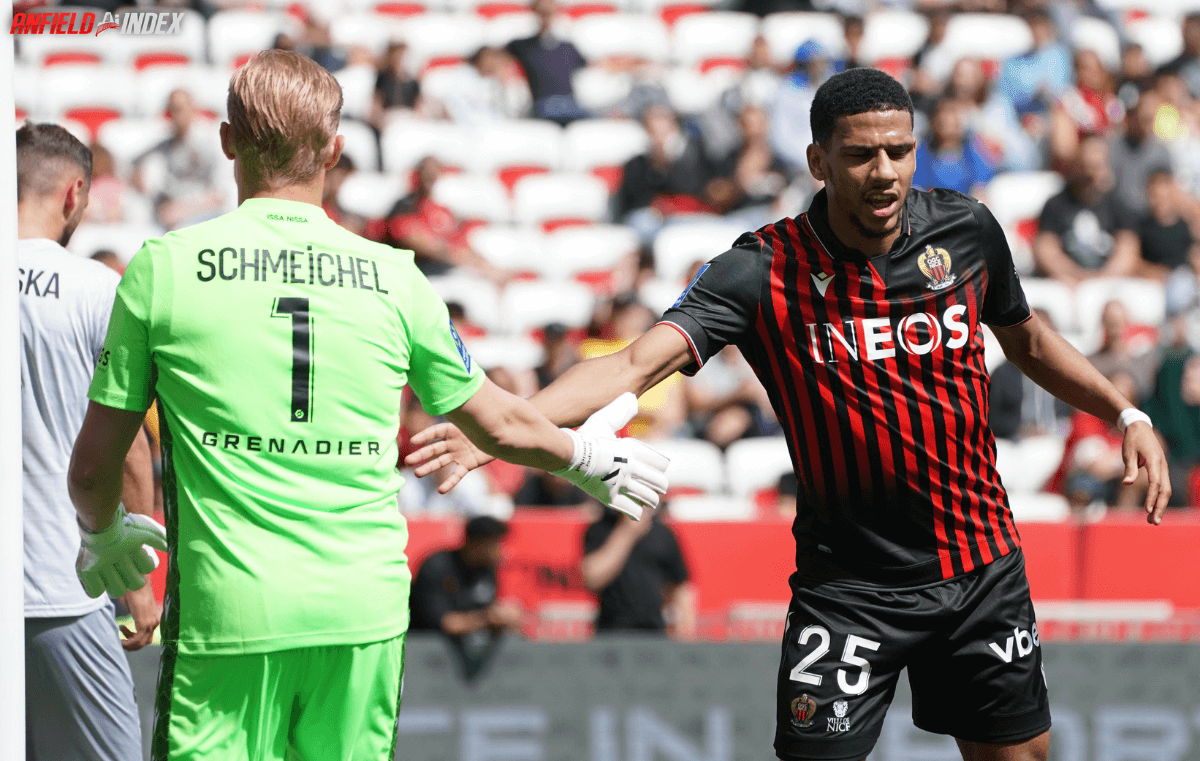 Scouting Report: Jean-Clair Todibo
Liverpool's defensive situation is a fluid one and there may well be more than one departure with the futures of Joe Gomez and Joel Matip under the spotlight. With Trent Alexander-Arnold's positional tweak in a new 3-2-2-3 and question marks around Robertson and Tsimikas's suitability, it seems certain that at least one arrival will be on Jorg Schmadtke's list just now. There have been a few links, although naturally not as many as the midfield area and this one does have the feel of a possible but not top of the list option. Especially when you break down the stats.
What's Been Said?
Get French Football News (GFFN) had recently linked Todibo with a potential move to Anfield this summer, whilst also stating there was interest from other Premier League clubs. Fabrizio Romano (I'll leave you to insert opinion) has now claimed that scouts from Liverpool, Newcastle and Manchester United have been in attendance at Nice's recent matches to watch the dual nationality French-Guiana Defender. All reports have indicated that this could be the summer that the 23 year-old secures a move to one of Europe's bigger clubs.
What Does He Bring?
Despite his young age, Todibo has played in Spain, Portugal Germany and Ligue 1, amassing 126 senior career appearances. Standing out for his passing and aggressive tackling ability, the Cayenne native has had his attitude questioned at previous clubs whilst Jorge Jesus publicly questioned his attitude as Benfica manager at the time. At Nice he's been seen as starting to fulfil his potential, stepping out as a front foot defender with the experienced Dante behind him. Todibo plays on the right side of the two centre-backs for Nice, despite spending a few early appearances in his career at full-back.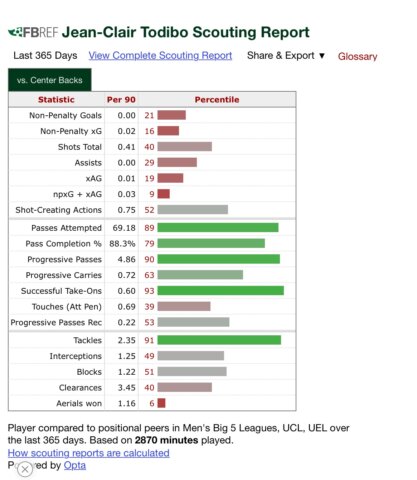 Stats and Info
Contract-wise, he only renewed in November last year with a deal which runs through until 2027. Capolgy.com puts Torino's salary at just under €23,000 per week which would be no issue for Liverpool to improve upon. From a stats perspective, his tackles per 90 mins and pass completion stand out, especially as Jurgen Klopp needs his centre-backs to be comfortable on the ball. An aerial success rate of 55.6% is significantly below what Liverpool would normally seek though which would be somewhat of a concern, but not to rule it out altogether.
Price Tag and Realistic
With rumoured interest from other Premier League clubs and what appears to be cleverly placed agent stories, a price of €45 million seems to be universally quoted to secure the former French under-21 internationals services. With the likes of Ignacio (left-footer) being linked and Todibo playing on the right-side, it's difficult to see this one being a realistic move but it's not to rule it out altogether. An aerial concern combined with a tendency (even if instructed) to step out the back-line when Liverpool will leave three back in possession, doesn't appear to really gel in the green scheme of things either. We'll file this one under possible but not realistic.