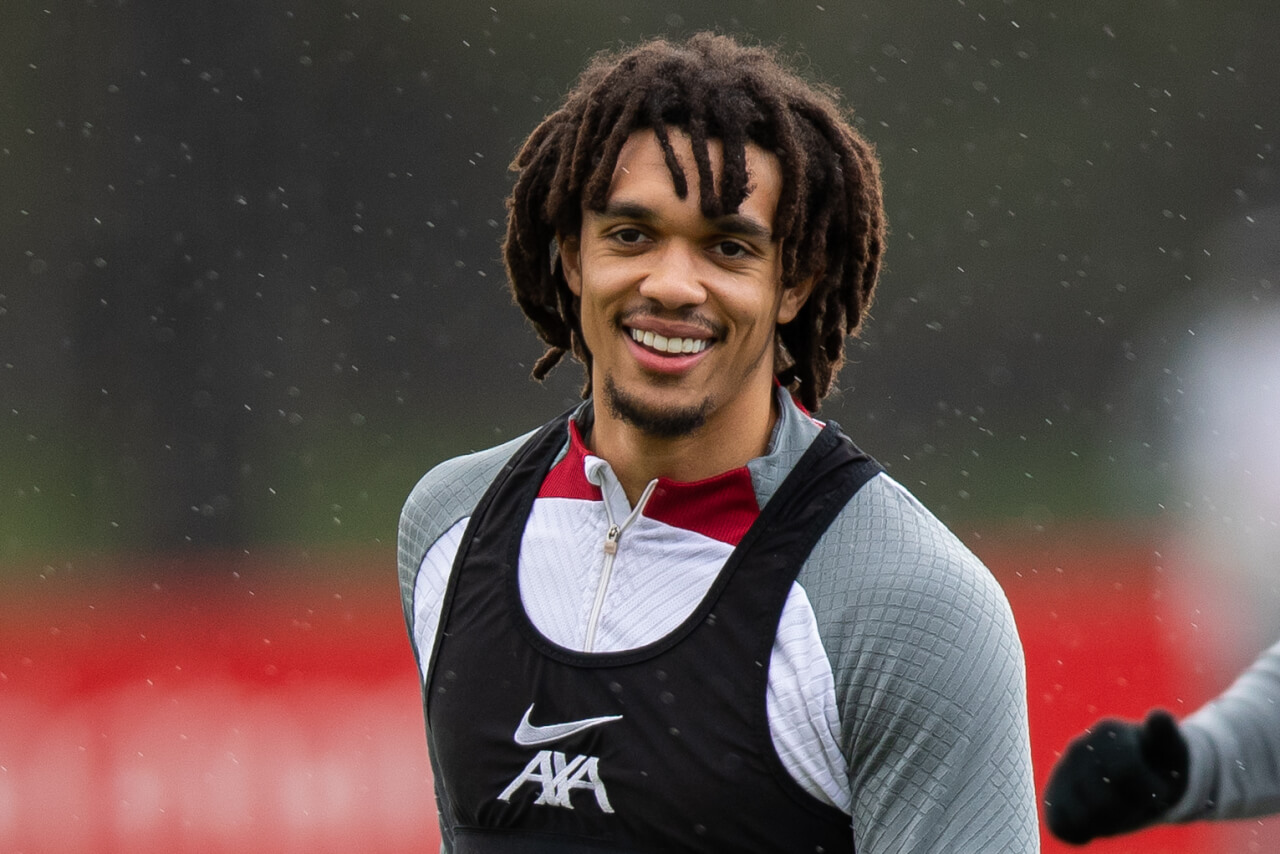 Should Trent Move into Midfield Full Time?

Most of the Liverpool fanbase have been impatiently waiting all season, hoping that Jürgen Klopp would push Trent Alexander Arnold into a new midfield position. Many of us assumed it would be either a right-wing spot or as the RCM in a typical 4-3-3. Unlike in the summer (when the Pepijn Lijnders and Klopp adjustments made us worse), this most recent alteration has seen the club record six straight victories, whilst playing to a consistently good level. Much of this (winning streak) could be down to the opposition being unable to figure out our new formation, yet the groundwork of this new system is still very promising.
With that and the new on ball 3-4-3 shape, one question will soon have to be answered. Will Trent have to shift back into right back (off the ball), or will the new signings allow a more permanent change in our current approach…?
New signings will inevitably dictate what we can eventually be capable of, especially given we do not actually own a specialist LCB that can play in a back three. Andy Robertson and Kostas Tsimikas have performed to a reasonable overall level, however, eventually teams will start overloading that side of the pitch, given the defensive limitations of both fullbacks. This ongoing end of season run and good form cannot hide the obvious, which is that our glorious number 66 has been a breath of fresh air in midfield. Though we are looking to recruit numerous midfielders this summer, we should not deviate (too far) from what is now working so well. In Thiago we have a master that can control the patterns of player, though Trent is now showing similar levels of play. His form and impact in the last six games has been far beyond that which was expected, which must now impact how the forthcoming recruitment proceeds. To imagine Trent would have to continually drop back into a right back position (out of possession), could hamper our ability to dictate play against the stronger teams. Where we are controlling large periods of play, the 24-year-old can immerse himself into a double pivot six position, with continual touches of the ball. The issue could lie within games that are not a knife edge, thereby forcing the 24-year-old into long spells at fullback. This hybrid scenario is all well and good (this season), but next season we should be looking for a solution that sees him able to be part of a more structured side, especially in critical games.
🗞️ Scouting Report: Goncalo Inacio

✍️ @DaveD0106

🔴 Alternative to Robertson would be beneficial as well as centre back cover.

🔴 He's strong passer, naturally left-footed and mobile

🔴 His attacking stats impress more than defensive ones https://t.co/bAOTFuLumz

— AnfieldIndex (@AnfieldIndex) May 10, 2023
Levi Colwill, Joško Gvardiol, Evan Ndicka, and Gonçalo Inácio, are the names that have been mentioned most as left sided recruits. Each player can play centre back, whilst being able to shift to left back with ease. With a specialist centre back to play alongside Virgil, Ibou, it would create a back three that can help solidify our rear-guard. To see Trent having to make continual positional decisions will only cause confusion, with the inevitable hesitancy as to whether he is supposed to drop into right back. Certain games may well call for this (when Robbo is LCB), though when a designated back three player is on the left-hand side, we can be more effective with leaving TAA free to help engineer out own counter attacks.
Trent Alexander-Arnold on his new position:

"It's a full team system, it's not just my position. Everyone within the system has to change and has to adapt to it. There are still things to learn, but we're enjoying it." #lfc [liverpool echo] pic.twitter.com/X4y3TNe91y

— Anfield Watch (@AnfieldWatch) May 11, 2023
I hope we don't tinker and overcomplicate our system, as this is what has caused so much of our dismay in the opening two thirds of the season. A refined and coordinated approach to our tactics will have to mirror the capabilities of players we sign. What must be maintained is the importance and impact of a man who is posting some very serious numbers. The regeneration must be about an overall gain, which must include extracting the best form from our key players. Thiago should be brought into key games, as a world class individual that can control match ups. The utilisation of Trent means we can we less reliant on the Spaniard, however, we must ensure we are not putting too much emphasis on an ever-changing role.
With players' names dropping on gossip pages daily, the introduction of our new Sporting Director, Jorg Schmadtke, can hopefully bring fresh perspective to the off-season plans. This period of regeneration cannot see another wasted season, with so many players approaching the end of their peak. Trent Alexander Arnold will be imperative to how much we achieve in Klopp's final years, I just do not want to see him moved around the pitch aimlessly.