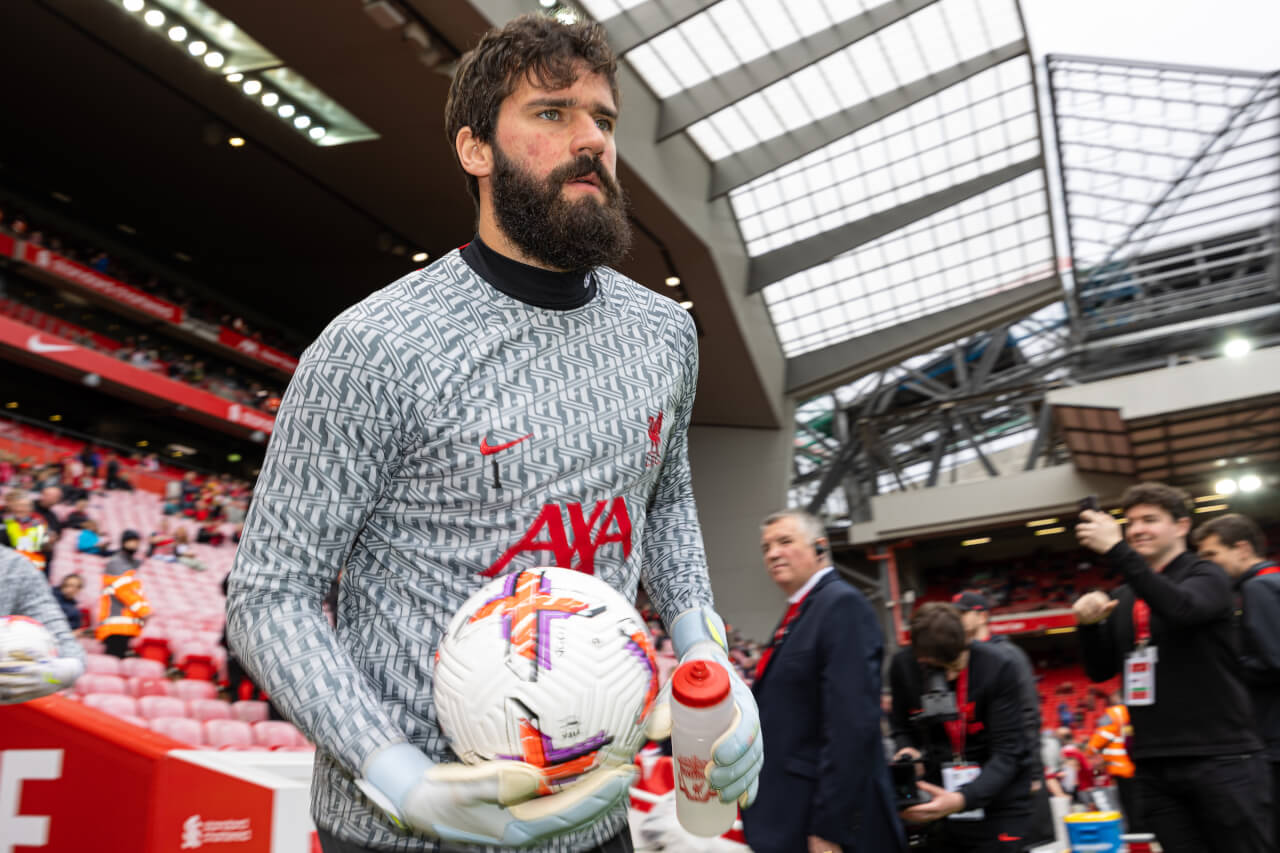 Alisson: From Tragedy to Triumph at Anfield
Alisson Becker: A Tale of Strength, Resilience, and Unforgettable Moments at Liverpool
Celebrating a Century of Clean Sheets
The charismatic Brazilian shot-stopper, Alisson Becker, stands tall with a century of clean sheets under his belt at Liverpool Football Club. He fondly recalls that one unforgettable moment two years ago when he found the back of the net against West Bromwich Albion, a memory that still sends ripples of joy across Anfield. An event that has since become known as the 'Alisson moment'.
"Every time I scroll through Twitter, that goal appears on my timeline. This week I watched it again. It's surreal to think that I scored a goal. It felt like a sign that something special was in store for us," Alisson shared, recounting that 95th-minute magic from Trent Alexander-Arnold's corner. This goal, an emotional high point of Jurgen Klopp's tenure, added a silver lining to a season fraught with personal and professional losses.
From Personal Loss to Personal Triumph
The personal bond between Klopp and Alisson was significantly reinforced amidst the shared experience of losing a parent during the bleak lockdown period.  In a compelling interview with The Telegraph the Brazilian stopper provides a touching account of this shared experience.

"The boys and staff here at the club were amazing. Everybody felt my pain together, not only here but the football world," Alisson said. His father, Jose, tragically drowned in a swimming accident aged just 57, a mere three months before Alisson's goal against West Brom.
Liverpool's resurgence, which paved the way for a quadruple pursuit and Champions League final in 2022, started with an impressive run of eight wins from their last ten games in that turbulent season. An unlikely top-four finish seemed within reach after Alisson's venture upfield at The Hawthorns.
Fast forward to the present, Alisson sees similarities in Liverpool's current run, with the team potentially ending this season with nine wins from ten. "Jota's goal versus Tottenham," he suggests, remembering the recent 4-3 injury-time victory, "Or Mo's goal was special [against Brentford]."
Alisson's Impact: More Than Numbers
Alisson, now 30, feels that performances matter more than 'the numbers'. However, he was presented with a special t-shirt commemorating his 100th Liverpool clean sheet after the recent 1-0 win over Brentford.
"I haven't put it [the t-shirt] on the wall yet, but it means a lot to me even if I don't realise how big 100 clean sheets is right now," he said.
He is also aware that his current tally stands dwarfed in comparison to the great goalkeepers in Liverpool's history. "Ray [Clemence] had over 600 matches for Liverpool [665] and I don't know if I can play that amount here, but I'm already looking forward to the next 50 or 100 clean sheets. I admire a lot what the great goalies did, but I'm writing my own story here at Liverpool," Alisson confidently stated.
Liverpool is currently four points behind Newcastle United and Manchester United, requiring more dramatic twists to avoid a season in the Europa League. Alisson, however, is not planning to don the hat of an emergency striker anytime soon. "The goal is special, but the clean sheets are better," he expressed.
Still, the reminders of his extraordinary contribution two years ago make him feel a deep connection to Anfield, adding both personal and professional significance to his journey.
"Signing a long-term deal at this club, I thought a lot about that moment and how everyone was there for me. I have this feeling that I want to be here for the club as well, to keep making history," Alisson stated.
The current season has seen Liverpool facing similar challenges as those in 2021. "We had similar challenges with many injuries to important players. The situation is we need teams in front of us to drop points to get in the Champions League. That season it was the same, but we still needed to do our jobs," Alisson explained.
However, he adds that the team's form is currently much better than before. "This season, we are playing much better. I think the season before it was really because of the effort that we could achieve things. We weren't playing brilliantly. Now we are playing really good," he commented.
The Golden Glove Race
The Brazilian goalkeeper has been a vital cog in Liverpool's defence this season, making numerous critical interventions, particularly when Liverpool's form slumped. His recent save against Fulham's Carlos Vinicius may even prove crucial in Liverpool's journey to their intended destination.
Remarkably, despite Liverpool's recent hurdles, Alisson stands second with Nick Pope and Aaron Ramsdale in the golden glove race heading into this weekend.
The outfield players have risen to match Alisson's standards, and there is no lack of appreciation of his levels which make Liverpool's player of the season a one-horse race. His journey at Liverpool is a testament to his resilience.
In the annals of Liverpool's history, Alisson Becker is set to etch his name with his own distinct narrative, one that goes beyond his performance on the pitch, speaking volumes of his strength, resilience, and the bond he shares with the club and its supporters.