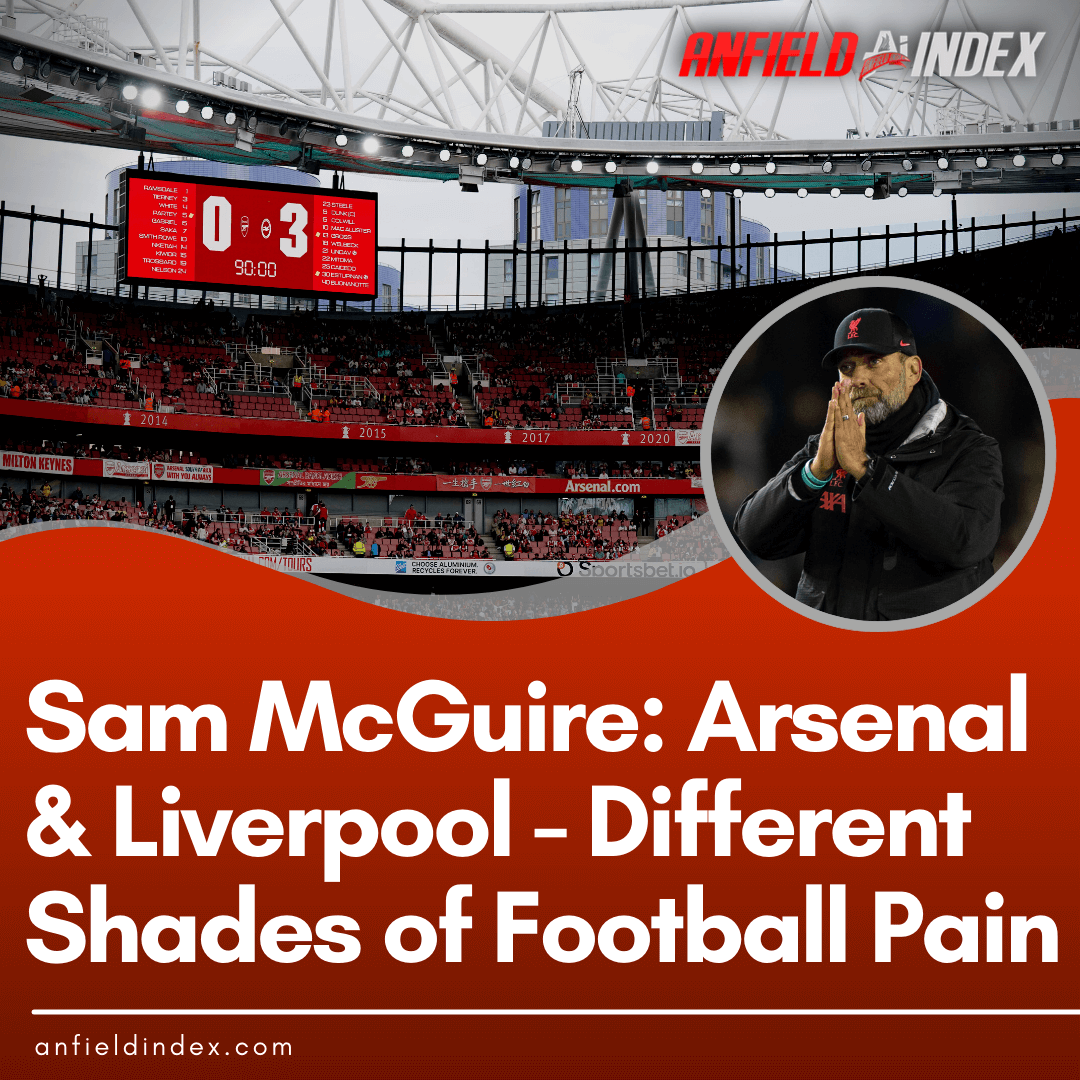 Arsenal and Liverpool: Different Shades of Football Pain

Arsenal fans might think they know how Liverpool fans felt, but they don't. They can't.
During the 2018/19 campaign, the Reds lost once. They won 30 of their 38 matches and ended the season with a nine-match winning run. Jurgen Klopp's side amassed 97 points and conceded the fewest number of goals (22) yet still finished a point behind Manchester City.
For a brief moment on the final day, the title was returning to Anfield. Glenn Murray put Brighton ahead while Sadio Mane had given Liverpool the lead against Wolves. City responded inside of a minute with Sergio Aguero equalising before Aymeric Laporte gave them a half-time lead.
Pipped To The Post By The Finest Of Margins
In the latter half of the season, the Reds picked up 46 points from a possible 57. They won 80% of the points on offer and dropped points in just five matches. Yet that wasn't enough.
Liverpool again missed out on the title by a single point last season. On the final day of the campaign, Villa took a 2-0 lead over City at the Etihad and all the Reds needed was a goal against Wolves. Klopp's side got their goal but it was too late, Pep Guardiola's men had turned it around against their visitors to lead 3-2.
Liverpool lost twice throughout the entire season. They dropped just six points in the entirety of 2023 – with draws against Chelsea, Spurs and Manchester City. An 84% win rate after the turn of the year wasn't enough. The Reds also had the joint-best defensive record in the league as they racked up 92 points.
Arsenal Crumbled Under Pressure
By comparison, the best Arsenal can manage this season is 87 points. At the time of writing this, the Gunners have conceded as many goals as Liverpool (42). Mikel Arteta's side had a near-perfect start to the season, winning 12 of their opening 14 matches. However, since the World Cup break, they have dropped points in nine of their 22 matches, losing four and drawing the other five.
During this period, they have had a four-game winless streak and a three-match winless streak. They have given up leads against Brentford, Liverpool and West Ham while they needed two last-minute goals to salvage a point against bottom-of-the-table Southampton.
Since the international break in March, Arsenal have conceded 16 goals in eight games having conceded two or more on five occasions. In fact, they have conceded two or more in 45% of their outings since returning from the World Cup.
Liverpool were practically perfect and it wasn't enough for a title win. Arsenal have two wins from their last seven matches and their fans feel hard done by. The circumstances couldn't be any different. This is like me saying to a mate 'I know how you feel' after my football accumulator bet worth £50 is let down by one team and his £50,000 bet is also let down by one team.
Ultimately, we've both lost but the feelings will be completely different. And rightly so.