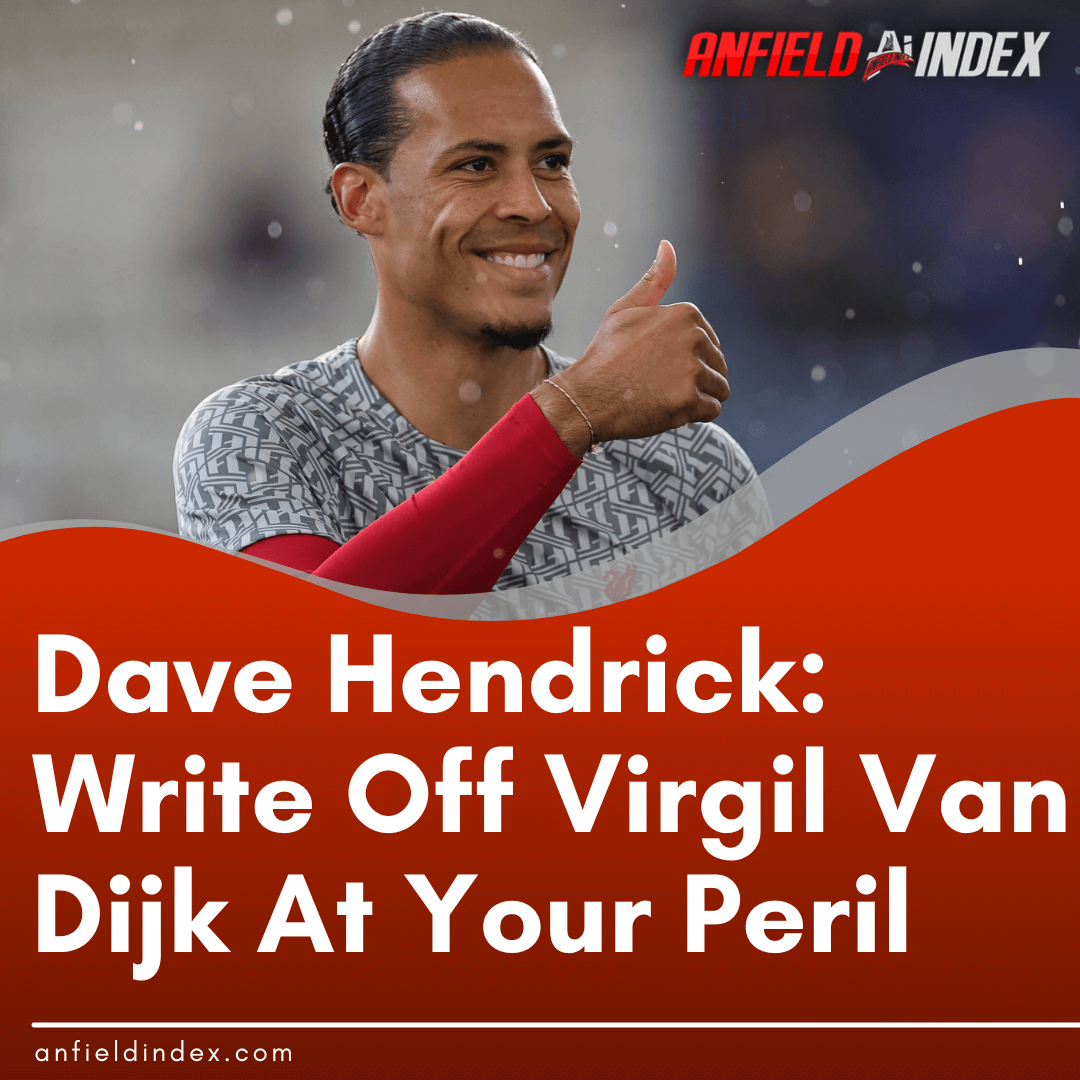 Write Off Virgil Van Dijk At Your Peril

On December 27th 2017, news broke that Virgil Van Dijk was to become a Liverpool player for what was then a world record fee for a defender. Liverpool had chased the defender for six months and after an aborted attempt to sign him in summer transfer window, which ended in an apology and a statement that they would not longer be pursuing his signature, they had finally gotten their man. They had paid the price for that messy summer though. Whereas they had hoped to secure him for £55-60mil in the summer, they had been forced to pay £75mil to get him in the winter transfer window.
£75mil was an extraordinary amount of money to pay for a defender, and predictably it was met with mockery from rival fans.
The mockery didn't last long, and perhaps the greatest indication of what a success this transfer has been is that the fee is only mentioned now when people want to point out that big money transfer do sometimes work. As an aside, just take a look at the thirty most expensive transfers of all time and see how many have worked out well for the buying club. Van Dijk currently sits 20th on that list and while it's too early to pass judgement on Enzo Fernandez, Aurelien Tchouameni and Wesley Fofana, and Antony although initial signs aren't promising, how many have been a success? Mbappe to PSG, Cristiano to Real Madrid, Bale to Real Madrid in terms of trophies won if not always in production and performance, Suarez to Barcelona and Zidane to Real Madrid.
In fact, go deeper, look at the top 50. De Bruyne to City has been an obvious success, Osimhen to Napoli has been a success, Rodri and Dias to City have been successful and there might be a slight claim for one or two others, but overall that list is full of flops, failures and a handful of players who moved too recently to properly judge. But, Van Dijk aside, there's a maximum of 12 transfers that could be counted as a success and in terms of their value to the buying clubs very few have done what Van Dijk did for Liverpool.
Van Dijk was immediately transformative to Liverpool, and elevated them to a team that could immediately compete for the biggest honours. Having conceded 28 goals in their first 23 league games that season, prior to his introduction to the team, they conceded only 10 after he came into the team. From a team that was enjoying a decent run in the Champions League, they became a team that reached the final and stood toe to toe with a Real Madrid team aiming to complete three-in-a-row.
Prior to his injury, suffered at the hands of a goalkeeper with very short arms, what Van Dijk accomplished at Liverpool was staggering. A Champions League final in his first half season, a 97 point second place finish in the Premier League and a Champions League triumph in his first full season, and a 99 point haul in his second full season that ended Liverpool's title drought. Having been a middle of the pack, and at times flat out bad, defensive team prior to his arrival Liverpool became the best defensive team in the league for two and a half seasons. Then he got injured.
Liverpool without Van Dijk simply weren't capable of competing for the Premier League title. But when he returned for the 21/22 season it was business as usual. The best defensive record in England, a staggering 63 game season in which they chased the quadruple, two domestic cups, a 92 point second place finish in the league and another Champions League final. If there had been a debate on who Liverpool's most important player was, the 20/21 and 21/22 seasons settled the debate. It was Virgil. He was the real ceiling raiser. Mo Salah, Sadio Mane, Alisson Becker and Trent Alexander-Arnold were world class and capable of sustained brilliance but Van Dijk was otherworldly as a defender and a difference maker.
His role transcended what he did as a defender, he was the lynchpin of the entire system. Klopp's team was built on counter pressing. To counter-press successfully the midfield need a high starting position to combine with the attackers and cast a net over the opposition and limit their ability to play out from the back. For the midfield to have that high starting position, they require their defensive line to step up and squeeze the pitch. Compress the space before pressing the ball as Arrigo Sacchi put it. Liverpool wanted to shrink the pitch to half the size and Van Dijk was key to that. His pace and recovery burst allowed Liverpool to defend the halfway line and play the game in their opponents half. Without him, that wasn't possible. The defensive line dropped deeper, the midfielders couldn't be as aggressive and the press fell apart.
In build up play his passing ability, particularly the long diagonal passes to Salah or Alexander-Arnold, was a weapon Liverpool utilised frequently to get opposition defences scrambling and create openings as defenders tried to shift across and rotations were missed. His impact on set pieces has always been gargantuan. Van Dijk attracts the attention of the opposition defence to such an extend that some will actively ignore their own man just to try and stop Virgil getting on the end of corners and set-pieces. This gravitational pull meant that he could be used as a decoy as often as he was used to attack the ball, keeping opponents guessing and creating chances for others.
This season has obviously seen a drop-off from Van Dijk, but it's not nearly as drastic as some have made out. Compare Van Dijk's season with much-hyped defenders like Saliba and Martinez and there's really no case that they've had better seasons than him. They're being compared to him as if they have ascended to his level, but the truth is that he has simply dipped to their level. He has been open and honest about it, and the smart money will be on Van Dijk bouncing back to the elite level he displayed last season when August comes around. But that's the issue for Virgil, the standards he has set for himself.
Virgil has become one of the rare players that can only be compared to his past self. Simply put, there's nobody on his level. The greatest compliment another defender can be paid is a comparison to Van Dijk, but there's no such comparison for him in the modern game. Van Dijk's equals are long-gone greats like Alessandro Nesta, Jaap Stam, Paul McGrath and Franco Baresi. Titans of the game. Nobody in the modern era has come close to him as an all-rounder. Some might have been his equal as a pure defender, but they didn't have his speed or ball-playing ability. Some perhaps had the speed and ball-playing ability, but not the defensive level. Van Dijk had the lot, and likely still does.
It got lost in the excitement around the quadruple chase last season that Van Dijk, fresh off a torn ACL, re-established himself immediately as the best defender in the world. He might not have been as imperious as he was pre-injury, perhaps a half step slower, but he was outstanding and Liverpool's defensive record reflected that. 48 goals conceded across 63 games. 0.76 goals conceded per game. The best defensive record in all of Europe on a goal conceded basis. Obviously Virgil didn't play in every game, his personal record was 33 goals conceded in 51 games. 0.65 goals conceded per game.
Prior to this season, with Van Dijk in the team, Liverpool had conceded 120 goals in 181 games. That's 0.66 goals conceded per game. An outrageous number. Van Dijk, by himself, was a walking title contending defence. The most striking thing about that number is the style of play of his fullbacks. Klopp sent both forward with reckless abandon. Alexander-Arnold and Robertson were Liverpool's primary chance creators, which left their central defenders exposed and asked to cover massive amounts of ground. Then you factor in the rotation cast of defensive partners from Lovren, to Matip, to Gomez, to Konate, it hasn't mattered. Van Dijk has elevated to levels they had never previously displayed. Even to the point of the comedic debate last season of whether Matip was better than Van Dijk. The answer was always no. The answer was simply that playing next to Van Dijk was a cheat code. Even Lovren looked half-decent next to him.
Then there's the intangible factors of Van Dijk, the leadership, organisation and communication he brought the team. All things that had been sorely lacking before his arrival. The culture of accountability that he created and enforced. Players, almost to a man, owning their own mistakes. Something that had also been lacking. When Van Dijk got injured, the team was completely bereft of leadership and organisation. Regardless of who gets the praise, the evidence points clearly at one player as the leader of Liverpool on the pitch. And it's Virgil Van Dijk.
This season has obviously been poor, by his standards, and he has addressed it. But his form is only part of it. It's clear he's not communicating the same way. He's no longer encouraging, or chastising, others the same way. He seemed to be in his own head too much, and holding back. The result of that has once again been a Liverpool team lacking leadership and organisation. Perhaps the World Cup and the chance to lead his nation at a major tournament, something he was denied at the Euros because of the injury, caused him to play within himself and then he simply couldn't flick the switch when the World Cup was over so the poor form continued. He has been better of late, and results have picked up, but he still seems less imposing. It's likely that being asked to play 4600 minutes coming off an ACL tear took a bit more out of him that was expected.
A good rest this summer and Van Dijk should be primed to return to his previous levels for next season and silence those who rushed to write him off. Weirder than those writing him off were those attempting to make claims about his lack of longevity, perhaps forgetting that prior to his move to Liverpool he had been the best defender in the Premier League for Southampton. From his arrival in the summer of 2015 until the injury suffered in January of 2017 he was a class above the rest, but because snobbery means people only view those at Big Six clubs as eligible for such accolades, he was overlooked. His form in that spell had Liverpool, Chelsea, Manchester City, Arsenal and Manchester United all battling for his signature. When all of the big hitters move for one player, especially one who's just missed much of the second half of a season, you know they're something special.
Van Dijk was, and remains, something special. The best defender the Premier League has ever seen. The only defender to feature in conversations about who the best player in the league is, at no other point has any other defender ever been in those conversations. The man who should have swept the board for Player of the Year awards in the 2018/19 but was robbed of the Football Writers' Award in one of three outrageously poor decisions that particular collective have made over the past 15 years. The man who would have won the Balon d'Or if not for an alien named Messi.
Van Dijk turns 32 this summer, and has two more seasons on his current Liverpool deal. There's no reason to think he won't return to, and remain at, an elite level for years to come, including years for which he's not yet contracted. Thiago Silva has never in his distinguished career been anywhere close to the level of defender Van Dijk was prior to this season, and is still a competent Premier League defender at 38. Van Dijk's best, in terms of success, hopefully still lies ahead and it's imperative that that success comes in a Liverpool shirt.