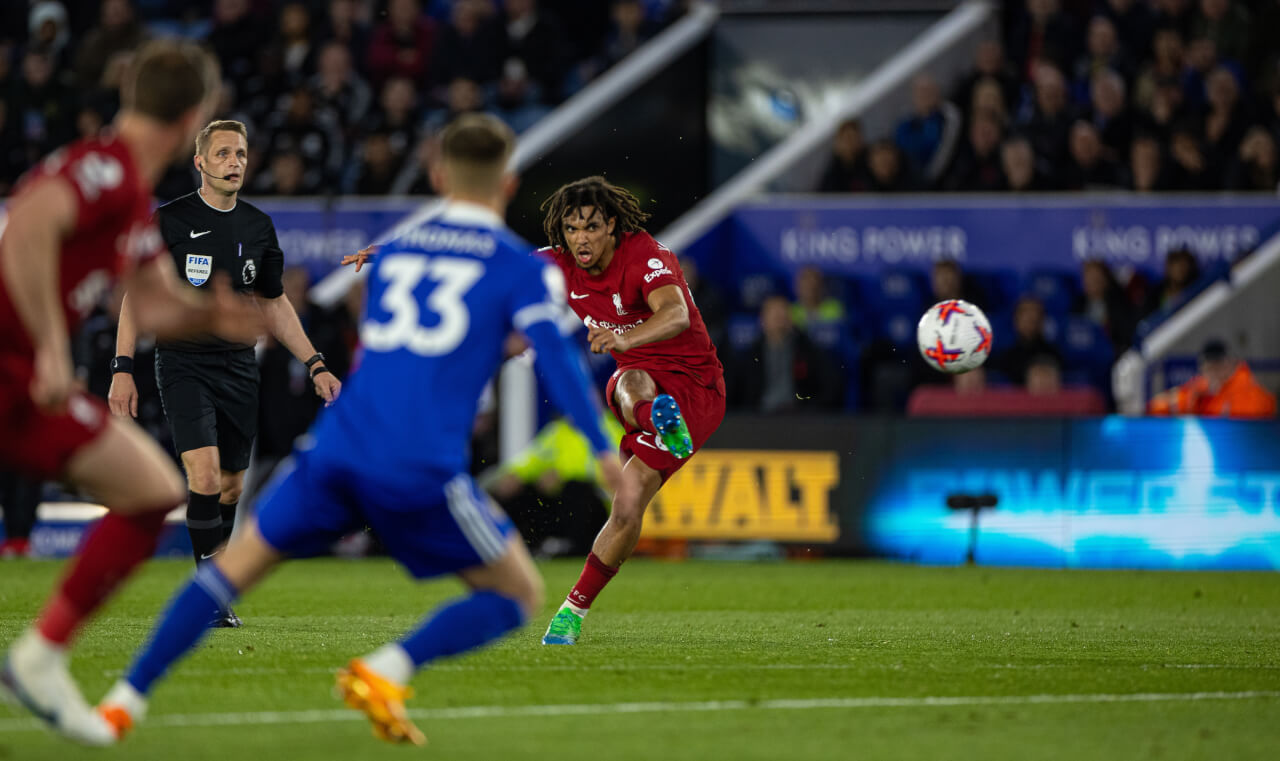 Liverpool Secure 7th Win in Row (Goal Videos)

Liverpool's Premier League Winning Streak Continues: A Stunning Victory Against Leicester
The Winning Streak That Just Won't Stop
Liverpool's Premier League campaign sees a seventh consecutive victory, as Leicester become the latest victims of their thrilling football. With a 3-0 victory at the King Power Stadium, Liverpool has moved tantalisingly close to the top spots, trailing just one point behind Newcastle United and Manchester United.
Jürgen Klopp made a strategic shuffle in the team that recently vanquished Brentford 1-0. Luis Diaz and Jordan Henderson stepped in to replace Diogo Jota and the injured Darwin Nunez. This top-tier line-up ensured Liverpool's relentless march towards another Premier League triumph.
A Rollercoaster First Half
The match began with both teams charging full steam ahead, yet the opening minutes saw few substantial opportunities. Jamie Vardy's close-range attempt was expertly thwarted by Alisson Becker, while Wout Faes's timely intervention put a stop to a potential goal from Cody Gakpo.
Mo Salah x Curtis Jones = GOAL! 💥

Liverpool take the lead 🔥 pic.twitter.com/9Kz9qikceE

— Sky Sports Premier League (@SkySportsPL) May 15, 2023
Liverpool slowly began to dominate the field, with Diaz narrowly missing a goal. Despite these initial missed chances, the Reds' patience soon paid off with Curtis Jones scoring twice in quick succession.
The first goal arrived courtesy of a long kick from Alisson, setting up a lightning-fast attack. Mohamed Salah, with his perfect precision, delivered a cross to Jones who expertly found the back of the net. Salah once again played the role of a provider, assisting Jones for the second goal, leaving Leicester's Daniel Iversen helpless.
Curtis Jones scores AGAIN! 🔥🔥 pic.twitter.com/NfqpjIbcqp

— Sky Sports Premier League (@SkySportsPL) May 15, 2023
Liverpool's stellar performance continued, almost adding a third before half-time. However, Ricardo Pereira managed to save Gakpo's determined effort, offering a glimmer of hope for the Foxes.
The Second Half: Liverpool's Dominance Continues
Leicester kicked off the second half with Pereira saving a potential goal caused by a miscommunication between Faes and Iversen. At the other end, Alisson made a brilliant save to deny Harvey Barnes.
Liverpool remained undeterred, with Salah attempting to add another to the scoreline, only to be denied by Iversen. However, Trent Alexander-Arnold's masterful free-kick put the Reds further ahead, leaving Leicester reeling.
STOP WHAT YOU ARE DOING AND WATCH THIS STRIKE FROM TRENT ALEXANDER-ARNOLD 🤯 pic.twitter.com/gEFjyatEfI

— Sky Sports Premier League (@SkySportsPL) May 15, 2023
Salah had a final attempt to etch his name onto the scoresheet but failed to find the mark in the 79th minute. Regardless, Liverpool's winning run was unbroken, and a third straight clean sheet was the cherry on top.
Keeping Top 4 Hopes Alive
With a string of victories under their belt, Liverpool are showing they remain a formidable force in the Premier League. As they inch closer to Manchester United and Newcastle, the Reds continue to demonstrate that they are a team to be reckoned with this season. Leicester, while putting up a valiant effort, were unable to halt Liverpool's relentless march. The King Power Stadium witnessed a match that further solidified Liverpool's Premier League standing.
The away fans are loving it 👊 pic.twitter.com/vbcMMuRg83

— Sky Sports Premier League (@SkySportsPL) May 15, 2023