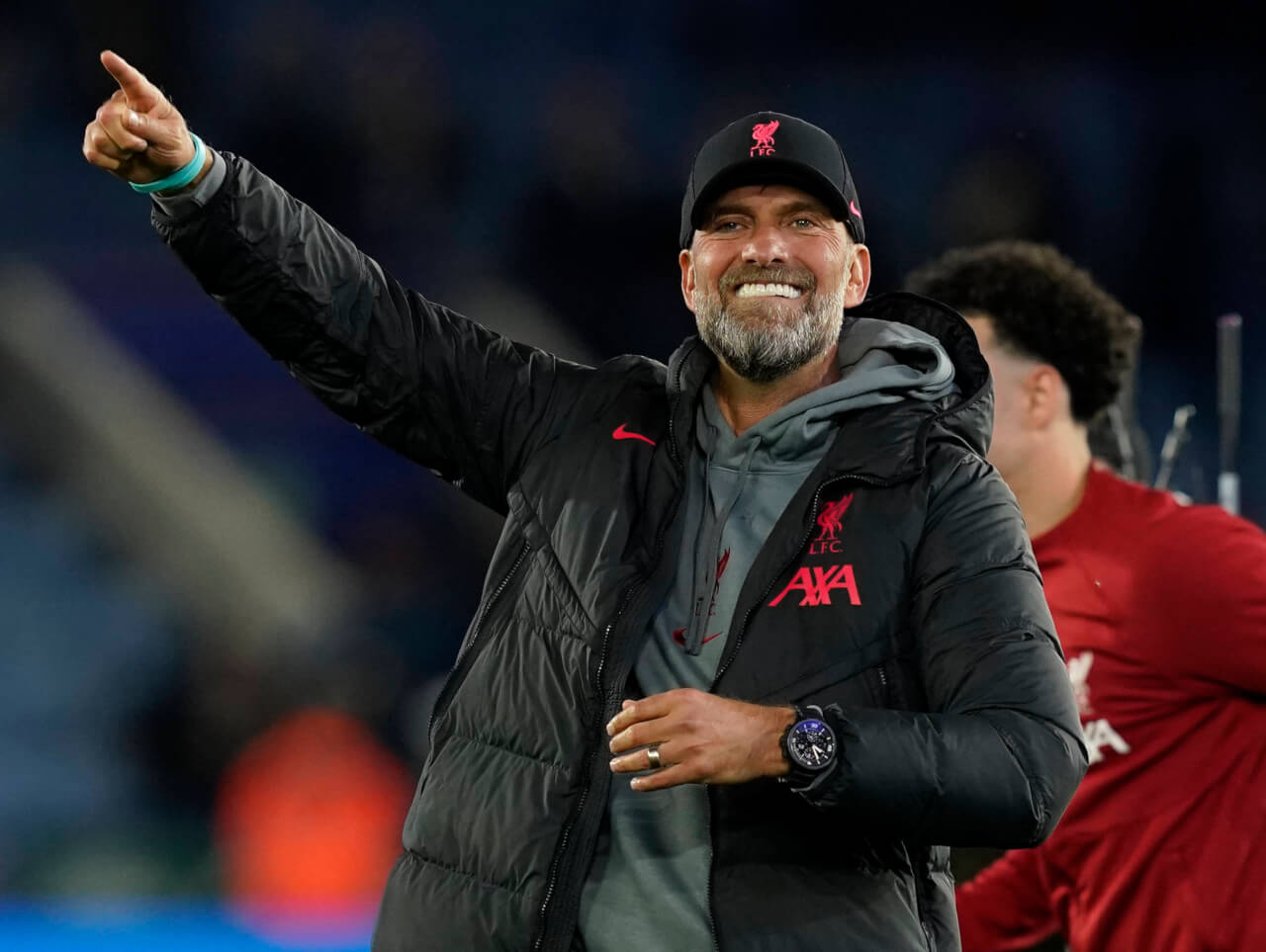 Jurgen Klopp Honors Departing Liverpool Stars after 3-0 Win

Jurgen Klopp's Reds Dominate Leicester City
Klopp's Tactical Brilliance Shines
In an impeccable display of football, Jurgen Klopp's Liverpool secured a resounding 3-0 victory over Leicester City. Klopp's tactical prowess was on full display as the Reds dominated their opposition, particularly between the 55th and 75th minutes of the game. Klopp's satisfaction was palpable as he discussed the team's performance.
"In terms of dominance and control, it was good, really good. We became more flexible on that moment on. We had five players facing the other goal, could then really pass through the lines," Klopp said, summarising the strategic brilliance that has become synonymous with his Liverpool side.
A special mention must go to Curtis Jones, whose performance was outstanding. Despite his youth, Jones has demonstrated impressive growth and maturity under Klopp's guidance. The young player's decision-making and speed of play have improved significantly, leading to exceptional goals and contributing heavily to Liverpool's dominance.
"Curtis improved a lot… The thing they improved the most is the speed of play. He doesn't keep the ball that long anymore. He's a good finisher. Both goals were absolutely exceptional," Klopp proudly explained. Clearly, Klopp's influence has been instrumental in nurturing Jones' talent, further demonstrating his knack for player development.
Looking Ahead: A Special Farewell and A Challenging Game
As Liverpool prepares for their next match, Klopp acknowledges the challenge they face against one of the Premier League's top teams. However, the match holds additional significance as it marks the farewell game for several players, including the much-loved Bobby.
"We want to show really their respect and appreciation and everything in the love you feel for not only Bobby but for all the boys who will leave in the summer," Klopp said, highlighting his respect for the players and the club's ethos.
Just six to seven weeks ago, Liverpool's European qualification was in question due to a lack of consistency. However, Klopp's side has turned things around in spectacular fashion, now standing on the precipice of qualifying for the European League.
"We knew that before the game, if we win, we are qualified for Europe, the European League, which is absolutely great from where we are coming from," Klopp stated, underlining the importance of the team's recent victories.
Klopp's Call for Improvement
Despite the impressive run of form, Klopp is adamant that there is always room for improvement. "We have to be more and especially longer in charge of the game," he stated. His relentless pursuit of perfection serves as a reminder of why Jurgen Klopp and Liverpool continue to be a formidable combination in English football.
In conclusion, Klopp's leadership, tactical brilliance, and player development skills have solidified Liverpool's position in the Premier League. As the Reds look ahead to challenging matches and heartfelt farewells, one thing remains certain: under Klopp's guidance, they are ready for whatever comes their way.