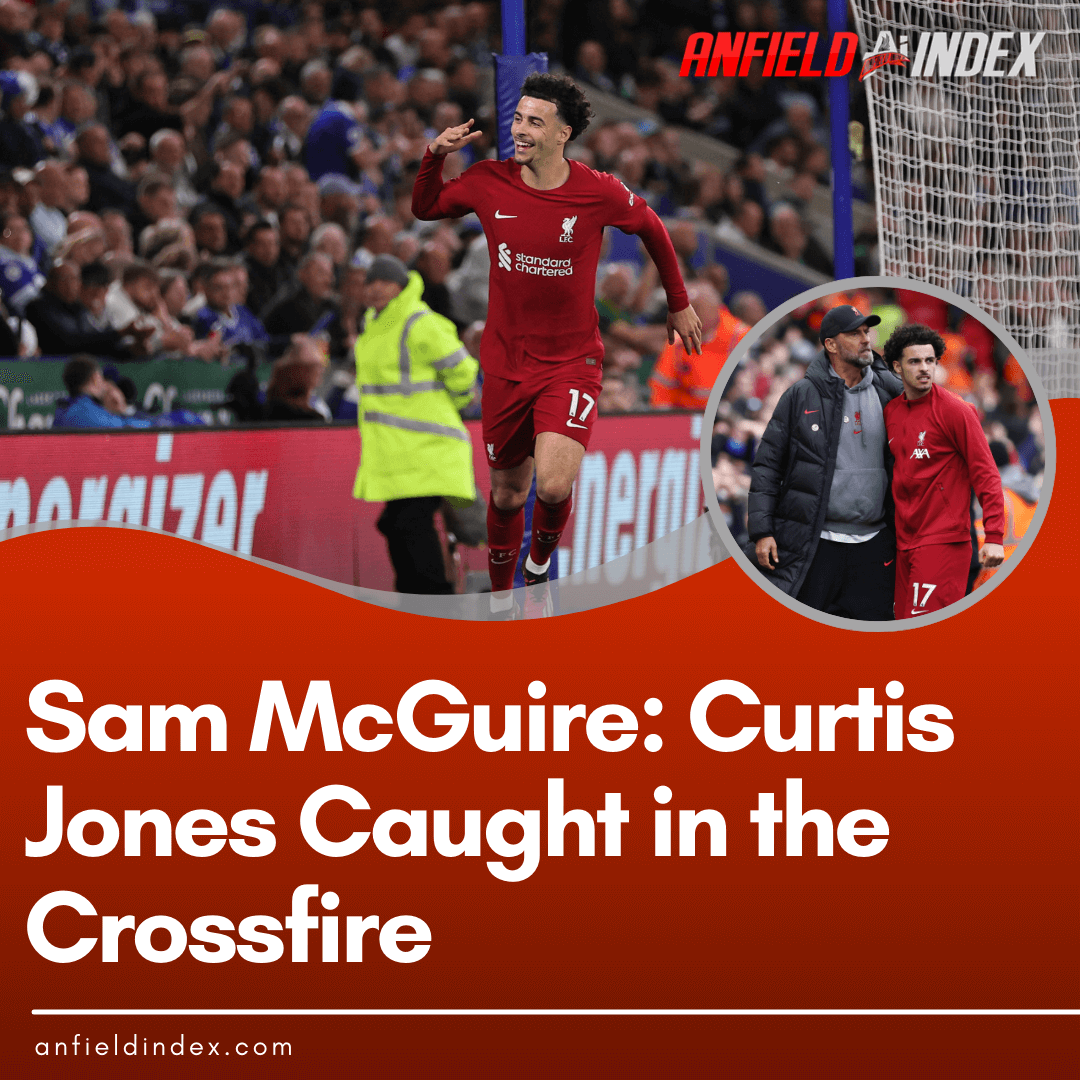 Curtis Jones Caught in the Crossfire

Curtis Jones is fighting a losing battle.
The Liverpool midfielder has divided opinion for some time now but this isn't news, is it? Are you even a midfielder for the Reds if you don't divide opinion? It is because we all have different opinions on what a midfielder should do?
For example, you'll have some who judge Thiago on goals and assists instead of realising he's key to the build-up phase of the game as opposed to the final phase. Some criticised Gini Wijnaldum for not being involved enough on the ball but he was the counterweight for the team looking to dominate possession on the right flank.
Instead of looking at the bigger picture, there's a focus on an individual.
It happened with Jones. During the 2020/21 season, he was used as a controller on the left of midfield. He was risk-averse and instead retained possession. The youngster carried out a role for the team even though it limited him as an individual.
Coming through the ranks in the academy, Jones was a forward-thinking player who had an impact in the final third. Fans expected that player and when it was apparent he wasn't going to be that player, nothing he did really mattered to them. They wanted goals and assists not 90% pass completions and duels.
Injuries disrupted the 2021/22 and 2022/23 campaigns but he's been in the starting XI since the international break in March. He has three goals and one assist in his last nine appearances for the Reds. Even when he's not been able to involve himself in a goal, he's impressed in a number of matches throughout this nine-match unbeaten run.
But the goalposts have been moved again. He's contributing in the final third, he's a duel monster and he's still just as composed and thoughtful in possession, but he's not a new signing.
I've seen it online over recent weeks.
Liverpool and FSG will use the form of Jones to not sign an extra midfielder this summer.
This is a purple patch, it shouldn't stop Liverpool from signing four midfielders in the transfer window.
This is just what the club want, for people to be talking about Jones as if he's a new signing. He isn't. Don't let me trick you.
I wish I was exaggerating but I'm not.
There are people who are that obsessed with transfers that they would happily have Liverpool bring in an extra player this season even if it meant limiting Jones' game time next season. If you think this because of his injury record then fair enough, but if you are saying that purely because you are obsessed with the thought of FSG spending money that you'd rather curb the development of an academy graduate then you are a flawed fan.
You can't feel cheated if Liverpool only sign three midfielders this summer having been impressed with the 22-year-old since he got into the team in April. You don't build around a player like Jones but you also don't waste a talent like him.
He's over 6ft, he covers the most ground on a per 90 basis, he can play a variety of positions and roles, and he's still just 22. Why wouldn't you want there to be a place in the squad for him?
Jones has done more than enough to warrant a role in this Liverpool team. If anything, it makes life easier for the Reds. The budget now has to stretch for three midfielders as opposed to four. In theory, this improves the standard of player coming in.
The No17 is a success story for the club and should be celebrated.