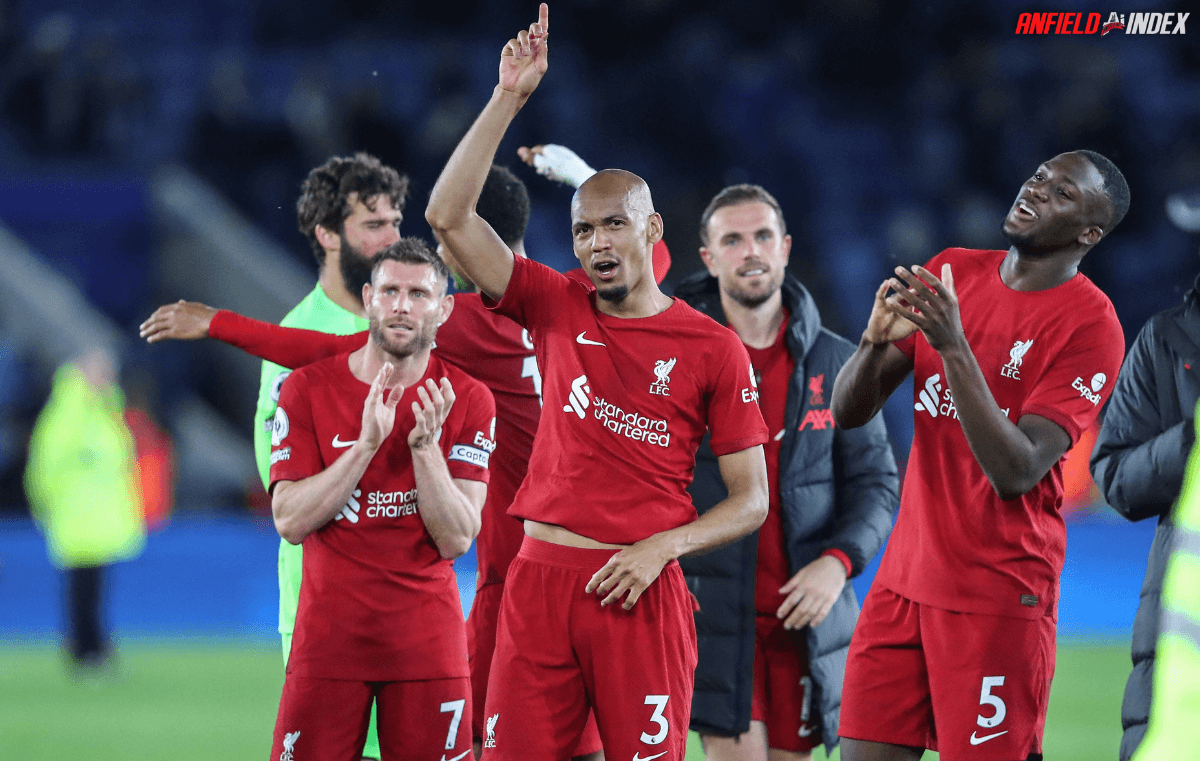 Leicester 0 - 3 Liverpool - The Post-Mortem 

This was perhaps the most awkward game of our final three fixtures, against a team still fighting to stay in the Premier League. With Brendan Rodgers (by mutual consent) having been given his marching orders in early April, Dean Smith was the man put in charge of saving the 2015/16 league champions. This game represented the 8th game in charge for the former Aston Villa manager, with the results giving the following data…
8 games played.
1 game won.
2 games drawn.
5 games lost.
With a trip to St James' Park (for Leicester) to come next Monday, the entire Liverpool fanbase will be cheering on the Foxes, in the hope that they can dent Newcastle's top four aspirations. The final game of Leicester's season will see them welcome West Ham, who they hope will be focused on their Europa Conference League Final by that point. Dean Smith's side finished last night's game in 19th position in the English top division, with a mere 30 points taken from their 36 games played. With Leeds one point ahead, Everton two points clear, and Nottingham Forest on 34 points, it will make for a nail-biting final day of the season.
Now back to the post-mortem of this game.
The first thirty minutes of this match were fairly stagnant with the odd moment of frenzy, as the visitors seemed keen to take control of the game's possession. Early on, however, Alisson Becker was called upon to make a brilliant last ditch save, when coming out to smother an on-rushing Jamie Vardy. For the most part, it did seem like Liverpool were stuck in third gear. Despite continual movement, interchanging, and heavy possession from the Reds, it took a surge and quickening of play to break the deadlock. It was on the 33rd minute that the opening goal materialised, after some swift and incisive play leading to Mohamed Salah drifting a lovely weighted cross to the back post. With a desire to drive from deep and into the box, Curtis Jones was able to turn the cross into a perfect assist, with a skilfully guided half volley across the keeper. The finish was at all dissimilar to his effort against Tottenham (a few weeks back), thereby doubling his season tally to two goals. It took just three more minutes for that goal and assist duo to strike once more, as the home sides defense struggled to find any level of organisation. With Liverpool's tails then up and in full assault mode, it was inevitable that a second goal would shortly follow the first. What was not inevitable, however, was how brilliantly taken that goal would be. With the Premier League's 19th placed team making some horrible defensive decisions, eventually Salah was able to drive a square ball into the feet of Curtis Jones, whose instinctive touch, turn, and strike into the far corner was sublime. This second goal took our number 17's tally to three goals for the campaign, whilst rubber stamping his position as a genuine first team option for next season.
Below was Jürgen Klopp's starting eleven & subsequent in-game changes, against the inconsistent and defenceless Leicester City.
GK – Alisson Becker
RB – Trent Alexander Arnold
LB – Andy Robertson
RCB – Virgil van Djik
LCB – Ibrahima Konaté
CDM – Fabinho
LCM – Curtis Jones
RCM – Jordan Henderson
LF – Luis Díaz
CF – Cody Gakpo
RF – Mohamed Salah
Substitutions;
63' James Milner – Jordan Henderson
63 Diogo Jota – Luis Díaz
84' Fábio Carvalho – Curtis Jones
88' Harvey Elliott – Mohamed Salah
With the line ups and substitutions as shown above, the match started with maintaining heavy possession, amidst the usual handful of counter attacks absorbed. With a final tally seeing Liverpool retain 68% of the ball, it was a game that enabled the Reds to become a fluid entity, one which saw players switching positions, overloading key areas, and making it very hard (for Leicester) to track runners. With Ibou and Virgil often splitting their suitors across the width of the pitch, Fabinho was then tasked with holding that central area ahead of them. As Trent roamed and created centrally, Robbo moved sporadically into the final third, creating an overwhelming and powerful attacking pattern of play.
This iteration of 4-3-3, 3-4-3, or 2-2-3-3, is a joy to behold right now, as weaker teams simply do not know how to navigate its intricate design. Though the constant stream of interchangeable pieces is somewhat Manchester City-like, there is also a tantalizing intensity (yep, that word) flowing through the Anfield group, which is extracting the best out of players that were once (positionally) shackled. The turnaround of ideas and tactics has to be applauded, as our German manager appears to have been able to do what so many others (Jose, Wenger, Conte), have been unable to, which is to adjust to the circumstances of the modern game.
With the 0-2 half time score making the game all but over, the second half was about control and keeping a clean sheet. With a sense of recycling possession and not overcommitting too many numbers, it was a good sign to see this eleven be able to shift through their footballing gears. With Leicester being limited to only one very good long-range effort, it at least allowed Ali to participate in the second half showing.
It was not until the 71st minutes (after a couple of substitutes had been introduced), that the elation of the traveling support was able to roar once again. With a free kick allowing Trent to flex his long-range shooting, Salah was able to change the angle of the shot, with a deft roll back from its dead ball origin. As our 24-year-old hybrid prowled the King Power Stadium in full control of the game, he then rubber stamped the victory with a ferocious right footed strike into the top left corner. For this match up, Gareth Southgate sat in the stands to personally survey what has been grabbing all the recent headlines. It would be amazing not to see our 18-cap international tasked into a midfield double pivot, in the next batch of national games. The form and level of Trent's play (since his positional switch) has been nothing short of remarkable, with a continuing elite standard of play being produced. It would take a very stubborn Three Lions boss to continue to ignore the ability of our number 66, therefore I look forward to seeing him grace the Wembley pitch very soon.
The points were once again all that mattered, which is leading to a fascinating final few days of the season. The more encouraging fact is how this squad of players have taken to the new alterations in their setup, with a rejuvenation clear in their manner and play. The manager surely can't wait to get back to Anfield, where Aston Villa will be visiting this weekend. This team look like world beaters right and are in the hunt for a top four finish, with form and confidence in abundance.
Imagine the hype within our fanbase, if Brighton and Bournemouth were to take some points from Newcastle and Manchester United in the coming days, alongside a weekend win for the Reds.
Our stop Anfield, where Aston Villa will be entertained.
https://twitter.com/AnfieldWatch/status/1658396703706296326?s=20