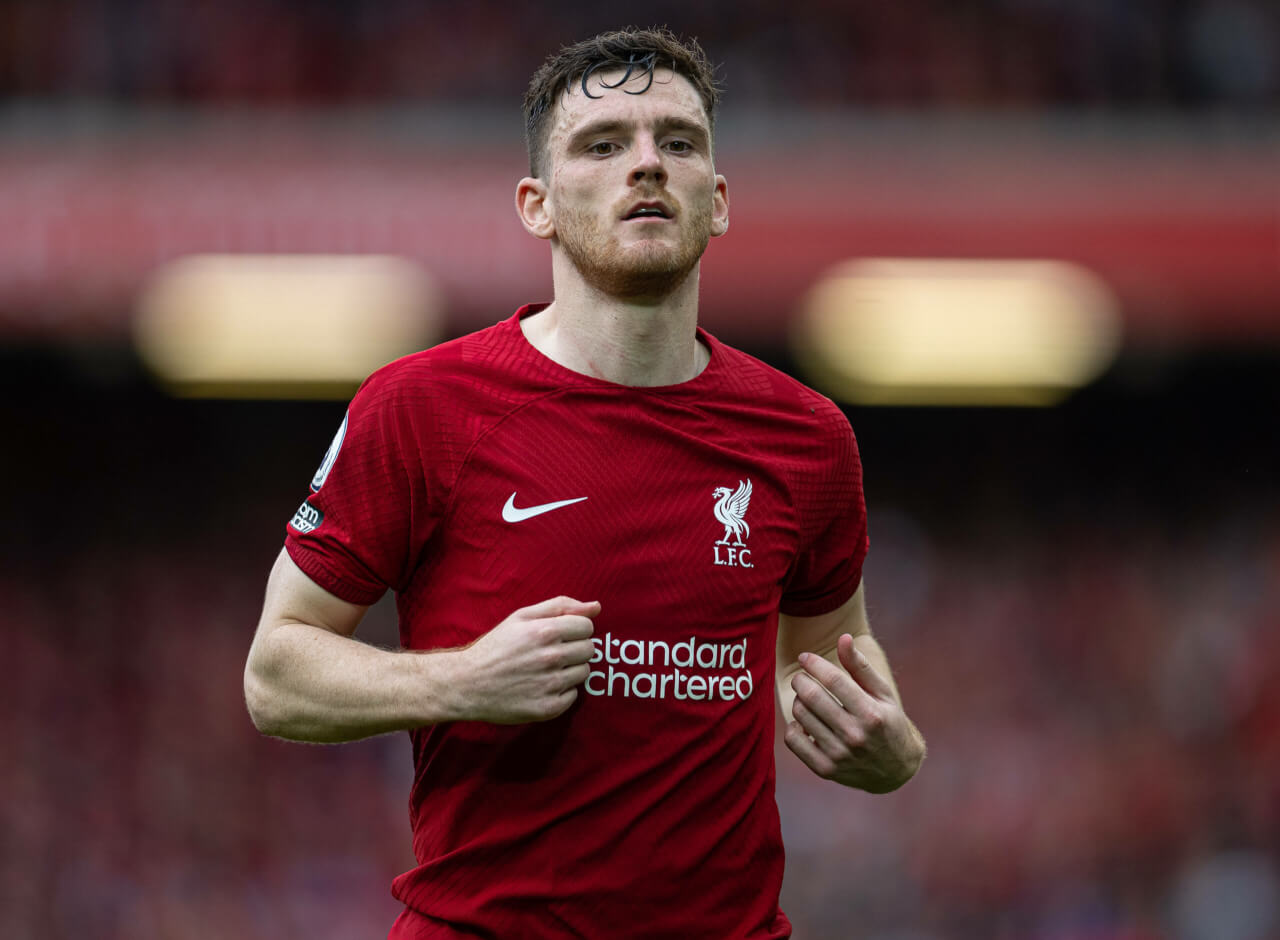 Robertson's New Role in Klopp's Liverpool Formation

Andy Robertson: An Adaptable Red in Liverpool's Evolving Formation
In the grand theatre of football that is Anfield, Andy Robertson has confidently tackled a new role within Liverpool FC's tactical ensemble, shaped by the innovative mind of Jurgen Klopp.
The Adaptation of Andy Robertson
Liverpool's return to their exhilarating form has been catalysed by Klopp's strategic restructuring of the squad's formation. This transformation has seen each player, including Robertson, accept novel responsibilities on the pitch.
"As long as we keep on winning and we keep progressing as a team then I'll happily be doing that job," the adaptable Scot reveals speaking to LiverpoolFC.com. His new role appears to be one of sacrifice, as he evolves his typically attacking left-back position into a more balanced stance between offence and defence.
Trent Alexander-Arnold's shift to right-back and subsequent drift into midfield has been one notable change, alongside the vital modifications in Robertson's position on the left flank.
The 29-year-old natural attacking left-back, known for his surging runs down the flank, is now operating in a new zone. He frequently drops into a back-three setup alongside Virgil van Dijk and Ibrahima Konate. Robertson comments on this transformation, saying, "It's different, maybe a little bit more conservative."
Mastering the Art of Balance
While the new system has created a few hiccups, Robertson's dedication to the Reds remains unwavering, and he believes his adaptation has been successful.
His recent statement to Liverpool's official website underscores this: "But we have obviously tweaked the system a little bit and sometimes you have to make sacrifices and you have to adapt your role a little bit, and I think I've managed to do that."
He continues to show an unyielding desire to contribute to Liverpool's attacks and is discerning about when to unleash his attacking prowess. "Of course, I still try to get involved in attacks, I still want to overlap my winger and things like that but I just need to pick and choose my moments," he admits.
The frequent tactical shifts by Klopp keep the opposition guessing, and Robertson's adaptable skillset plays an essential role in this game plan. Whether the German tactician settles on a 3-4-3 or reverts to the trusted 4-3-3, especially in the absence of Alexander-Arnold, Robertson is more than ready to take on the challenge.
"There's probably two different sides of my game depending on what formation we play," he elucidates. With Liverpool FC on an upswing, the change in Robertson's position on the pitch appears to be a strategic masterstroke. His adaptability, coupled with Klopp's tactical prowess, ensures that the Reds are always ready to put on a show at Anfield.