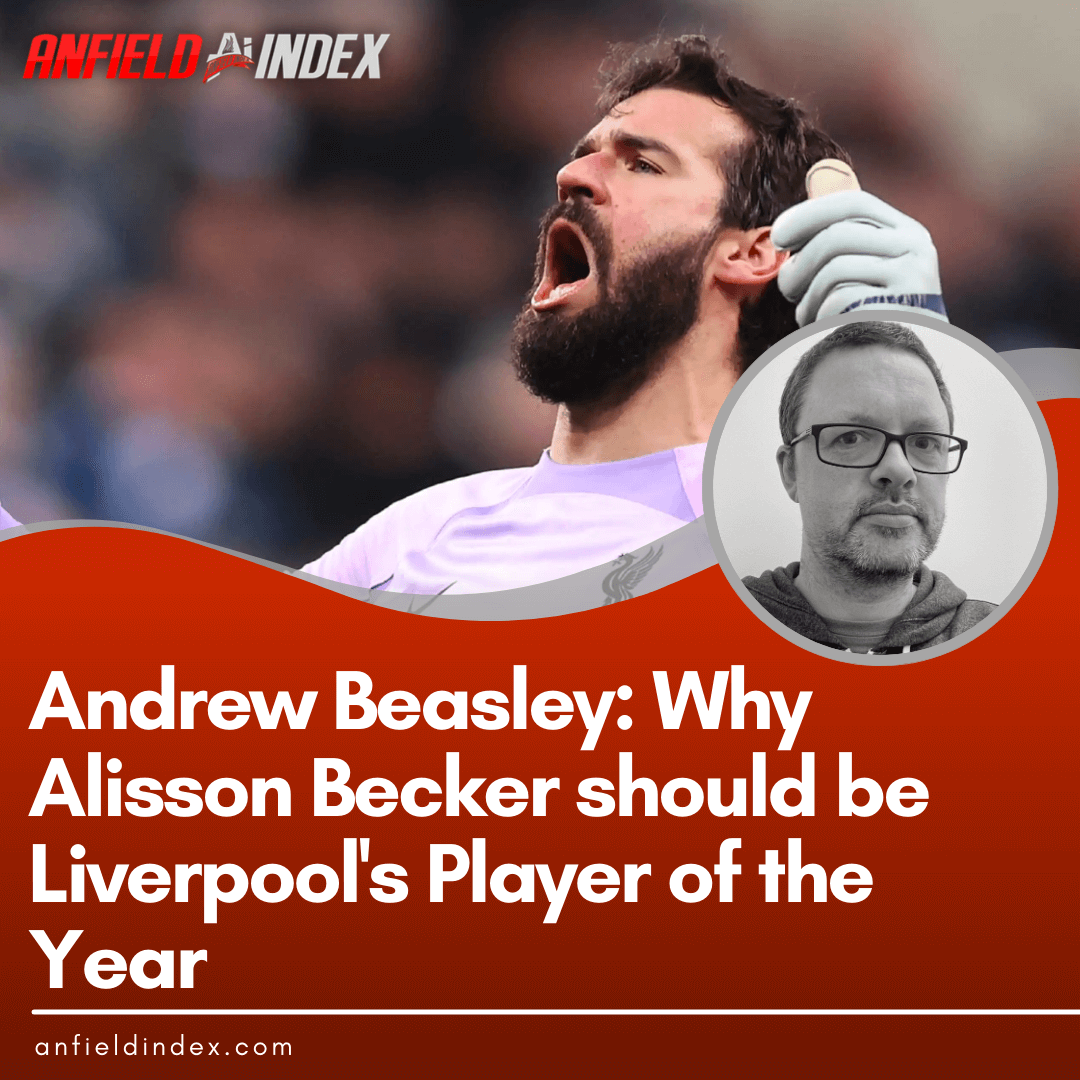 Why Alisson Becker should be Liverpool's Player of the Year
Liverpool's performance in their 3-0 win at Leicester City on Monday evening was the sort of calm, controlled display that has been largely lacking on the road in 2022/23. Even if they beat Southampton on the final day, this will still be the Reds' worst away campaign under Jürgen Klopp, with only eight seasons seeing lower points-per-game averages in the Premier League era.
The first half at the King Power Stadium played out in similar fashion to the opening 45 minutes of Liverpool's recent 6-1 victory at Leeds. Klopp's side were largely in control for the first 30 minutes or so, without creating a chance worthy of the name. But then BANG BANG; two quick fire goals and the contest was effectively over before the break.
There was another, far less positive, similarity between the two matches though. In both cases, the home side had the first Opta-defined clear-cut (or 'big') chance of the evening. These are opportunities where "a player should reasonably be expected to score, usually in a one-on-one scenario or from very close range when the ball has a clear path to goal and there is low to moderate pressure on the shooter". At Leeds, an early high value chance fell to Rodrigo, with Jamie Vardy the man responsible at Leicester.
We can't possibly know how the games would have unfolded had they scored, of course. Both teams are struggling and defending poorly while the Reds are playing much better since they tweaked Trent Alexander-Arnold's role in the side. Liverpool may still have won the games regardless. But they were given a much better chance of doing so thanks to saves by their player of the season, Alisson Becker.
That award isn't official, by the way, just this writer's opinion. Mohamed Salah can undoubtedly lay claim to being Klopp's key man this term, as the Reds' top scorer and leading assist provider. Alisson might have been one of the most important players to any side in the analytics era though.
This can be seen from the big chance data stretching back to 2011/12. In that period, the worst side for conceding 'should score' opportunities has been the Reading side of 2012/13. They were relegated having won just six matches, with the 73 goals they conceded in large part down to the 109 big chances they allowed their opponents.
That equates to 2.87 per game. As recently as the aforementioned win at Leeds, game 30 of a campaign for a team which almost won the quadruple last season, Liverpool had conceded an average of 2.93 per match. The rate has thankfully since cooled, but even if the Reds don't allow a big chance to either Aston Villa or Southampton – unlikely as they've only had two clean sheets in this sense all season – there'll still only be nine teams from the last 11 seasons who conceded more.
Of those that did, four were relegated, the nonet had an average finishing position of 16.6 and 11th was the best any of them managed. This is not the defensive process of a top half team, much less one hoping to qualify for the Champions League or challenge for the title.
For the last five seasons we can assess goalkeepers by the big chances they have faced, and we will disregard penalties as they are so heavily weighted in favour of the shooter. It's the perfect period for this study as it covers the time Alisson has been in England. Across his first two seasons, the Brazilian faced 47 non-penalty clear-cut chances; the figure stands at 61 for 2022/23.
His save rate for this season (50.8 per cent) is above Premier League average (42.3) but lower than he posted in each of the last three campaigns. However, he reigns supreme among the 17 stoppers who've faced at least 100 since the summer of 2018. Alisson has also been the best from the 46 to face over 17, but let's keep the sample sizes decent, eh?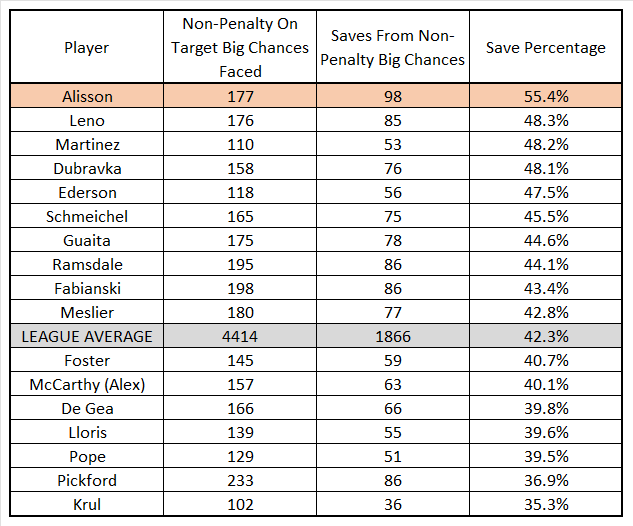 And his efforts this season need to be viewed in proper context. It's hard to have an elite save percentage when coming under such a barrage of high quality opportunities. Nineteen other 'keepers have faced at least 50 non-penalty big chances in the last five years and only four of them can top Alisson's hit rate from 2022/23.
(As an aside, the leader is Bernd Leno for Fulham this season. His performance goes a long way to explaining why a team who are two expected points clear of the drop zone on underlying performance is safely ensconced in midtable).
Even then, simple percentages can obscure some vital truths. Saves should also be judged by game state (though this data is not easy to obtain). As well as keeping out the first clear-cut chance of the matches at Leicester and Leeds, Alisson also did this at Goodison Park, Tottenham Hotspur, Newcastle and Stamford Bridge.
That's a quartet of tricky away games from which Liverpool took eight points. The Reds have their worst points-per-game average from matches in which they conceded first since 2015/16; how well would they have done in those tough trips if Alisson hadn't saved their bacon?
While not from the first of the game, Liverpool's number one also denied opposition big chances in one goal wins over Manchester City, West Ham, Leicester and Fulham. A bore like Roy Keane will say he's just been doing his job, but it doesn't bear thinking about where in the table the Reds might be if Alisson hadn't done his to such an elite level.