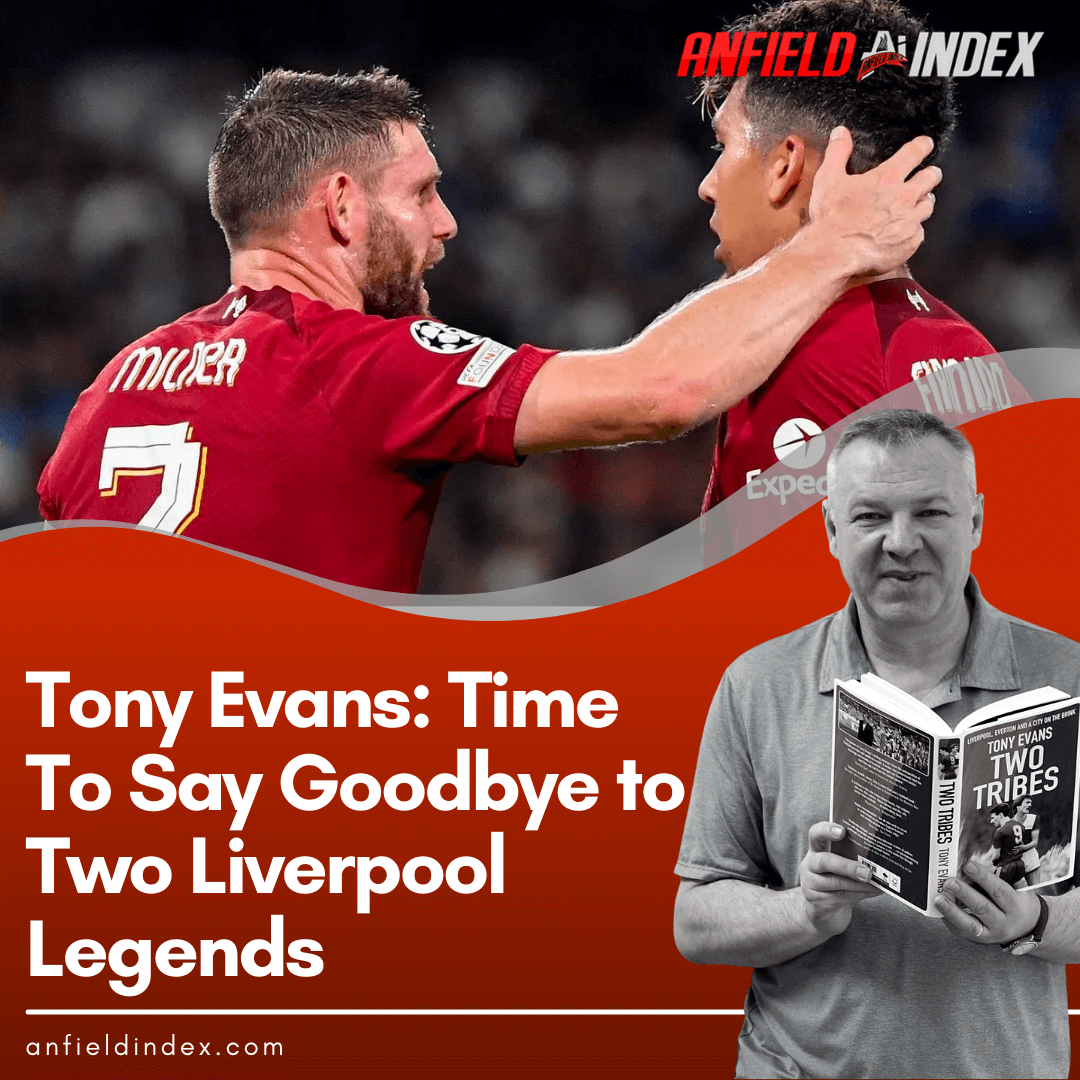 Time To Say Goodbye to Two Liverpool Legends

It's a time for goodbyes at Anfield on Saturday. First off, farewell to a pretty average season. There were times when it was really bad. It's ended reasonably well but even if Manchester United and Newcastle slip up, it's been a year of underachievement.
There's mixed feelings about the players who are leaving. Roberto Firmino has had a brilliant farewell tour. It will culminate in front of the Kop against Aston Villa. There's been enough love sent Bobby's way. Actually, that's not quite true. You can never love him too much. But we all know that.
Firmino is emotional in that Latin way and that's brought out the Celtic passion in the fanbase. James Milner is the opposite. He's English, stoic and, you suspect, would be mildly embarrassed by any show of sentiment. Milner's been here to do a job — any role asked of him. Both him and Firmino were never shy of doing the spade work while others got the glory.
Some of us were sceptical when Milner arrived. He was 29 and the highest-paid player on the books. For all his qualities, when a midfielder like him is your top earner, you've got problems. You could never doubt what he brought to Anfield, though: a rugged, doughty, never-say-die approach and a great attitude. So, money aside, he was a great addition.
The term "utility player" has gone out of fashion in the numbers soup of football tactics. Well, let me explain what it means. It means Milner could play as a 4, a 6, an 8, a 2, a 3 and any other bloody number you want to attach to a position. He could troubleshoot anywhere Jurgen Klopp needed him. A player like that is so important to a manager. He'll do stuff that doesn't earn him a ton of love from the crowd but his boss and colleagues appreciate it.
The team will miss his versatility and his experience. He knows when to put his foot in and was streetwise when some of the squad seemed a bit innocent.
Alex-Oxlade Chamberlain deserves a nice farewell, too. He looked as if he'd be on the front line of the Klopp revolution until his injury. It's sad what happened. He was another who gave his all but, after he was crocked against Roma, he never had enough. That was not his fault.
Naby Keita? Let's hope the door doesn't bruise his arse on the way out. If it does, he'll miss the first three months of next season for his new club.
*
The scale of Jurgen Klopp's achievement in denying Manchester City five Premier League titles in a row will become clearer with every year.  City are next to unstoppable.
They showed this with their demolition of Real Madrid on Wednesday. In one way it was beautiful. In another, ugly, ugly, ugly.
City are the sporting arm of an emirate. They escaped Uefa sanctions at the Court of Arbitration for Sport on a technicality. They face 115 Premier League charges. The magnitude of their financial wrongdoing is as breathtaking as the brilliance of the team that will likely win the treble.
For all that, they've used the Abu Dhabi money wisely. They have bought the best of everything — manager, coaches, players and, crucially, executives. They are a superbly run club.
Eight years ago, in a conversation with someone from City, I observed that they'd probably be the first team to win the league in five successive seasons. The individual sniggered at me. We're building to win it 10 times in a row, they said.
I've told that story before but I can't tell it enough. A lot of people don't understand the gravity of what we've been watching unfold. The death of competition.
For Klopp to twice push them to photo finishes in the title race and once beat them is a phenomenal feat. Without Liverpool they'd be six deep into the 10.
Forget Arsenal. They only showed how hard it is to challenge the unchallengeable.
Everyone focused on the 30-year drought in 2020. The bigger accomplishment was overhauling City.
*
Thanks Brighton. Khaziing it against Everton and Newcastle after taking four points off us and knocking us out of the cup? Brilliant…
*
City advancing to Istanbul brought the FSGOUTers back onto social media. It's a football-related psychological disorder, isn't it? There's a lot of it about.
FSG have put the club up for sale. There are no takers. This actually makes John W Henry the leader of the FSGOUTers, surely?
Now I'd understand the angry clamour if Fenway had a super-rich oil state or a semi-imperial superpower nation knocking on their door desperate to take on Abu Dhabi in a sporting cold war. But as no one wants to be in at Anfield — at least not at the asking price — then what's it all about?
*
As someone who had doubts about Curtis Jones, it is gratifying to see him on such a run of form. He's been getting better with every game and has enough about him to contribute to the team for the foreseeable future.
Trent Alexander-Arnold's shifting position suits Jones and means he doesn't have to subvert his attacking instincts as much as he did before. Whether the system will work out in the long term for the two Scousers is open to question, especially with the new faces coming in during the summer. But it was uplifting  to see two local boys making such an impact on the game against Leicester. Long may it continue.
*
Unai Emery is dangerous. Aston Villa have improved out of all recognition this season. Ollie Watkins has come on in leaps and bounds.
They play a very high line, though, and if they do that at Anfield it will be a dangerous ploy. The game is certainly not a foregone conclusion. They are a club on the up.
Which is a shame. I've nothing against Villa except for one thing: Christian Purslow.
Yes, the Cuban-heeled 'Fernando Torres of finance' is basking in Emery's reflected glory. Let's never forget that he labelled Spirit of Shankly "Sons of Strikers" and had his typing monkey Paul Tyrrell draw up a blacklist of supporters and journalists opposed to George Gillett and Tom Hicks that compared us to the genocidal maniacs of the Khmer Rouge. Seriously.
There have been many great banners over the years on the Kop hailing the heroes of the club but very few featuring the bad guys have achieved iconic status. Christy La's was a classic.
It featured a penis with Purslow written down the shaft. He's a villain in every sense, that's for sure.