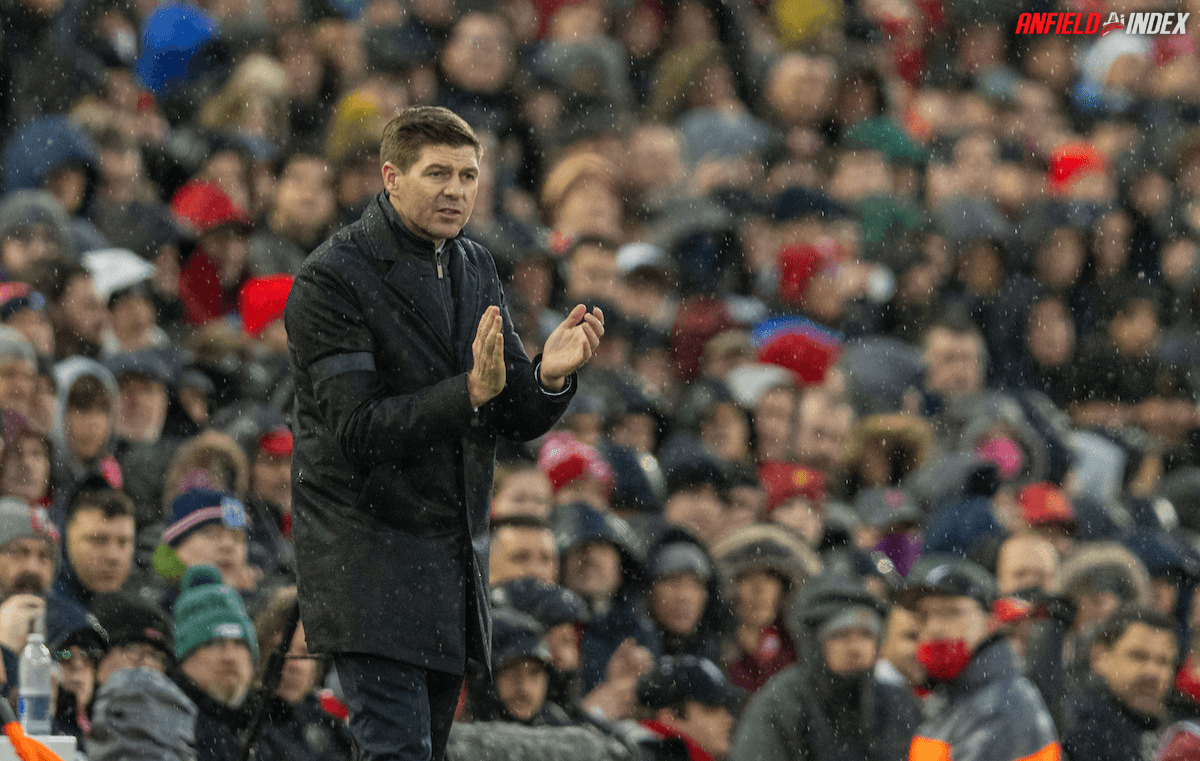 Gerrard's Shadow Over Liverpool's Clash with Villa

Steven Gerrard's Saga: Between Liverpool's Embrace and Villa's Brief Fling
Credit to Brad Walker on This is Anfield 
As the final whistle looms over Liverpool's last home match of the season against Unai Emery's Aston Villa, the Reds clutch at the fading whispers of a Champions League spot. It's been a curious campaign, one that saw the giants fall nine times in 36 matches. Yet, the duel between these two sides is not simply a run-of-the-mill Premier League fixture, but a walk down the memory lane of one Steven Gerrard.
Indeed, the mere utterance of Gerrard's name alongside Villa stirs emotions within supporters, reviving the brief yet intense chapter of his managerial role at the Midlands club. And while Gerrard's reign at Villa, lasting just shy of 13 months, ended on a sour note, it was not always stormy skies for Gerrard and the Villans.
The Most Memorable Games: Gerrard vs Villa
"As a player, Gerrard frequently sunk daggers into the claret-and-blue hearts, managing a total of 13 goals in 27 matches. That's more than he managed against any other side," Walker reminds us, sparking images of a relentless Gerrard, ceaselessly harrying Villa's backline.
One unforgettable encounter unfolded during the Reds' 2008-2009 domestic campaign, where they fiercely rivaled Man United for the crown. The stage was Anfield, packed with fervent supporters, all eager to witness the Reds dispatch Villa. Back then, Villa, with their eyes set on Champions League places, were no match for Rafa Benitez's Liverpool, who were coming off a resounding 4-1 victory at Old Trafford.
"Steven Gerrard not only dispatched two penalties but also drove a well-placed free-kick at the Kop end, securing his first match ball for his boyhood club," Walker recalls, painting an electrifying image of the match.
And while this match stands out, Gerrard's saga against Villa had begun much earlier. A youthful Gerrard scored his first against Villa back in 2001, setting the stage for many memorable battles.
"His goal-scoring feats against Villa, his memorable long-range goals, his hat-trick in 2009, all stand testimony to Gerrard's genius," muses Walker, taking us through Gerrard's illustrious career against Villa.
The Last Chapters: Gerrard's End in Liverpool and Start in Villa
Despite his successes against Villa, Gerrard found his final season with the Reds challenging. In his last game against his future club, Villa overcame Liverpool 2-1 in an FA Cup semi-final at Wembley. Gerrard's spell in LA Galaxy followed before he announced his retirement in 2016.
Yet, his story didn't end there. Gerrard's 13-month tenure at Villa Park weaved another intricate narrative in his storied career. Walker suggests, "Despite his spell at Villa, Gerrard will likely be cheering on his boyhood club as they clash against Emery's Villa in a desperate bid for a Champions League spot."
As Liverpool gets ready to bid farewell to their legends, James Milner and, if fit, Roberto Firmino, Gerrard's legacy continues to loom over Anfield, drawing lines of connection that span from Liverpool's heart to Villa's brief managerial history. A tale that is, without doubt, one of the most compelling narratives in English football.