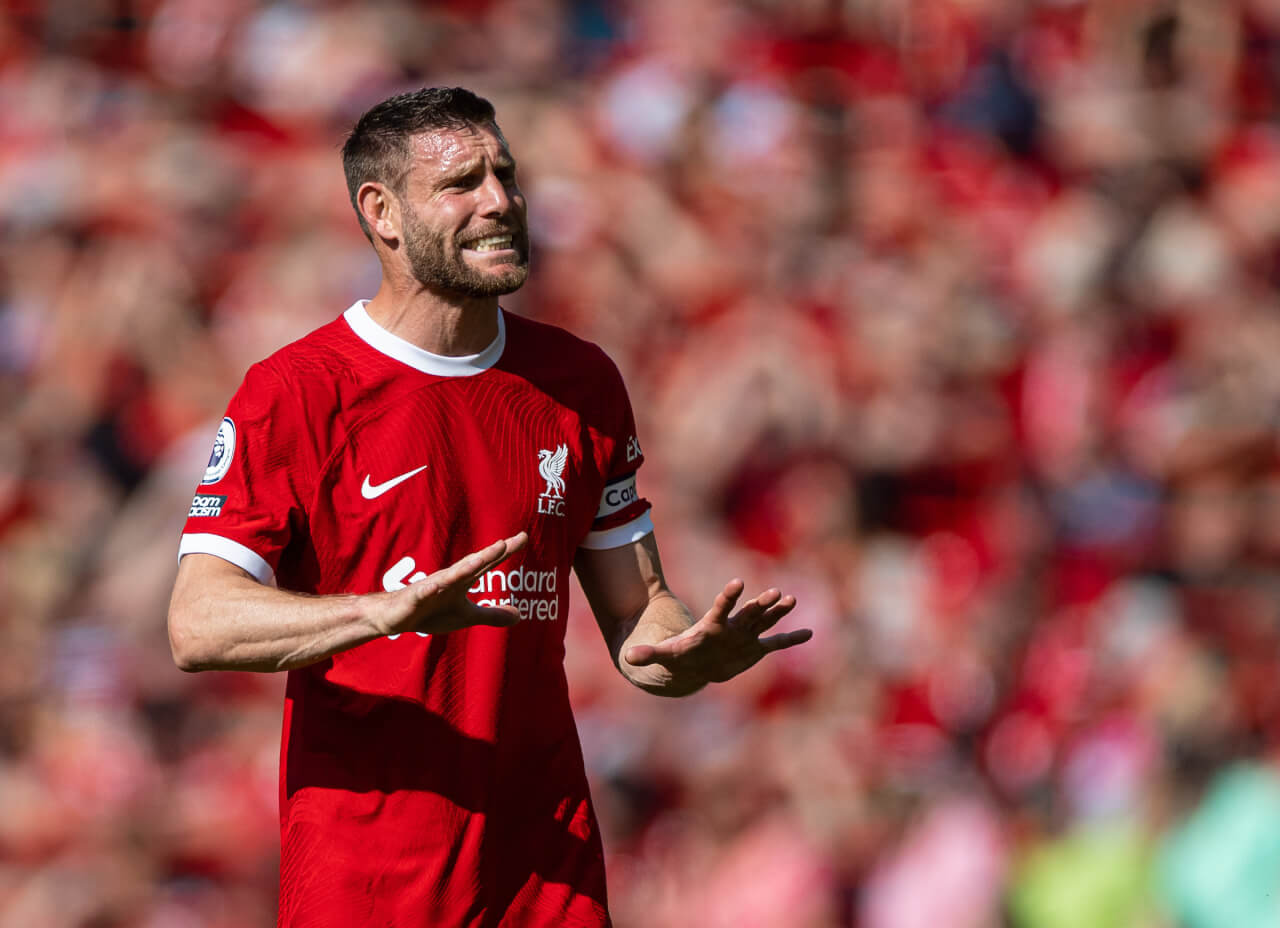 "Klopp Still Wanted Me," Reveals Liverpool's Departing Milner
An Era Ends: James Milner Bids Adieu to Liverpool
As the sunset of James Milner's illustrious Liverpool tenure looms, the industrious midfield maestro opens up about his exit. Despite Jurgen Klopp, Liverpool's acclaimed gaffer, allegedly expressing a desire for Milner's stay, the seasoned player is confirmed to be among the four departures scheduled at the end of June.
An undeniable embodiment of professionalism, Milner's eight-year tenure in the red half of Merseyside has earned him nothing short of legendary status. After the full-time whistle, he received a heartfelt guard of honour from his teammates, a testament to his significant contribution over the years.
His imminent departure sparked a spontaneous chorus from the stands, with fans chanting 'there's only one James Milner.' A truly heartfelt sentiment, it conveyed the deep respect held for the 37-year-old among the Anfield faithful.

Speculation Surrounding Contract Extension
In the aftermath of Liverpool's victorious 2019 Champions League campaign, there was significant speculation that Milner might extend his contract by another year, mirroring his decision last summer. Speaking to LFCTV, the tenacious midfielder suggested that Klopp might have retained him, had he been granted the authority.
"It would be a shame to stop when you've still got a bit of life in you," Milner commented, "Jurgen Klopp is a pretty good manager and the fact he still wanted me here and said I can still do a job is pleasing. I haven't started a load of games this year, but I feel like I have contributed when I have been asked to."
This apparent hint at a power clash over his contract decision raises eyebrows, and while Milner seems to be at peace with the club's decision, there remains an undertone of regret that the manager's desire to keep him was overruled.
The Final Bow and Future Prospect
In the recent clash against Aston Villa, Milner graced the pitch once more for his final home appearance in a Liverpool shirt, coming on in the 72nd minute in an attempt to turn the tide of the match.
After his departure, Brighton appears to be the frontrunner in acquiring the services of the vastly experienced player, although Leeds United has also shown interest. Hinting at his plans for the future, Milner told BBC Sport:
"It was a special moment. I've been lucky to have a pretty good time here. It is a special place. I might play here again, who knows."
Legacy Cemented: A Look Back at Milner's Liverpool Journey
The former Manchester City player reflected on his successful journey with Liverpool, reminiscing about the triumphant moments and the coveted titles he's helped secure.
"The trophy Liverpool always wanted was the league title and to leave after eight years and have done that, it's what you hope happens," he added. "It's what a club like this demands. The league title was the one we wanted and to deliver that was special."
Throughout his time at Liverpool, James Milner has been a paradigm of commitment and dedication. Content and pleased with his contributions, Milner is now poised for his next adventure, continuing to epitomise that age, indeed, is just a number.