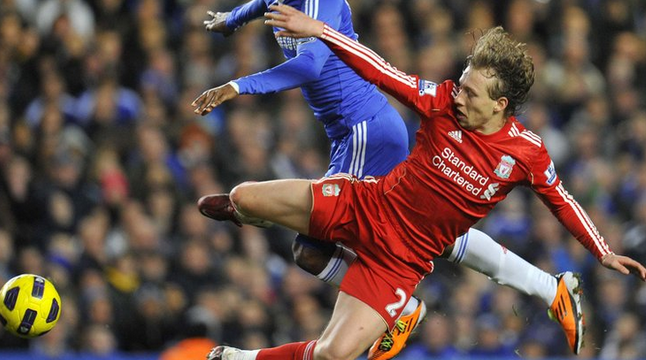 The Importance of Being Lucas | Opta Stats Analysis
It may surprise you to hear this, but with Liverpool FC having played 33 games this season, with only 5 games remaining, Lucas Leiva is still Liverpool's top tackler. With a total of 68 tackles attempted this season, out of only 12 games the Brazilian has featured in, only now has any other LFC player threatened that statistic. With Jose Enrique having attempted 65 tackles to date, it looks like Lucas's tackle stat is finally about to be surpassed. But that doesn't tell the whole story.
Think about it. 12 games Lucas featured in, with 33 now played. That gives every other LFC player possibly 21 extra games to match him. In fact, Liverpool as a team had attempted 279 tackles in those 12 games, with Lucas responsible for 68, or 24.4% of the team's total. This is both a reflection of those other players, and a reflection of what exactly the team has been missing this season. A timely reminder, of the importance of Lucas.

TOP TACKLERS
So let us take a little more in-depth look at those tackles stats and put them into some sort of context. Currently of all the players in the Premier League this season to have played the average amount of games, Alejandro Faurlin makes 4.5 tackles per game, more than any other player. Before Lucas got injured he was averaging 5.7 tackles per game. If Lucas had continued at that rate he would have around 216 tackles attempted for the season. In fact, when you look at the last 2 full seasons that would have put Lucas at having attempted nearly 50 tackles more than his nearest rival.
WHAT MIGHT HAVE BEEN?
When you look at those numbers in a broader team sense it gets even more remarkable. Compared to the previous three seasons, Liverpool is having a poor season when it comes to tackling quantities.
With 5 games to play we have attempted 637 tackles, which average's at 19.3 tackles per game. So we are on course to attempt about 733 tackles for the season. With Lucas on course to make 216 tackles for the season that would have meant he would have been responsible for 29.5% of the team's total.  That is an incredible amount if he hadn't got injured and continued at that rate.
WITH OR WITHOUT LUCAS
So in terms of points how has Lucas's injury possibly affected us? Our record with Lucas playing those 12 games was W6 L2 D4, and without him it, W6 L9 D6. So we have won 6 games in 12 with Lucas, and won only 6 in 21 without him.
That gives us a 50% win rate with Lucas and only a 28.6% rate without him. That is a remarkable 21.4% difference. Furthermore, we only lost 16.7% of all games Lucas featured in compared to a terrible 42.8% of games without him. In terms of points with or without Lucas this is a 16 point difference over a 38 game season.
You can see from the table what our record this season would have been with or without Lucas if we had maintained those win, lose or draw rates for a whole season. 70 points was enough to take fourth place last year, and tie for fourth with Spurs in 09/10 season. Whereas 44 points was enough to see us only in 15th position last season, just ahead of Blackburn Rovers.
On the Next Page: The Importance of Lucas continues on Page 2 (click bottom left) with passing analysis with other Liverpool players.
THE IMPORTANCE OF LUCAS
But that is not the only area where we miss Lucas this season. And despite all this time out he still features heavily in some of the most important statistics when it comes to the efficiency of defending and regaining the ball for Liverpool. As you can see before he got injured he won a tackle every 13.21 passes he attempted. Currently only Martin Kelly can better that winning a tackle every 11.38 passes he attempts. However, what stands out, is the fact that Lucas's replacement, currently Jay Spearing, needs to attempt nearly 10 extra passes for every tackle he wins.
Again when we look at ground duels Lucas is still fourth in efficiency. He won a ground duel every 5.76 passes he attempted before he got injured. Charlie Adam, who you could say tried to fill the defensive midfielders role when Jay Spearing was out wins a ground duel every 6.38 passes he attempts. Lucas however is still the top midfielder in that statistic. Again Jay Spearing does not feature in the top 5, winning a ground duel only every 10.07 passes he attempts. Only 5 other outfield Liverpool FC players who have featured prominently this season are less efficient at winning ground duels than Spearing. As a side note: I'm not bashing Jay Spearing here, merely pointing out the difference between Lucas & his replacements to get a better understanding of both Lucas's importance and what we have been missing for most of the season.
We can also see that Lucas tops the list of players who are most efficient at keeping possession of the ball. Extremely important in the modern game. Lucas only lost possession every 5.54 passes he attempted, in context, player of the year nominee Scott Parker loses possession every 5.99 passes, and Michael Carrick only every 7.25 passes he attempts. Jay Spearing is Liverpool's third most efficient player at keeping possession, only losing possession every 5.21 passes he attempts. It shows he is a good distributer of the ball, but probably needs to work on is reactions to situations, sensing and anticipating danger, and knowing when to leave his zone to make a tackle or get caught up in a ground duel. Something Lucas excelled at.
Lastly, and not surprisingly Daniel Agger tops the list at interceptions. He is an intelligent footballer and he makes an interception every 17.5 passes he attempts. Lucas again features heavily making an interception every 20.8 passes he attempts. A vital area, as interceptions can be the springboard to catching the opposition out of position as the ball transitions from one team to another. A quick pass in the right area, and it can lead to a dangerous counter-attack before the opposition can set themselves. Again Jay Spearing doesn't feature in the top 5, making an interception only every 47.2 passes he attempts. Quite a difference to Lucas. This adds a little weight to my assumption that Spearing is not nearly as pro-active a type of player as Lucas is. It is, the importance of being Lucas.
All of the stats from this article have been taken from the Opta Stats Centre at EPLIndex.com – Subscribe Now (Includes author privileges!) See Demo's and videos about the Stats Centre & read about new additions to the stats centre.