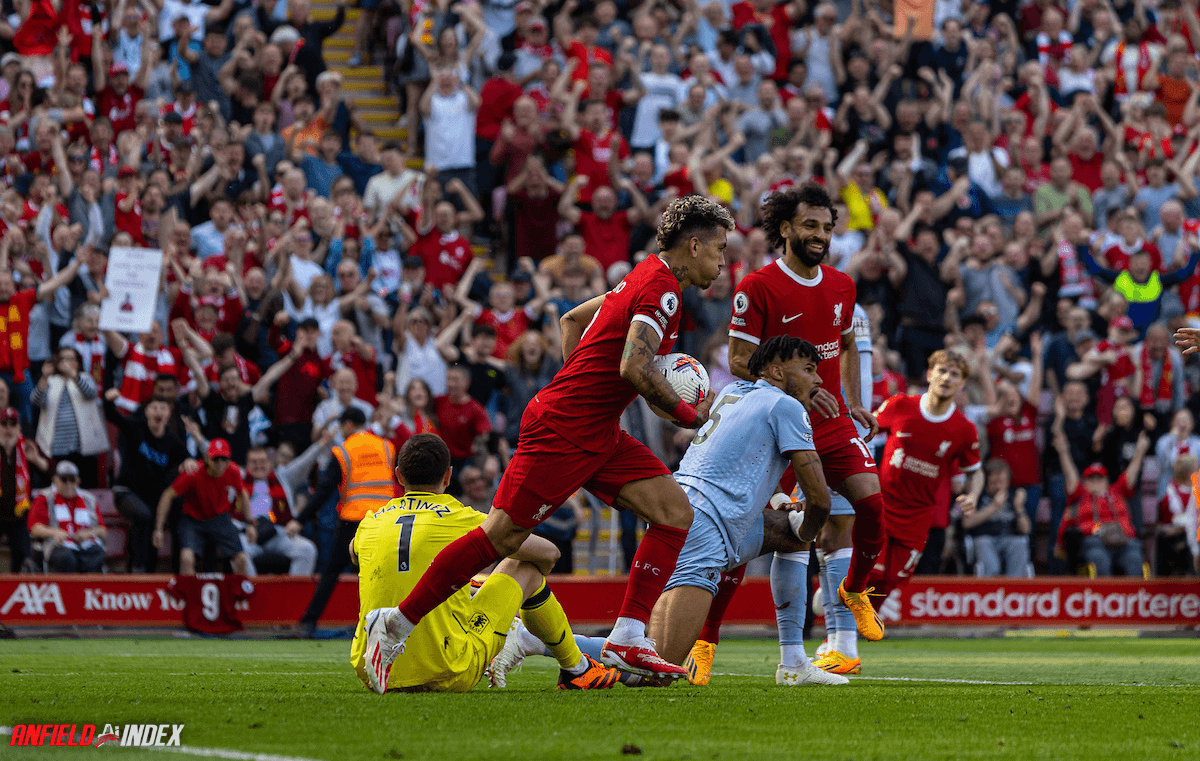 Liverpool 1 - 1 - The Post-Mortem 
This was expected to be a spectacular final game at Anfield (this season), yet it was reduced to only a final flurry of punches, which inevitably saw the Reds fall short in their attempts for an 8th straight victory. The entire fanbase was committed to our drive for top four, however, the stern resistance and organisation of our visitors reminded us all of the vast summer work that must be carried out. As a raft of players tearfully said their goodbyes (after the final whistle), it eventually became a day for fond farewells to our departing stars, with Bobby supplying a wonderful final gift.
Below was Jürgen Klopp's starting eleven & subsequent in-game changes, against the rejuvenated Aston Villa.
GK – Alisson Becker

RB – Trent Alexander Arnold
LB – Andy Robertson
RCB – Virgil van Djik
LCB – Ibrahima Konaté
CDM – Fabinho
LCM – Curtis Jones
RCM – Jordan Henderson
LF – Luis Díaz
CF – Cody Gakpo
RF – Mohamed Salah
Substitutions;
63' Diogo Jota – Curtis Jones
72' James Milner – Jordan Henderson
72 Roberto Firmino – Luis Díaz
72' Kostas Tsimikas – Andy Robertson
81' Harvey Elliott – Fabinho
With the line ups and substitutions as shown above, the match started with the home team struggling to gain a solid foothold in the game, with Villa looking to impose themselves onto the reds. Once the opening goal went in, the visitors dropped into a structured shape, which saw Liverpool eventually retain 68% of the ball. Unai Emery has created a very strong dynamic since his arrival (on November 1st of last year), so to fall behind to his side was always going to create a huge uphill challenge.
All the scores went as follows…
37' Liverpool 0 – 1 Aston Villa
Jacob Ramsey (Douglas Luiz)
89' Liverpool 1 – 1 Aston Villa
Roberto Firmino (Mohamed Salah)
This was a game where only Virgil, Ali, and Bobby, could be happy with their overall output. Though our previous seven games had elicited a run of consecutive wins, there was always issues (within those games) that were regularly papered over. Big chances were still routinely given up, whilst our dependence on the form and playmaking ability of Trent, meant that we were always going to struggle amidst one of his rare midfield off days. Alisson Becker, Virgil van Dijk, and Ibrahima Konaté have been the defensive players most responsible for hiding the truth, which is that we will continue to struggle until we find an identity that can once again overwhelm teams, that are not mere cannon fodder.
When Aston Villa took the lead in the 37th minute, it came after some fair warning. Ollie Watkins had placed a penalty kick wide of the post, whilst the Reds competed within themselves to see who could perform the worst. Jordan Henderson once again won that battle, which is something he has so often failed to do against the opposition. It took until the introduction for Roberto Firmino, for this 5th placed team to wake up and remember the stakes. With Mohamed Salah finally finding a moment of form (in this particular game), he was able to send a beautifully weighted ball into the path of the urgent Brazilian. With an eruption within Anfield, unfortunately came a final period of predictability. The fans cheered the wonderfully timed goal of Bobby and nearly carried the home side to a second goal, yet we were once more reminded how we are no longer that team anymore.
Only two losses by Manchester United (and a final day win by LFC), can see the six-time European Champions qualify for next year's Champions League. I am torn as to whether we need that top four place, or whether a 5th place finish will finally make Jürgen Klopp understand the many changes that are needed.
This match was much like the whole season, where disappointment became the footballing rhetoric. The level of play was as inconsistent as our torrid campaign, which incapsulates the team we currently are. We are a group that is not even close to what we were, the only hope is that the road to redemption is now forthcoming.
Until then, Anfield says goodbye to those that were lucky enough to wear the famous red of Liverpool Football Club.
Legends ❤️ pic.twitter.com/PXQep5HCfn

— LiverpoolGoals (@Liverpoolgoals_) May 20, 2023