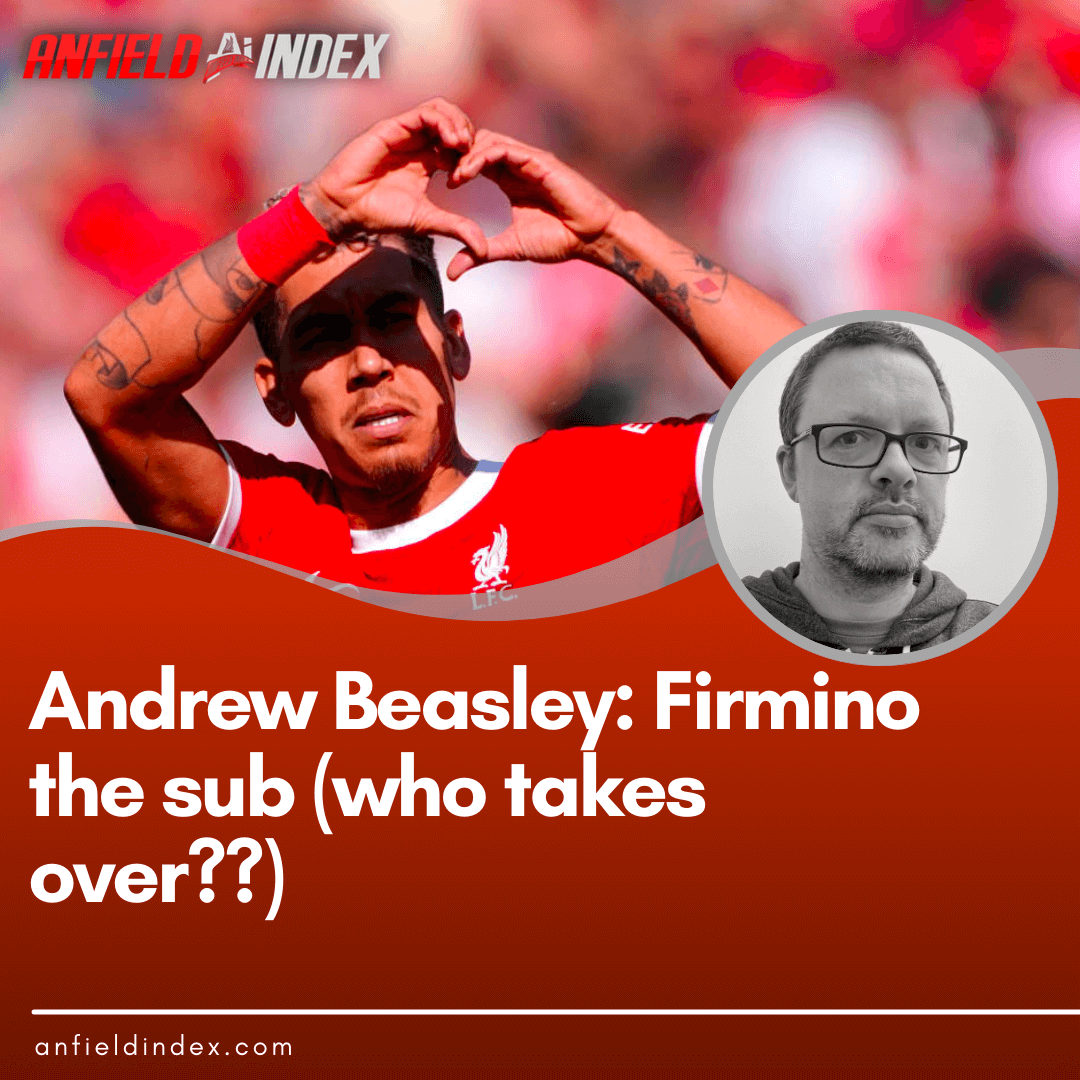 Firmino The Sub (Who Takes Over??)
Some things within football remain largely the same as they have since the game's earliest days, others have accelerated beyond all control.
Liverpool's 97th goal by a substitute was scored 32 years and one week after it's first; Jürgen Klopp has produced the same total of strikes from his bench in under eight years. The most recent occurred last weekend when Roberto Firmino capped his final Anfield outing with an equaliser against Aston Villa. It was a rare bright spot in a turgid game, with the pass leading to it the most threatening delivered by any Liverpool player across the whole 17 minutes* the ball was in play.
Assuming he doesn't add three to his tally at Southampton next weekend, the Brazilian will leave the club as its second top scoring substitute. Firmino's total of 16 goals puts him two behind David Fairclough, whose time in the first team effectively covered the remarkably successful Bob Paisley era.
Fairclough scored arguably the most famous goal by a Liverpool sub. He netted at the Kop end to defeat Saint-Étienne in 1977, as Liverpool marched toward becoming kings of Europe for the first time. Yet only eight of his 18 goals from the bench occurred in the two main competitions, where Firmino has 14 in the leagues Premier and Champions, a tally nobody in club history can match.
While there were some highlights in his relatively early sub appearances – a vital winner at Stoke City in 2017 being the prime example – Firmino wasn't the most effective game changer at first. This was perfectly understandable. He was such as key cog in the Liverpool attack and played the game in such near unique fashion that it was hard to join a match midway through and fit seamlessly in place of whatever the central starter had been doing.
Coincidental as it may be, it was interesting to read recently that Firmino's favourite goal (against Paris Saint-Germain) and assist (for Mohamed Salah against Newcastle) in the famous red shirt both occurred when he was a substitute. It's a role into which he has grown superbly.
The 31-year-old has reached the point where his diminishing role in the starting XI has led to an even split of appearances in 2022/23: 17 starts, 17 from the bench. He has been more productive (pro-rata) in the latter. Who will replace this impact next season?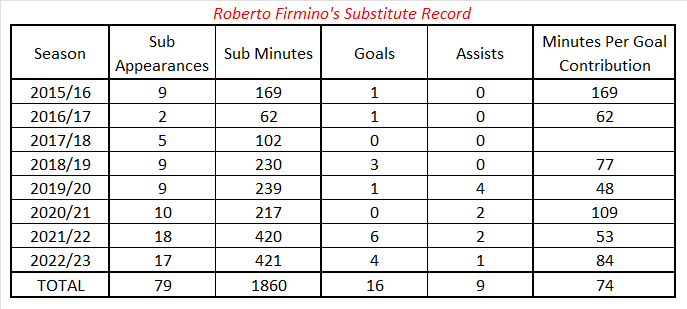 It is unlikely to be Cody Gakpo, the Dutchman clearly earmarked as the replacement for Bobby's tricky-to-fill boots in the starting line-up. The former PSV Eindhoven forward has only been a substitute in three of his first 25 appearances for Liverpool, with Klopp eager to use him from kick-off as often as possible.
Remarkably, only 10 players have started more games for the Reds this season, despite Gakpo only joining in January. Unavailable for selection for just 19 weeks in the last five years, his ability to normally remain fit means he should be a regular starter.
The same is obviously true of Salah. It's a shame he can't be cloned as he has been frankly majestic from the bench at times, scoring braces at Stoke and Crystal Palace while recording the fastest hat trick in Champions League history at Ibrox. Perhaps a time will come when the Egyptian becomes a phenomenal impact sub for Liverpool but it certainly won't be happening yet.
Luis Díaz is in possession of the left forward berth, having started four of the last five matches there. He also began 12 of the first 13 games of the campaign prior to injury. The interesting point here is that the exception was the 3-3 draw with Brighton, a match in which he set up the equaliser (for 2-2). Add a goal at Villarreal and an assist against Everton at the end of last season and Díaz made a goal contribution for three consecutive appearances from the bench.
Right now, the role of super sub looks to be between Diogo Jota and Darwin Núñez. The good news is that both have proven capable. Liverpool's fun guy from Uruguay already has four goals, an assist and a penalty win in his 16 cameo run-outs for the Reds, while Jota is up to joint-ninth in the club's sub goal scorer list and has four assists (including the three for Salah's hat-trick against Rangers).
Goal contributions from the bench have been a key component of Klopp's Liverpool. Since the start of 2016/17, only two teams in the Premier League have amassed more than the Reds, while no club with more than a single top flight season in that time has gathered goals and assists from subs more frequently on a minutes played basis.
For all the sadness that Firmino's departure brings, this less obvious aspect of his influence will need to be replaced, be that by one player or several. The squad has options, they now need to be successful in their cameos across the long-term.
*possible exaggeration. Not by much though.