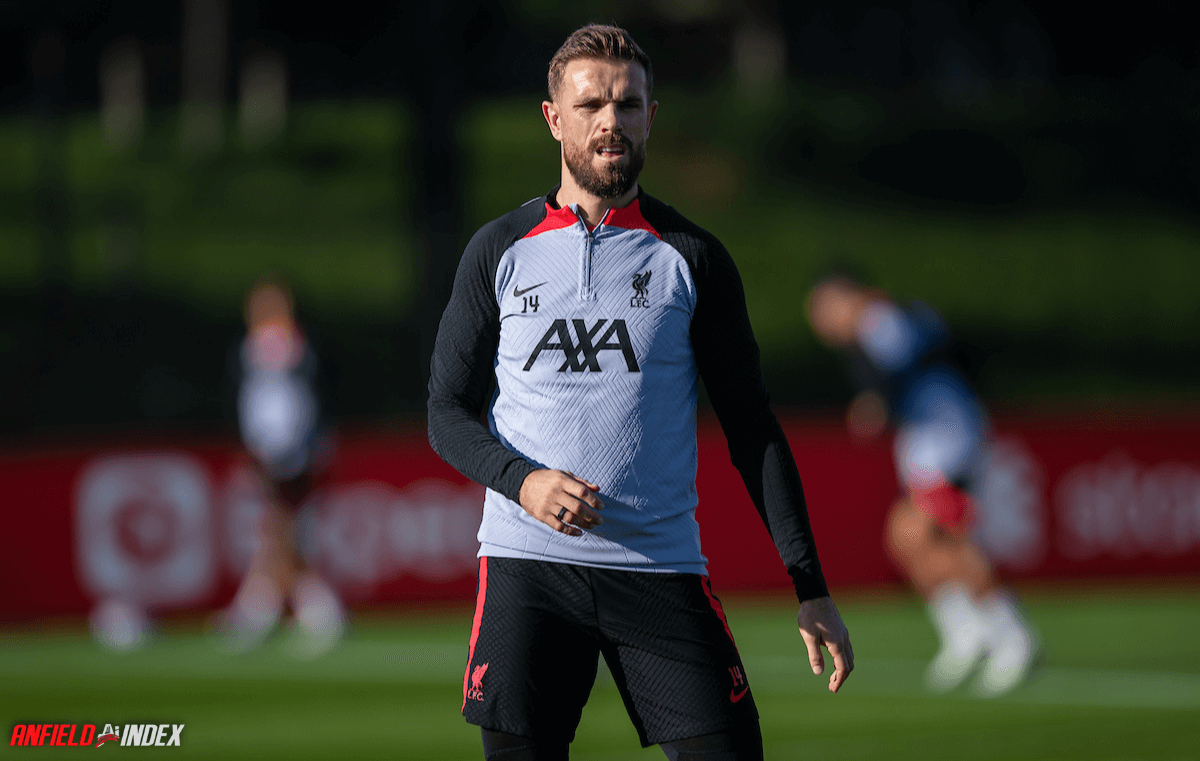 Why Jordan Henderson Should Be the Reds 15-minute Man…

The regression of Liverpool's captain this season has been alarming. Despite having relatively poor seasons in the two years prior, much of his poor showings were covered up by the elite group surrounding him. Hendo became a passenger within a great footballing side and even secured a new long-term contract (due to his manager), which still has two more years to run. I have no doubt whatsoever that this is a brilliant and important family man that benefits the changing room and the coaching staff. What we have seen this season, however, is teams overtaking us and some truly horrifying losses ensuing. This regeneration summer must see certain players ushered out of the first team picture, as the performance on the pitch is what matters most.
Nabil Fekir, Aurélien Tchouaméni, and Jude Bellingham, are all high-profile players that the Reds failed to sign in recent years. Each would have become a first team player, essentially in the role occupied by the former Sunderland player. This upcoming transfer window sees Klopp requiring no less than three new middle men, all with differing skill sets. A dominating defensive midfielder is a must, which can rotate and transition Fabinho out of the side. A controlling midfielder is required in order to ease the burden on Thiago and now Trent. In addition to those two, a box-to-box midfielder is needed to replace the captain in the first team. These should be the three variants that are added next month, alongside a left sided central defender. With this quartet of players, Jürgen could vastly improve his starting eleven, whilst migrating down current starters into the fringes of the squad. With Roberto Firmino departing, we already have the ultra-talented Cody Gakpo in house, whereas Luis Diaz was brought in ahead of the outgoing Sadio Mane. What has been allowed to happen, is stagnation in the centre of the pitch, which is perhaps why Julian Ward is about to step aside. We need more forthright and clear decisions makers that can both challenge and overrule the manager, as his loyalty is causing our team to miss too many recruitment steps.
The continued need to bring James Milner into games this year showed the lack of true depth within our group. At the outset of the campaign, our infectious German manager stated how he had eight midfielders to choose from, questioning as to why would he want more. I don't know if this was bravado or denial, but it was most certainly a deluded statement which has seen the reds fail to qualifier next seasons Champions League. Presumably the central roster of five are those listed below.
Thiago Alcântara
Fabinho
Jordan Henderson
Curtis Jones
Harvey Elliott
Naby Keïta
James Milner
Alex Oxlade Chamberlain
Adding in Stefan Bajčetić (to that list) only increases the tally to nine, whereas Fábio Carvalho would create a group of ten. Numbers and whether they can actually operate in midfield are irrelevant, as the quality just doesn't match up to a side that is striving to be elite. Having fallen so far down the footballing mountain (after nearly winning the quadruple in 2023), is unbelievable. With eyes seemingly wide open to the current situation, there must now be positive change.
After 491 games for Liverpool (583 total) and a plethora of silverware to his name, Jordan Henderson will one day look back on his time at Anfield with immense pride and joy. The 75-cap England international should now become the veteran player that helps usher in the next phase, with a mindset revolving around what is best for the club. Due to the massive regression in his physicality, there is now a clear inability to impact most Premier League games. Despite this fact, he can still be an important figure in the dressing room, whilst offering strong 15-minute performances from the bench.
Next season sees Liverpool take on the Europa League group stage in the early stage of the campaign, which is a journey he could absolutely become an integral part of. The domestic cups are always an irritating reminder of our congested fixture list, yet these games could be key opportunities for so many players, of which the club skipper could help navigate. Though his time as a first team regular are now probably over, there can still be a valuable place for him at the club. With experience and trust comes opportunities, I just hope he takes the sensible path and understands the inevitable.
The real breakout period of our number 14, must have been the season of Luis Suarez, in 2013/14. That year saw a rampaging and attacking unit, built to service the magnificent Uruguayan, whilst supporting the leadership and play making ability of Steven Gerrard. So much of the energy and drive of that team came through the relentless running of Jordan Henderson. His want to overwhelm the opposition would allow opportunists to fall for his teammates, which created the pathway to him becoming Stevie's captaincy successor. What made Hendo great has long since expired, which makes his value to this team hard to justify. With limited technical ability, a lack of pace, and a poor defensive awareness to his game, the only thing he can offer is urgency late on in games. With the use of five substitutes now cemented into the modern game, he could offer a desire that can be emitted in short bursts. You get the sense that he is often having to game manage his way through encounters, which a limited number of minutes (as a substitute coming on) would help eradicate.
If we are to take the required steps forward, then hard choices must be made. If you were to take emotion and loyalty away from the scenario, then our skipper would have been sold on a few seasons ago. I do not wish that, as I believe his ideals and personality can help galvanise a new breed of Liverpool player.
I just hope he feels the same way.
Jordan Henderson became the first ever Liverpool captain to win 6 different trophies.

Champions League ✅
Super Cup ✅
Club World Cup ✅
Premier League ✅
League Cup ✅
FA Cup ✅ pic.twitter.com/VaIqUJMnyW

— The Anfield Talk (@TheAnfieldTalk) May 14, 2023