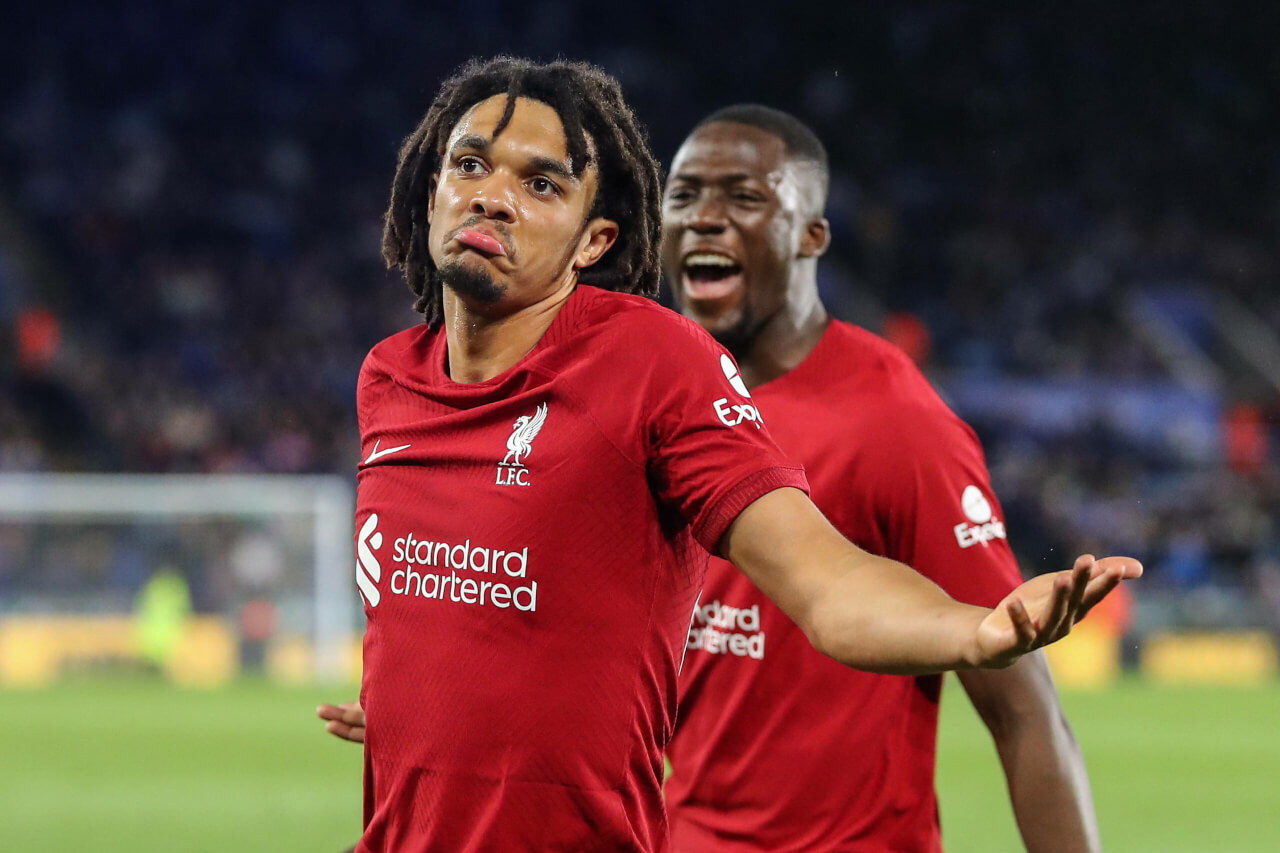 Why We Must Not Become Over Reliant on Trent…
Steven Gerrard & Thiago are two Liverpool names that spring to mind, when considering players that Liverpool became too over-reliant upon. The former captain was the driving force of many Liverpool sides, with his ability to drag his team to ultimate success. Much of that success (in his heyday) was built upon his performances and elite level of play, that he was able to deliver in high pressure situations. Whenever Stevie was missing (through injury or suspension), the identity and quality of the team would suffer a major drop off, without their talisman on the pitch to guide them. Before the arrival of Luis Suárez (who enabled a whole new strategic outlook), the team would revolve around the Liverpudlian and his endeavours. Only when our magical Uruguayan arrived, was there a shift in on pitch importance, which had been apparent for over a decade.
In terms of Thiago Alcântara, his controlling presence became vital to the red's patterns of play, with his (and Naby's) unavailability this season causing Jürgen Klopp's eleven to become increasingly unsure in their on-ball progression. We have seen varying degrees of evolution in the German managers reign, from a very misguided Brendan Rodgers incarnation, to a bullish and overpowering team which won everything. There was a time before the arrival of Thiago, where much of our build up play resonated through Trent Alexander Arnold and the recycling of Gini. Trent's ability to dictate play (amidst contests of dominance), was a joy to behold. As everyone (not named Manchester City) started to employ the strategic low block, Klopp evidently identified Alcantara as the man to dictate play through the far less frenetic stages of games. Our reliability on the former Barca man increased exponentially, with our little Guinean offering superb rotation to the Spanish genius. This rotating role of chief controller, nearly saw a quadruple of trophies brought into the Anfield trophy room last season. It is within this campaign, however, that the midfield deficiencies and lack of physicality have truly come to the fore. With Thiago lacking the support and required energy around him, he was forced into a more defensive role, as teams stepped up from their low block and into an aggressive style. This alteration to his game caused injuries to be incurred, in a period when Keïta was also commonly out. 
With about thirty games gone (in the Premier League), it was becoming increasingly clear that a finish in the division's top four would be unlikely. With so many elements within the squad not working and so many players wildly out of form, a radical change in strategy was brought into the home game against Arsenal. That game seemed to relight a tactical and emotional fire within both the playing and coaching staff, with the shift in formation (and stupidly of Granit Xhaka) allowing a renewed vigour in the Reds' play. All of a sudden, our beleaguered and struggling number 66 was being heralded as Europe's best midfielder, whereas the lost ground on those above began to diminish. The entire fan base became desperate for the on-pitch activity to be conducted by our hybrid 24-year-old, as the loss of Jude Bellingham (who we never actually had), became irrelevant. Where once our former Bayern Munich maestro was the hub of Klopp's team, now the 18-cap England international was the man in control.
Then, suddenly, Trent Alexander Arnold had a bad game and nobody quite knew what to do.
This club need varying pieces added over the summer, to fully utilise the upcoming transfer window. A left sided central defender that can also operate at left back, a ferocious ball winning defensive midfielder, a box-to-box midfielder that can impact the final third, and a controlling presence that can support Thiago & Trent. Though Alexis Mac Allister plays predominantly as a 10 for Brighton, there is the sense that he is someone that will thrive as that left sided controller. In this new iteration of Liverpool, we require balance and players that are able to dominate games. We must not allow ourselves to be fully reliant on our academy fullback, who is still very much learning his new midfield role within the team. The contest against Aston Villa (last weekend) showed how much we can stagnate, with many players dropping off the radar in that game. 
Is Trent Alexander-Arnold's position move behind his fine form? 👀📊 pic.twitter.com/W2f5Mo8xSS

— Sky Sports Premier League (@SkySportsPL) May 15, 2023
In order to become the team, we once were, we must ensure the squad is restocked with the ingredients that are essential. To pin a good amount of hope of Trent is fine, yet to force the whole plan onto his shoulders could cause even more problems down the road.