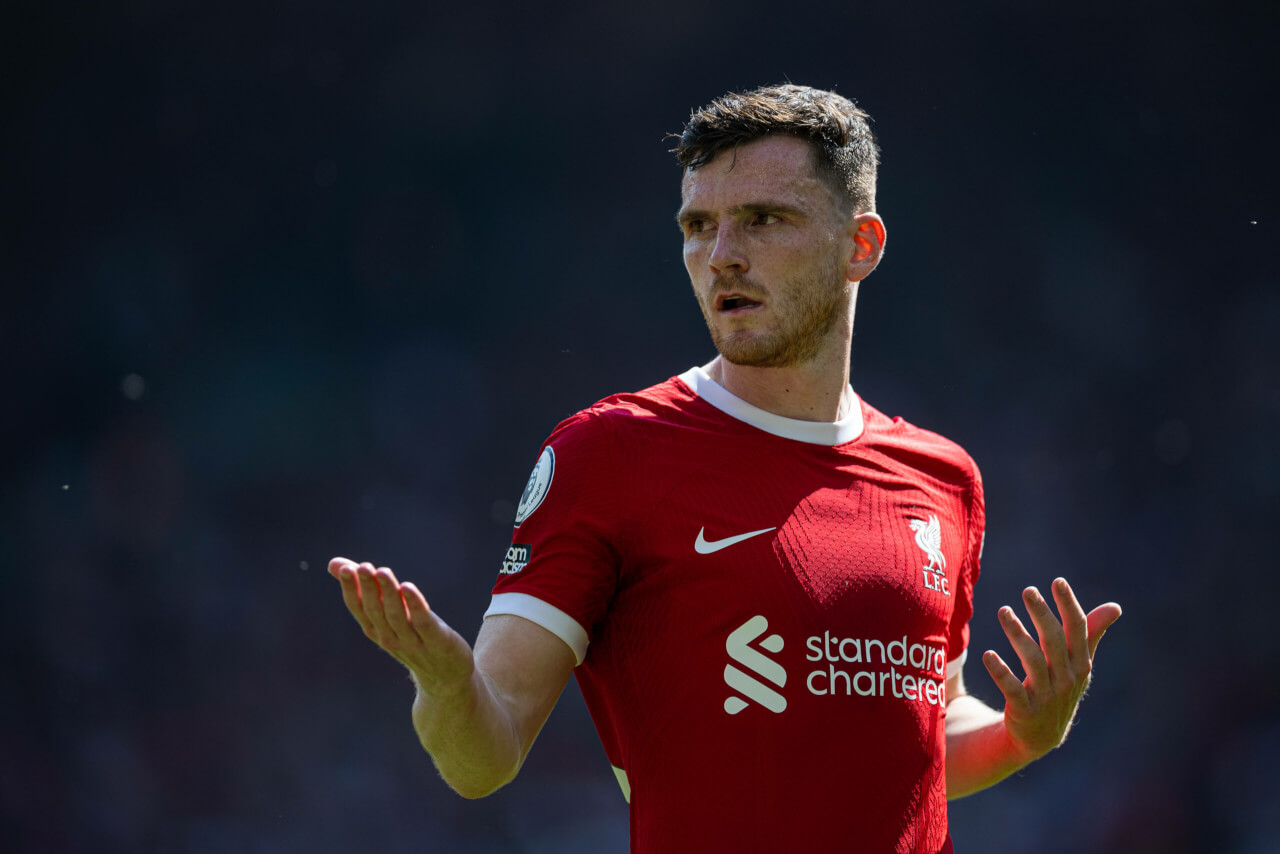 Robertson to Madrid? £40m Bid Fuels Transfer Speculation

Real Madrid's Striking Bid for Liverpool's Robertson – A £40m Twist in the Transfer Tale
According to reports in the Daily Mail – a plot is hatching in the Spanish capital as Real Madrid set their eyes on a staggering £40m move for Liverpool's stalwart left back, Andy Robertson. But why is this news sending shockwaves through the football world? Let's dive in.
The Spanish Giants' Search for a New Left Back
With the impending departure of their current left back, French international Ferland Mendy, Real Madrid are casting a wide net. Despite a short-term solution with Eduardo Camavinga, the natural midfielder is eager to reclaim his original position.
Andy Robertson, the decorated Scotland captain and cornerstone of Liverpool's defensive line, has found his name scribbled on the shortlist of Los Blancos' potential summer reinforcements.
Why Andy Robertson?
Since his transfer from Hull City in 2017, Robertson has become a linchpin in Jurgen Klopp's Liverpool squad, boasting an impressive medal haul which includes the Champions League, European Super Cup, FIFA Club World Cup, English Premier League and FA Cup. A well-established player of world-class calibre, the 29-year-old Glaswegian is contracted with Liverpool until 2026, showing no signs of desiring an exit.
The situation could change though, as Madrid can tempt Robertson with a guaranteed spot in next season's Champions League – a privilege Liverpool might potentially miss out on to Manchester United.
Other Players in Real Madrid's Radar
Robertson isn't the only one catching Real Madrid's eye. Rumours also tie the club to Borussia Dortmund's Jude Bellingham and PSG's Kylian Mbappe. With a sizable war chest, the Spanish behemoth is keen on refreshing its squad with fresh, elite talent.
Real Madrid's Commitment to Vinicius Jr
In the midst of the transfer saga, manager Carlo Ancelotti is confident of retaining Brazilian star Vinicius Jr. This follows the player's recent revelation of considering a move away from Madrid due to ongoing racist abuse.
The unsavoury incident during the LaLiga match against Valencia attracted international rebuke, prompting Spanish authorities to sanction the hosts. Despite calls for UEFA to make a statement in support of Vinicius, the governing body has yet to respond.
When asked about the potential departure of the 22-year-old, Ancelotti commented, "I don't think so. He loves Real Madrid."
In the fascinating world of football transfers, only time will reveal how this story unravels. Will Andy Robertson swap his red jersey for Real Madrid's white? We will have to wait and watch.