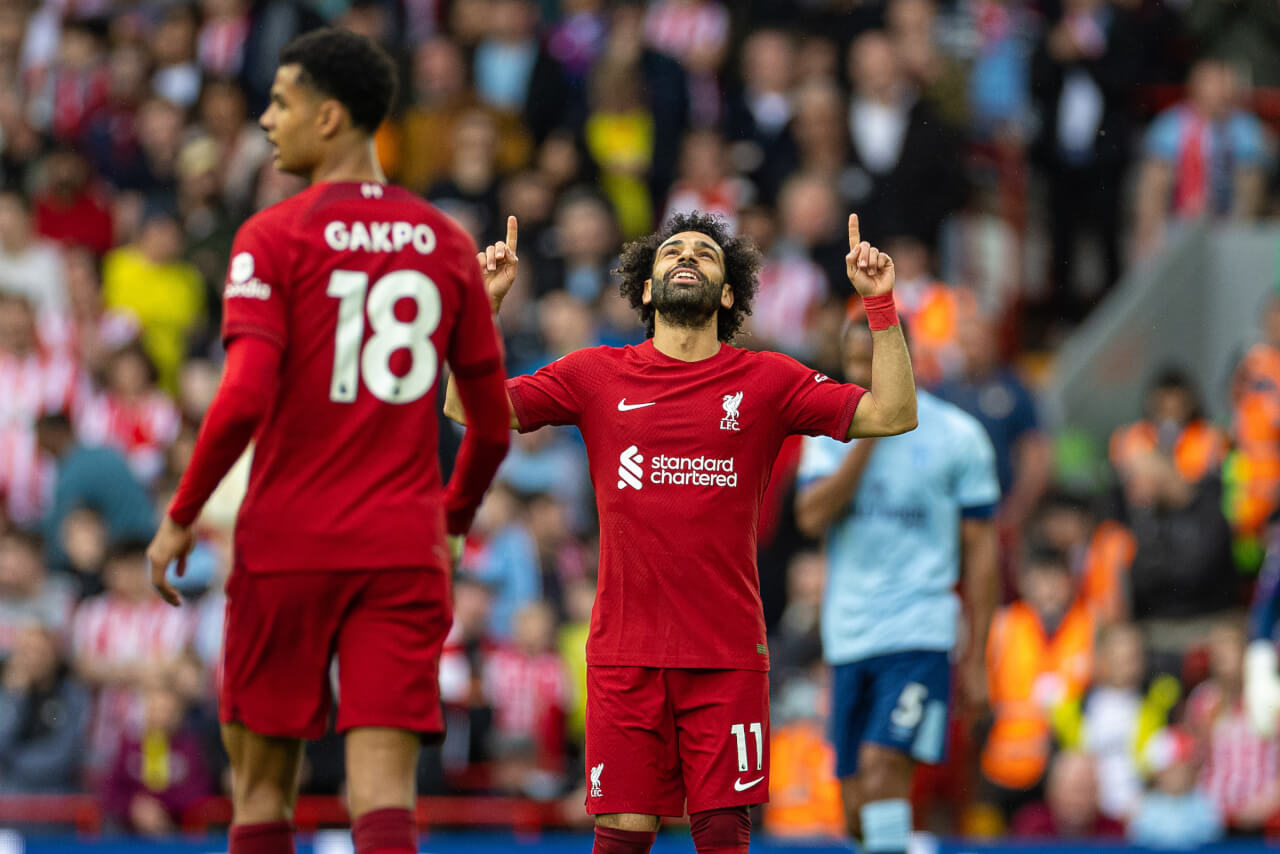 So this is apparently a 'poor' Mo Salah season

The 2022/23 season isn't one that will live long in the memory for Liverpool fans, with many no doubt wanting it erased from their minds in a similar way to the 2020/21 campaign.

It's been just as grim at times, only with crowds present.
Far too many players have fallen below the incredible standards they have set in the past, and in Alisson, Liverpool have one of the most clear standout winners of the club's Player of the Year award in years.
Almost going under the radar is just how relentless Mo Salah has yet again been, however, proving to be the Reds' most effective attacker player by far, and quite possibly the best outfield player overall.
As we head into the final game of the season this weekend, the Egyptian King finds himself with a tally of 30 goals and 14 assists, in all competitions, which has come in a team that has struggled for much of the campaign.
It is a season that has seen Salah overtake Michael Owen, Sir Kenny Dalglish, Robbie Fowler and Steven Gerrard in Liverpool's all-time scoring charts, and without him, you wonder just where Jurgen Klopp's men would be sitting in the Premier League.
The problem is, we take this all for granted with Salah now, and this has apparently been a 'poor' season for him.
Much of the noise from outside Anfield is that he has been too ineffective at times and not come close to matching his past levels, with some almost having the audacity to treat him like a problem player.
With many pundits and supporters picking their Team of the Season, Salah has been omitted from many, not least Gary Neville's, much to the horror of Jamie Carragher earlier this week.
Bukayo Saka has been chosen ahead of the 30-year-old most often, and while the Arsenal man has been superb at times, the numbers still highlight how Salah is treated differently, and seemingly has to do so much more to grab people's attention.
The Arsenal youngster has 13 goals and 11 assists in the league – a commendable return for a player with a huge future, but still fewer goals than Salah and the same number of assists, despite being in a thriving, much-lauded Gunners team.
Equally, Gabriel Martinelli has received endless praise on the opposite flank, but his tally of 15 goals and five assists pales into insignificance to Salah.
Jack Grealish, of whom so many positive headlines have been written about of late, has just 12 goal contributions in the league (five goals and seven assists) in a Man City side who have dominated so many matches, created so many chances and found the net so many times.
Statistics aren't everything in football, of course, and there have been times when Saka's form has simply been better than Salah's, for example, but it remains criminal how underrated the latter is.
I'd make an argument that no player in the history of the Premier League has been more under appreciated than Liverpool's legendary No.11, considering he has now scored a minimum of 23 goals or more in the six seasons he has spent on Merseyside.
Has this been Salah's best season in a Liverpool shirt? No. Has he perfect? Of course not.
There have been times when his performances have lacked world-class quality, and some of his penalties have left a lot to be desired, but he has continued to provide end product at a remarkable rate, even in a side that has been horrifically out of form at times.
The bottom line is that Salah has outperformed the vast majority of attacking players in Europe and his freakish consistency down the years is now working against him, because anything less than sensational is treated like a disaster.
At 30, there is still plenty to come from the Egyptian, whose incredible dedication means he should remain at his peak for the next two or three years, and he will continue to break records and be Liverpool's most important outfield player.
This is now arguably one of the three greatest footballers in the Reds' history we are watching, depending on your stance – I'd personally only have him below Dalglish and Gerrard at this point – and there is no sign of his brilliance dwindling any time soon.
It's just a shame that the wider footballing public can't all realise just how special he is, with talk of this being a 'bad' season for him bordering on embarrassing.