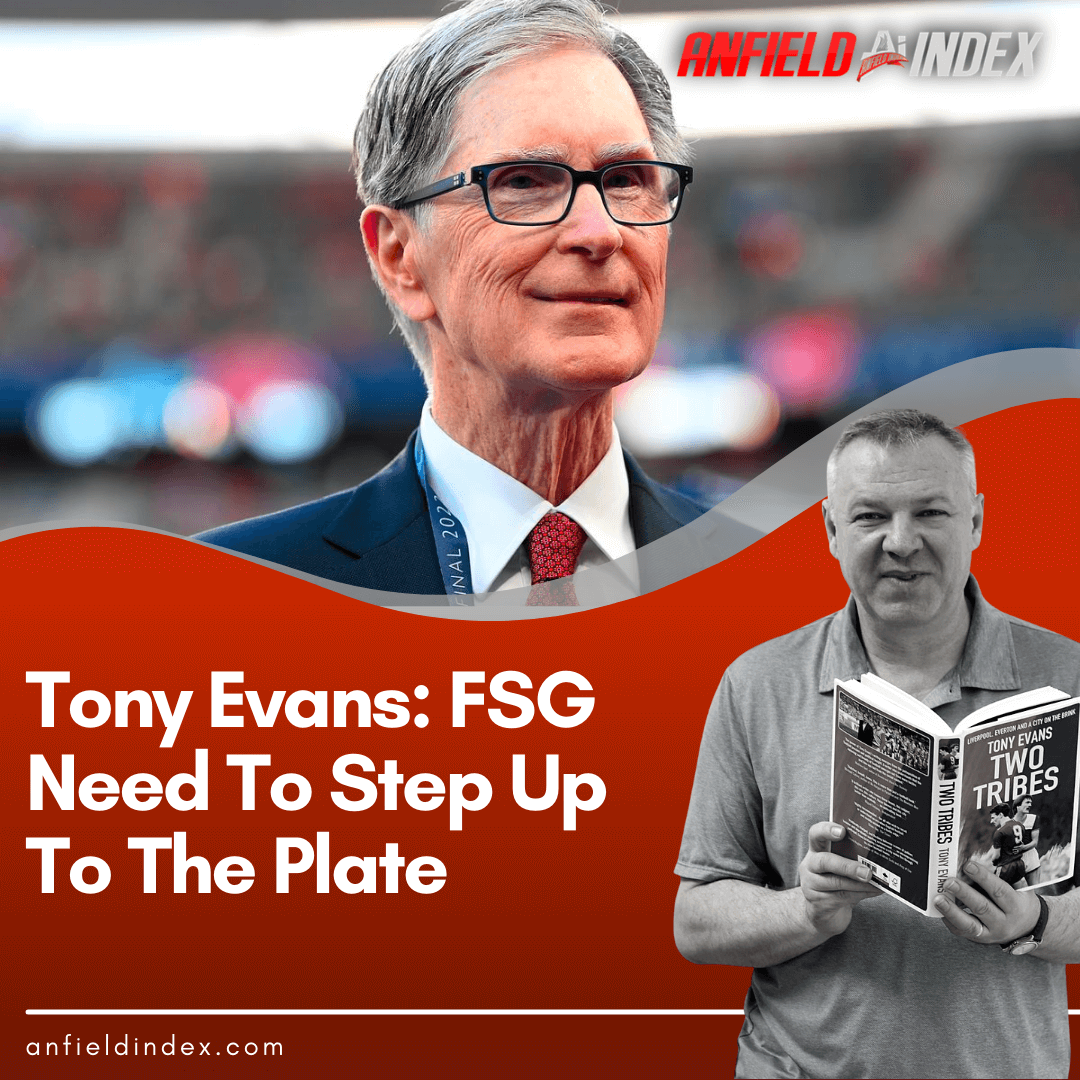 FSG Need To Step Up To The Plate

The time is arriving for Fenway Sports Group to make a statement. No, not one of those long, boring open letters to fans — and I'm not available to write one any more — but a message of intent sent out through action. Here comes the fabled big summer in the transfer market.
One thing that was repeated over and over in last year's window was that Liverpool would rather keep their powder dry and wait to spend on players that they really wanted. The idea was that Jurgen Klopp could get through the season with what he already had because the serious targets were not available. Better to wait than get second best.
The flaw in the thinking was that Jude Bellingham was never going to become available — at least not to Liverpool. And what Klopp had was not enough. The last-minute panic to bring in Arthur Melo appears to be a belated recognition of this.
You would expect the money that went unspent on midfielders a year ago to be still sitting there. This is on top of cash allocated for this summer. That should be a fair old war chest, as the tabloids might say.
You could see the rationale for treading carefully 12 months ago. The squad performed brilliantly in chasing four trophies and few could have foreseen the dropoff that would follow come the autumn. Logic suggests that sitting tight was a gamble worth taking.
Now, though, serious work needs to be done. The transfer budget needs to be much larger than before.
FSG do daft things but they're not stupid. They know the club has to be in the Champions League. One of the reasons they want to sell is they've seen the Premier League change. Although Manchester City have made the quest for the title less competitive, the race for the top four is much more fierce. It's not just Newcastle looming. Brighton and Aston Villa have emerged as threats. The cosy days of the Big Four — or even Big Six — feel like a long time ago.
If John W Henry wants to get anywhere near the price he requires for Liverpool, the team has to be in the Champions League. FSG need to find the money from somewhere to create a team capable of getting back into the top four.
So let's not get hysterical early in the window. The time to judge will be in September. But the one thing the owners will need to do is show that they are doing everything in their power to get the side back on the right track. In a phrase they'll understand, they need to step up to the plate.
*
There's still no sign of a buyer or new minority shareholder. That doesn't mean there's no interest in the club.
Lots of people fancy a tilt at Liverpool but it's the wrong economic environment at the moment. Also, potential investors are concerned about City's dominance and Newcastle's inevitable Saudi-backed rise. They want to know how Liverpool can compete. The bottom line says it's going to be a real struggle.
Football clubs are trophy assets. They are comparatively small businesses and are never going to make a fortune. But these trophy assets need to win trophies to reflect well on their owners. The two things potential buyers ask are can we be competitive and are there untapped revenues?
The answer to both questions is yes but it will take vision. There's even less of that around than money.
 *
The suggestion is that Mason Mount's preferred destination this summer is Manchester United. Hope that works out for you, Mason.
Actually, I don't. But it did bring to mind one of the great transfer gazumpings in Anfield's history — and Liverpool were on the wrong end of it.
Lou Macari was a sensation at Celtic in the early 1970s. Bill Shankly wanted him badly. The midfielder came down to meet the Liverpool manager and agreed to sign for the club.
Instead of going back to his hotel, Macari shot up the East Lancs Road and signed for United. Shankly was fuming.
Unfortunately for Macari, this was 1973. He managed to help United avoid relegation that season while Liverpool won the title and Uefa Cup. The next campaign was more difficult. At least for Macari. United got relegated. Shankly brought the FA Cup back to Merseyside.
He left Old Trafford in 1984 with two medals to his name: the first for winning the second division and the other for the FA Cup final victory in 1977, the game that denied Liverpool the treble. It was Macari's shot that deflected off Jimmy Greenhoff's chest to give United a spawny win.
During his time in Manchester, Liverpool racked up 26 trophies, including four European Cups.
It turned out that it was a case of good-fella-bad-choices with Macari. The 73-year-old set up a shelter for the homeless and has fought relentlessly to eradicate rough sleeping. He's a class act.
Did he make the right decision? Definitely. Liverpool reserves was the wrong destination for Macari. At United, a misplaced shot at Wembley was enough to make him an Old Trafford legend.
As for Mount, didn't fancy him anyway. Too expensive and his wage demands are high. Having seen a lot of him, I'm not sure where he'd fit in and what's his best position. There are players out there more suitable for a Klopp team.
But I wish him well. Let's hope he can attain the sort of status at United that Macari has. Ideally with the same level of success.
*
The anniversary of Istanbul was Thursday. Two conflicting questions always occur when thinking about that night. How can 18 years have slipped by so quickly? And why does it feel like the ancient past?
It's because so much has changed in such a short time. Many aspects of the game are unrecognisable from 2005.
When we set off for Turkey, we were still experiencing the early impact of Roman Abramovich's invasion of the Premier League and could barely comprehend what the Glazers were doing at Old Trafford.
It was impossible to imagine Gillett and Hicks, Abu Dhabi and the rapid pace of change that was coming. Istanbul felt like the last, joyous celebration of football's first phase. The new age had already begun but it was not clear how different the future would be.
It would be wrong to dwell on the past. The sport was cynical and money obsessed before 2005. The raucous excitement of Madrid — and even Kyiv — underlined what's wonderful about being a fan.
There are times when I've felt distant from the club, particularly when FSG sacked Kenny Dalglish. There are times when I feel no kinship with the online "LFC family." The Suarez-Evra incident alienated me from both club and most supporters.
But whenever the cliff edge of not caring what happens to Liverpool comes close, I remember one thing. We'll always have Istanbul. Always.
*
Far Foreign Land, the book Tony Evans wrote about his journey to Istanbul to explain why the game and experience was so important, is available from here £10 UK, £15 Europe, £18 Rest Of World. All including postage