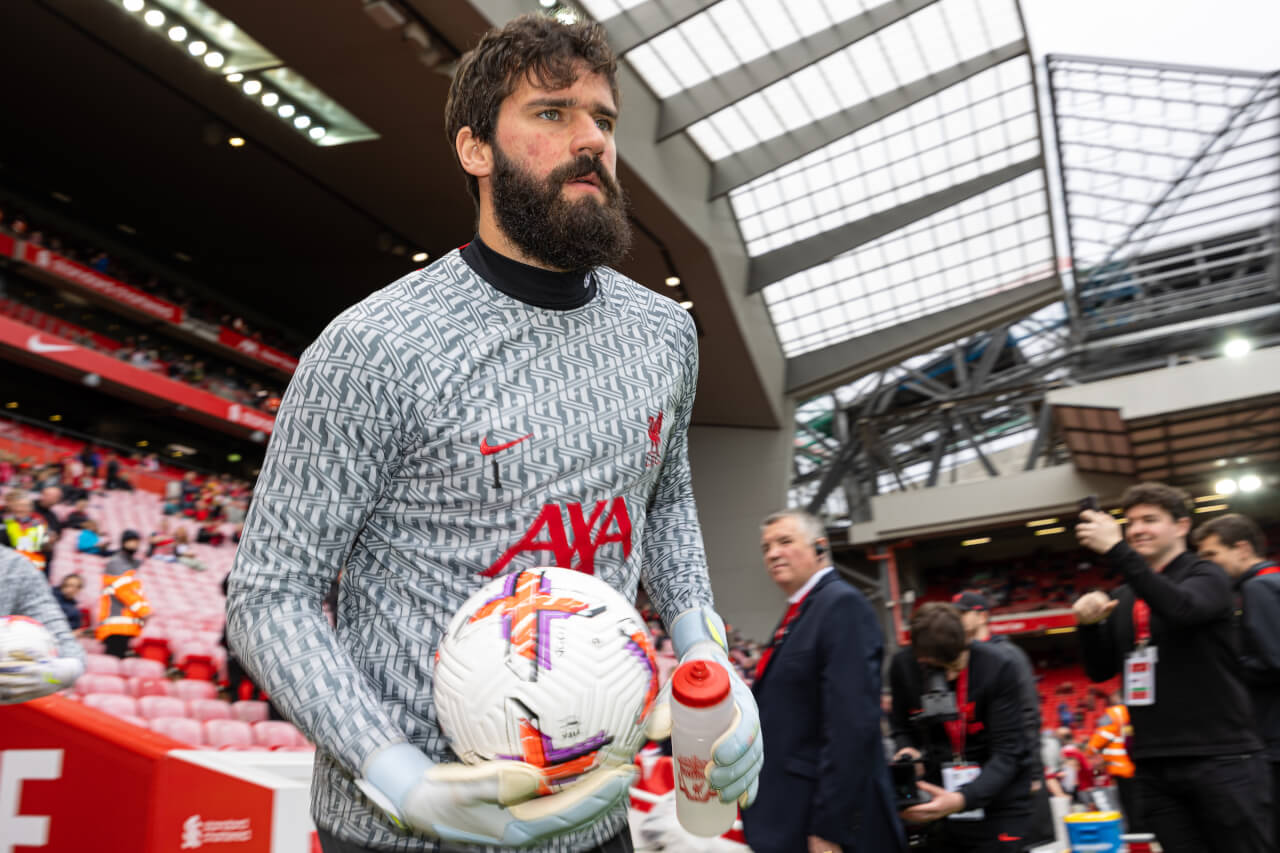 "Alisson a playmaker in gloves", says LFC Legend Jan Molby
Liverpool's Last Line: Jan Molby Delves into Alisson Becker's Impact
Unconventional Guardian – Alisson Becker
In football, it's not often that a goalkeeper garners as much attention and respect as a star forward. However, at Liverpool, Alisson Becker has managed to do just that. Jan Molby, Liverpool legend and staple guest on his weekly  'Molby On The Spot' podcast, offers some fascinating insights into Becker's game.
According to Molby, "Alisson Becker is a complete game-changer for Liverpool. He's not just a keeper; he's a playmaker in gloves."
This comment underscores Becker's unique style of goalkeeping, where he isn't just involved in shot-stopping, but actively participates in setting up plays.
Molby spoke highly of Becker's conventional goalkeeping abilities, saying, "When it comes to diving, parrying and making that crucial save, there's no one better than Alisson Becker. His reflexes and shot-stopping abilities are second to none." The former Liverpool midfielder demonstrates an appreciation for Becker's quick reactions and agility, two crucial skills for any world-class goalkeeper.

More Than Just a Goalkeeper
But Molby's comments didn't stop at praising Becker's goalkeeping skills. He further highlighted the Brazilian's contribution in orchestrating plays from the back, saying, "He's got the vision of a midfielder. He knows when to release the ball and can pick a pass that some outfield players would be envious of." Molby's words emphasise the importance of a modern goalkeeper's distribution abilities, as they have become an integral part of many team's attacking plays.
"Without Alisson Becker in goal, Liverpool would undoubtedly look a different team," Molby confessed.
His words mirror the sentiments of many Liverpool fans, recognising Becker's crucial role in the club's recent successes. He added, "Becker is one of the reasons why Liverpool's defensive line can afford to play high up. His command over the area and his composure on the ball is immense."
Alisson Becker – The Complete Package
In summary, Molby's praises for Becker affirm what Liverpool fans have known for a while: Becker is much more than a goalkeeper. He is a playmaker, a team leader, and most importantly, a crucial cog in Liverpool's machine.
As Molby puts it, "Alisson Becker represents a new breed of goalkeepers. And for Liverpool, he's the best there is."
In the context of the footballing world where outfield players often take centre stage, Molby's recognition of Becker's skills, both conventional and unconventional, serves as a reminder of the important role goalkeepers play in the modern game. Through his words, one can better appreciate Alisson Becker's profound impact on Liverpool, offering a fresh perspective on the position of a goalkeeper.
From Molby's perspective, Becker's skill set, influence and value to Liverpool make him an indispensable asset in their ranks, further highlighting the importance of a capable goalkeeper in a team's quest for success. And as Molby says, "With Becker in goal, Liverpool are always in with a chance."