 Scouting Report: Orkun Kokcu
Another sunny day, another midfielder linked with a transfer to Liverpool and a lot of fans liking the sound of it. Groundhog Day was based on the Christmas period, but this is a gift that a fair few Reds will be hoping comes our way. A player whose now vocalised a desire (as respectfully as possible) to move on and develop, a career best season and after Mason Mount developments this could be the perfect equation. This scouting report focuses on a player it's well worth keeping an eye on and the summer develops.
What's Been Said?
There's been talk around Orkun Kokcu for a while now and the player has only seemed to accelerate it. Via Fabrizio Romano, the Feyenoord captain has been pretty clear in how he sees it. " I've good relationship with the manager — but in case a bid arrived from the right club, I want to make the next step in my career." This is on the back of fan site 1908.nl stating that Liverpool have joined a host of other Premier League clubs who have an interest in the 22 year-old newly-crowned Eredivisie winner. An Instagram post from the player liked by Cody Gakpo which was captioned 'the end' will only fan the flames further.

What Does He Bring?
For such a young age, a real wealth of experience that includes 20 international caps for Turkey. Kokcu has been the captain and leader of Feyenoord's successful league campaign, playing all three central midfield roles this season and coming up good in big moments. An exceptional passer of the ball and a specialist from long-range, it's understandable why so many teams are interested in him. Liverpool's midfield could use an injection of creativity and Jurgen Klopp could well be looking in his direction after Mason Mount expressed a preference to move elsewhere.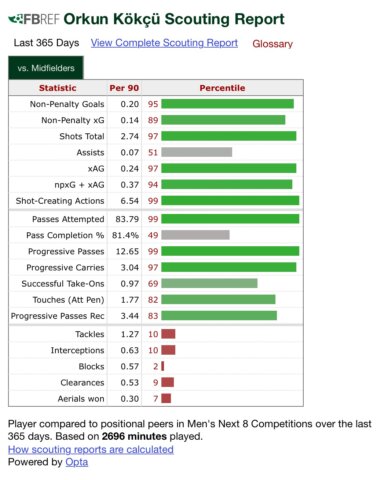 Stats and Info
The Haarlem native will only have two years left on his contract this summer and all suggestions are he won't renew. Capology.com puts his wages at a paltry €320,000 per year in football terms which Liverpool and other premier league clubs could hugely improve upon. Kokcu notched an impressive 12 goals and 5 assists in all competitions and his stats are impressive, within the context of an average at best league. Whilst all his passing and attacking stats really stand out, there will be questions about the step up in once and physicality to the premier league.
Price-Tag and Realistic
With a couple of years left and a player seeking a move, this one looks realistic in the sense of a premier league club, but Liverpool maybe a different matter. A price tag of around £35m has been mooted and Jurgen Klopp and his team will no doubt have had a good look at the former Groningen man. This one can't be dismissed as Liverpool want midfield additions and Kokcu may well be on the fabled list, but seems unlikely to be near the top. Definitely one to keep an eye on though throughout the summer.