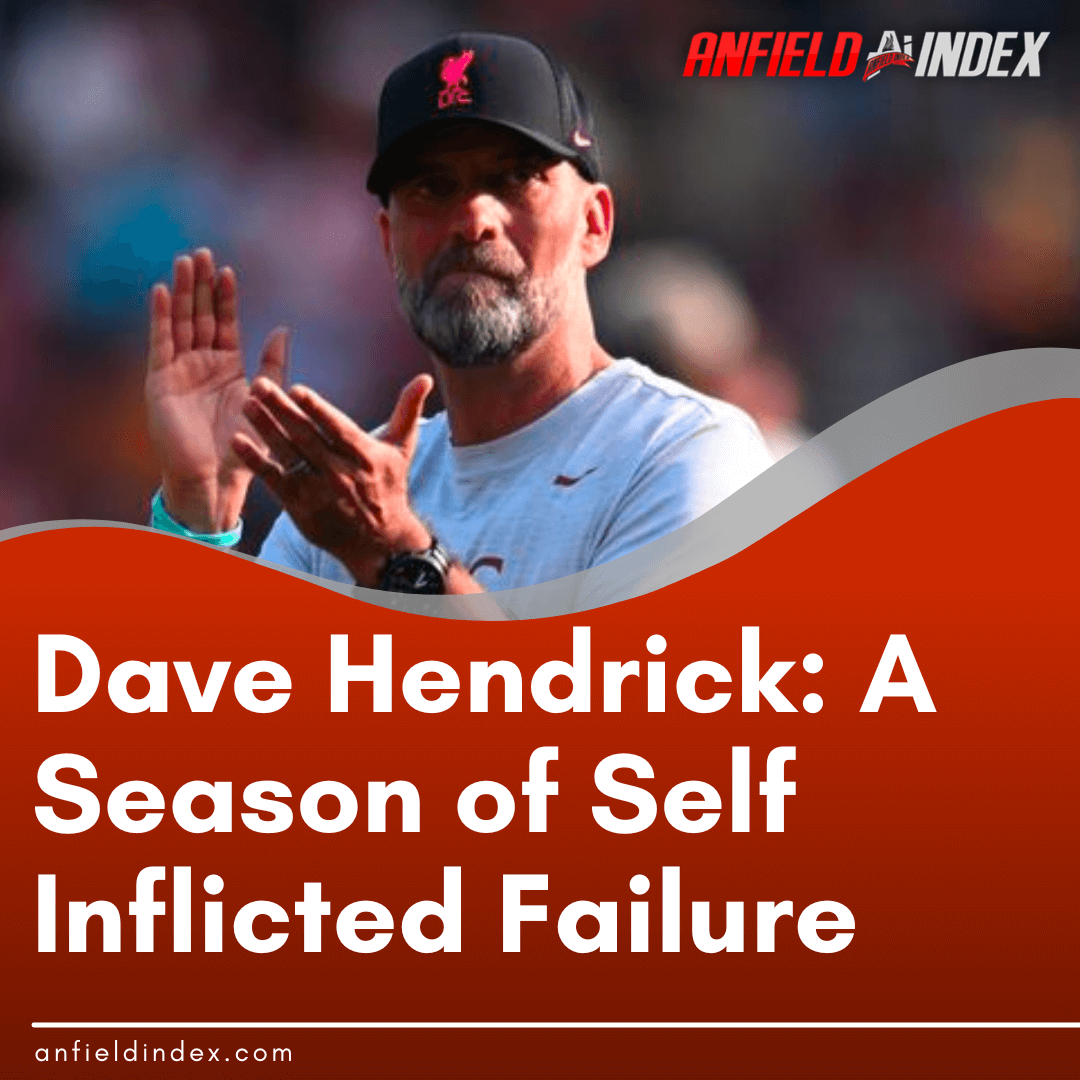 A Season of Self Inflicted Failure
The 2022/23 Premier League season is over and Liverpool have failed to achieve even the bare minimum of finishing in the top four. The Reds finish the season in fifth place, with early eliminations from all cup competitions compounding the misery of 10 months of underperformance, poor management and lack of identity.
When last season ended in defeat by Real Madrid in the Champions League final there was a feeling of optimism. Liverpool had won two cups, they had taken the title race to the final day although they were never in control of said race, and they'd reached a third Champions League final in five years. It had been a monumental effort, and the general feeling was that if Liverpool did what was needed in the summer transfer window then they could chase glory again.
Unfortunately, though somewhat expectedly, Liverpool did not do what was required. Liverpool's midfield was in need of reinvention but after an attempt to sign Aurelien Tchouameni failed, it was then ignored. Jurgen Klopp was repeatedly asked about whether he would address the midfield issue and repeatedly gave condescending answers, gaslighting fans as if the need for a midfielder was something that they had invented and not something that he himself had highlighted with his pursuit of Tchouameni. Whether it was listing off a group of players, asking journalists "tell me what type of midfielder we need" or replying to the question with "tell me why?"

The midfielders Klopp listed might have appeared impressive on paper, but the reality is that it was well below the standard required for a team wanting to chase glory on all fronts. Injuries, age and the sheer mileage of many long campaigns had left the group lacking. Liverpool needed two midfielders more than anything else.
Instead the big money signing for the summer was Darwin Nunez, and he was joining in the arrivals lounge by two kids. Fabio Carvalho from Fulham and Calvin Ramsey from Aberdeen. It would be fair to say that, for a variety of reasons, none of those signings can be called successful as yet.
While fans worried aloud about the lack of midfield additions, journalists told them they were being ridiculous. "No glaring gaps to fill" and Liverpool would be "bang in the mix" for the top honours during the season. That was the message.
From the opening day it was clear that something wasn't right. Liverpool laboured in West London as Fulham exploited the lack of footspeed in midfield, an issue made worse when Thiago went off and there were no midfielders capable of playing a pass. A fortunate 2-2 draw was followed by a very underwhelming run of performances as Liverpool won only four of their first 12 league games, while losing the same amount. Things picked up with a four game winning streak before falling apart again.
It's worth remembering that after spending his summer talking down to people asking about a midfielder, or two, Klopp then admitted his error as the transfer window came to a close. Too late to get anyone of use. Arthur arrived to complete the transfer window. The less said about that poor lads season, the better.
Liverpool never entered the top four at any point this season. They sank as low as 10th at one point. They wallowed in mediocrity from August until April. 2-0 down at home to Arsenal, Klopp changed the system and things turned around. With Trent Alexander-Arnold in midfield, and a 3-2-2-3 replacing the favoured 4-3-3 things began to improve. Liverpool would fight back to earn a point, then run off seven straight wins and finish the season on an 11 game winning run.
There's a couple of ways to look at that run. Klopp has pointed to it as evidence that Liverpool will be back competing next season, but that seems foolish. Take yourself back to the 14/15 as Brendan Rodgers flailed about hopelessly. Without Luis Suarez to carry the team, the Reds were a mess. They couldn't defend, and they couldn't score enough goals without the Uruguayan to make up for it. Rodgers gambled on a back three and Liverpool went 13 games unbeaten. Ten wins and three draws against an arguably better level of competition than Liverpool faced in the last 11 games. They dragged themselves from tenth to fifth before teams figured out the weak points and exploited them. Liverpool crashed back down to earth losing five of their last nine games and finished sixth.
Klopp is obviously a far better manager than Rodgers, but there were signs in multiple games during this recent run of teams pinpointing weaknesses in the new system. Liverpool conceded 10 goals in the 10 games leading into the final day when Klopp rested the entire backline. That's not going to get the job done. Aston Villa in particularly pinpointed the space behind Trent in the channel between Konate and Van Dijk and made hay. They also managed to minimise Trent's impact on the game by not allowing him 10 yards of space in all directions as other clubs had done.
Looking at these games as anything other than a run of good form that put a modicum of respectability on the league campaign seems naive.
The campaign was a failure. And Mo Salah confirmed that. His words in a recent instagram post made it clear that top four was the minimum expectation. While Klopp and sections of the fanbase might claim people are spoiled by Champions League football, it's very clear that the key players in the squad don't feel that way. Nor should they. This is Liverpool. A club built on trophies, where second is nothing, where second is "the bad times", not some upstart punching above their weight.
There is an unusual mindset among a subset of Liverpool fans that trophies are secondary. That type of mentality is not something that should ever be associated with the club. It also leads to more gaslighting about "greedy" fans. The best era to ever be a Liverpool fan is one description of the Klopp era that seems strange considering that between 1976 and 1984 Liverpool won six titles, four European Cups and four league cups. That all began off the back of a season in which they won a UEFA Cup and League title. But you can't mention that, because there will be an excuse as to why that wasn't as good. There's always an excuse you see.
The excuses for this season have been running since early in the campaign. After a summer spent eulogizing the squad and the manager, and talking about Liverpool being in a great position to win everything, the "season of transition" nonsense was trotted out once results went sideways. There was no mention of anything of the sort in the build-up to the season, but with Liverpool struggling you were expected to believe it had been planned as a season of transition. Just two problems with that. One, transitions have a goal. They're meant to lead to something. Liverpool weren't heading towards anything in particular, drifting. And two, the prior words of those spouting about transition. The words about being "bang in the mix" and having "no glaring gaps to fill".
The next excuse was injuries, and there was some merit in that. Liverpool did suffer injuries during the campaign. Just like every other team in the league. Liverpool had more than some, less than others, until people tried to manipulate the numbers to back their own argument. The issue for Liverpool wasn't injuries, it was a lack of planning. Liverpool's injuries weren't a surprise, they rank among the worst clubs in the league for injuries most season.
Alex Oxlade-Chamberlain got injured in pre-season. Alex Oxlade-Chamberlain gets injured pretty much every season. His injury history speaks for itself. Oxlade-Chamberlain getting injured is something that should be planned for. It's also worth noting that despite not suffering injuries, Oxlade-Chamberlain played a sum total of 216 minutes after January of the 2021/22 season, 154 of them coming in the FA Cup. He wasn't seen in a league match after February 19th. This season, despite being fit, he played 25 total minutes after the calendar turned to February and didn't make the matchday 20 most weeks.
Naby Keita got injured in pre-season. Naby Keita gets injured multiple times every season. His injury history also suggests you shouldn't plan to have him around all season. Keita had played a key role in the 21/22 season so his absence was a blow, but a predictable one. Injuries were the story of his Liverpool career.
Diogo Jota missed a substantial amount of time, but again he is a player who gets injured every season. The same goes for Ibrahima Konate. And Thiago Alcantara. These injuries hurt Liverpool, but all of them were entirely predictable. "Our injury prone players got injured" is not the excuse some people seem to believe it is. Calvin Ramsey also missed much of the season through injury, and the games he missed are added to tallies to make it seem like Liverpool's season was destroyed by injuries but how often was the 19 year old who'd never played outside of Scotland until this season going to play?
The only player who's absence was A) Surprising, and B) Meaningful was Luis Diaz. The Colombian was a massive loss, especially given he was one of the few bright spots in the squad before his injury.
Simply put, injuries didn't torpedo Liverpool's season, poor planning did. It's more surprising that they didn't suffer more injuries, given the presence of Joel Matip, Joe Gomez and Jordan Henderson in the squad. Rather than getting injured, those three just decided to stink the place out all season long.
A failure to properly manage the squad, to turn it over and prevent it from getting old coupled with a failure to plan accordingly for injuries led to a season of abject failure for Liverpool, and not for the first time under this manager. While the 20/21 season finished with Liverpool in third place, that season was a failure. Virgil Van Dijk's injury, and the nature of the Joe Gomez injury, could not have been predicted but Liverpool went into that season with only three central defenders. Van Dijk, Gomez and Matip. Both Gomez and Matip have track records of getting hurt. Liverpool didn't plan properly, they didn't do enough in the transfer market. They left themselves short. That has been an issue since the summer of 2019. The decision not to adequately strengthen the squad that summer has left Liverpool playing catch-up ever since. They are always a window or two behind where they need to be.
The squad was allowed to get old, too comfortable and too many players were allowed leave for free. Again, this is the result of poor planning. This is not how you operate a sell-to-buy policy. It's not how you do things on a budget. It seems like whatever long-term vision Michael Edwards may have had left the club when he finally got fed up of being ignored. Klopp clearly has his own vision for the next three years, and hopefully he does what's required to make it a reality. By his own words, what he had done in previous seasons kept him in a job this past season. It's unlikely that FSG will be accepting of another season of failure. Their bottom line will always be the balance sheet and not having Champions League football massively affects the balance sheet.