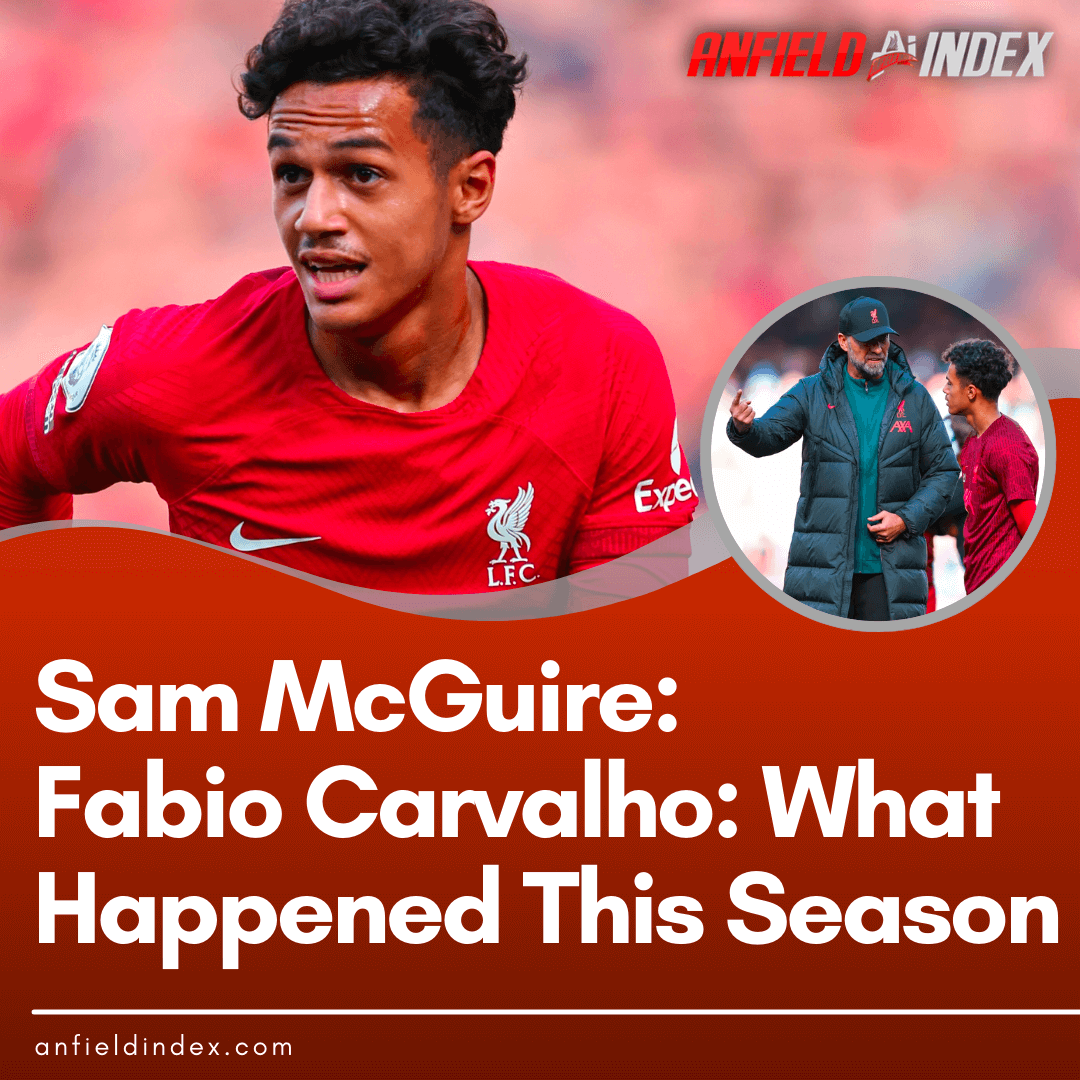 Fabio Carvalho: What Happened This Season
Sometimes, a transfer just doesn't work out.
It doesn't have to be the fault of anyone, the player can just be a victim of the circumstances. This might be the case with Fabio Carvalho. Liverpool clearly wanted him having attempted to sign the highly sought-after youngster in January 2022. They missed the deadline then but struck a favourable deal with Fulham despite the player entering the final few months of his contract.
The Reds parted with an initial £5million fee that could rise to £8million with add-ons. There was also a 20% sell-on clause added to ensure the Cottagers were compensated accordingly if he did develop and move on for a big fee.

Not long after he arrived, Jurgen Klopp spoke about how versatile Carvalho was.
"When we watched him it was a pure joy to watch him, absolutely. He can play so many different positions for us, the way we play. At the minute he's not really set on one position – it's the wing, it's the eight, it's the 10, it's the false nine if he grows a few more muscles. It's a short-term and a long-term project; he can start tomorrow and he needs to adapt, you can see that a little bit, but when he has the ball that's proper quality. I'm over the moon that he's here. Fantastic prospect."
He wasn't being pigeonholed. And early on in the season, Klopp did use him across multiple roles.
The 20-year-old had a few cameo appearances in centre-midfield and he popped up on the left a few times. He scored in the 9-0 win over Bournemouth and then followed that up with a 98th-minute winner against Newcastle United.
However, Liverpool weren't ever really settled in a shape or a system. Poor results combined with poor performances forced Klopp into making changes and he failed to land on one that worked for quite a while.
This no doubt limited Carvalho's participation. If more experienced players are learning on the job, it makes zero sense to throw in someone who hasn't yet mastered the basics of the team. The same thing happened to Kostas Tsimikas during the 2020/21 season. Klopp was reluctant to use him even though Andrew Robertson could've done with a break because there was so much upheaval in the team already due to injuries.
Using Carvalho in experimental line-ups would've hurt his development. Not playing obviously stunts that side of things too but not using someone is better than misusing someone. It isn't the ideal environment to develop when the manager is changing systems and shapes on an almost weekly basis. So he's been kept away from this while Liverpool figured themselves out.
Unfortunately for him it has taken the best part of an entire campaign for the Reds to resemble their former selves. They finished with an 11-match unbeaten run. But the changing of the system might've impacted Carvalho's long-term future.
For example, was the 3-2-2-3 shape the plan all along? It doesn't look likely because it wasn't implemented until April, but if it is now here to stay, the profiles of the players needed for this to function are different and it might not suit Carvalho right now.
That is why a loan might be best for the former Fulham youngster. Even a full sale could be on the cards if the fee is tempting enough. There may have been a plan in mind for him when he first arrived but sometimes things change and plans have to be changed. It isn't his fault. It isn't the club's fault either.