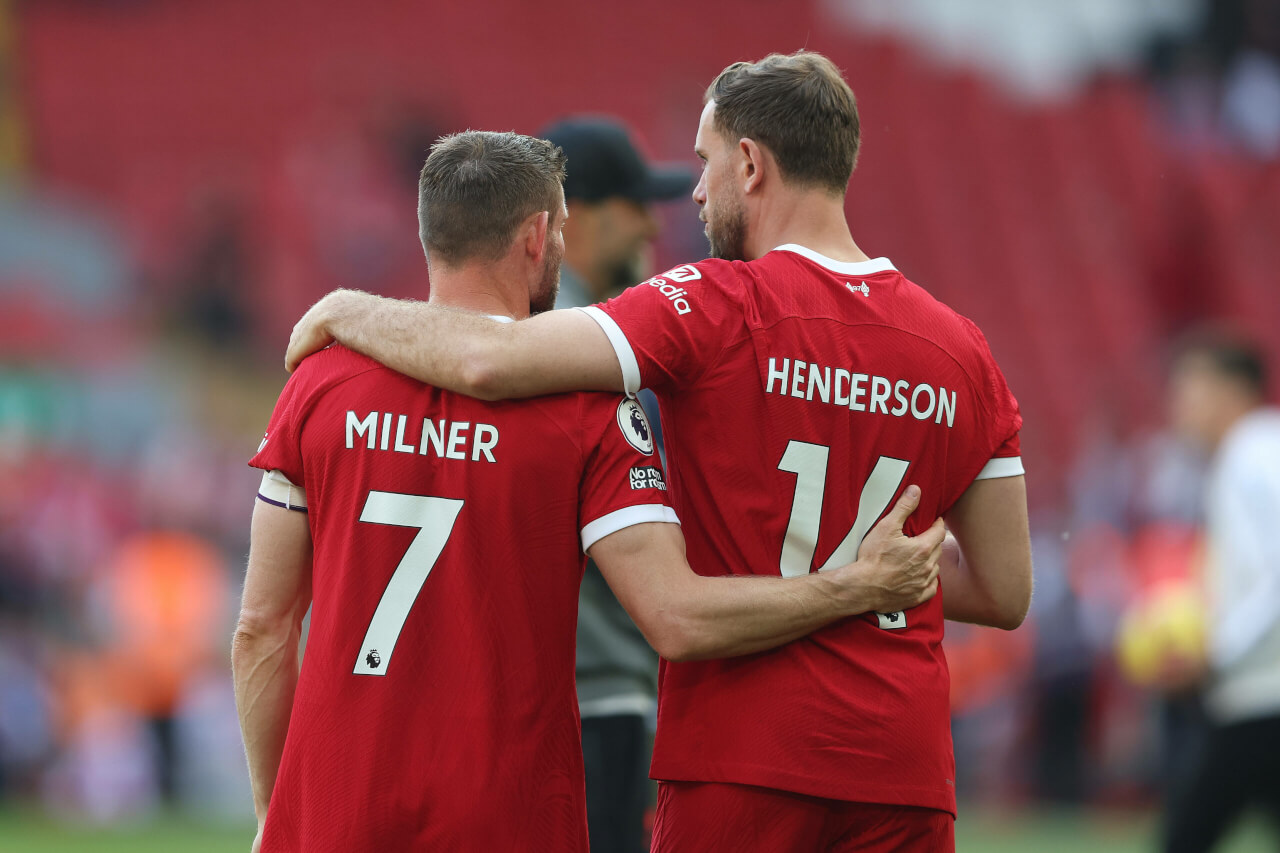 Is Jordan Henderson suited to the 'James Milner role' at Liverpool?
Nobody divides opinion quite like Jordan Henderson, with the Liverpool captain spending his entire career being adored by many and not rated by others.
Anyone questioning his overall impact at Anfield since arriving 12 years ago is frankly carrying a vendetta at this point, but equally, anyone who can't see that his influence has waned greatly is very much in denial.
Last season, Henderson was woeful at times, playing a big role in the Reds' struggles, as both he and Fabinho were carved open at will time and time again. Who was worse is up for debate, as is whether one made the other weaker, but they were unquestionably among their team's worst performers.

Not only were Henderson's legs clearly going, but on the ball, he was hugely ineffective, having often been underrated in that area of his game in the past.
The arrival of Alexis Mac Allister is a clear sign that Jurgen Klopp sees his skipper's squad role changing moving forward, and the addition of at least another midfielder will further cement that opinion.
A report in The Athletic on Monday claimed that Henderson is now "likely to begin to transition into the James Milner role, providing experience and quality but as a squad player."
It is no great surprise, given his age – he turns 33 this month – and the fact that Milner has now moved on, but is it as simple as one ageing Englishman replacing another?
The brilliance of Milner was his ability to adopt several different positions, carving out a wonderful career by being one of the best utility players in the business.
While arguably most at home in a No.8 role, the veteran has been effective in wide attacking areas, particularly in his younger years, and as both a right and left-back.
Let's not forget that he spent the 2016/17 season as Liverpool's genuine first-choice left-back, starting 36 of Liverpool's 38 Premier League games, despite the presence of Alberto Moreno in the squad.
Last term, he was still the most natural backup option to Trent Alexander-Arnold at right-back, when needed, with Calvin Ramsay struggling with injuries.
With Henderson, it is hard to see him being anywhere near as versatile as Milner, with No.6 and No.8 roles the only positions he can realistically still do a job in now, assuming he is in form.
He certainly isn't a wide player, and never has been apart from his early days, and he would surely only be used as a full-back in an absolute emergency.
When Henderson used to have more pace and energy, it would have been easier to envisage Klopp trying him out in different areas, but he now feels more one-dimensional than ever.
This isn't to say that the skipper isn't going to be a handy squad player moving forward – he has done well as a No.6 in the past and that could be his go-to position behind Fabinho in the pecking order – but likening him to Milner in this scenario is lazy.
Assuming another midfielder or two come in, Henderson looks set to be around fifth or sixth-choice next season, perhaps starting in the Europa League and using his experience late on in Premier League matches.
He isn't a busted flush, by any means, and it wouldn't be a shock if he played better next season after a much-needed rest, but Liverpool should no longer be in a situation where he is starting big games, injuries permitting.
Henderson's legacy should remain untouched, regardless of the last 12 months and whatever happens between now and his retirement, having achieved so much and been such an influential figure both on and off the pitch.
Klopp is tasked with keeping his captain happy, and at the same time shifting him out of the limelight, which is something Henderson will simply have to accept.
He won't like it, as is the case with any proud player in the autumn of their career, but Liverpool won't improve significantly until players like him are no longer seen as key men.
Just don't expect him to 'do a Milner', both due to inferior levels of versatility and his advancing years.