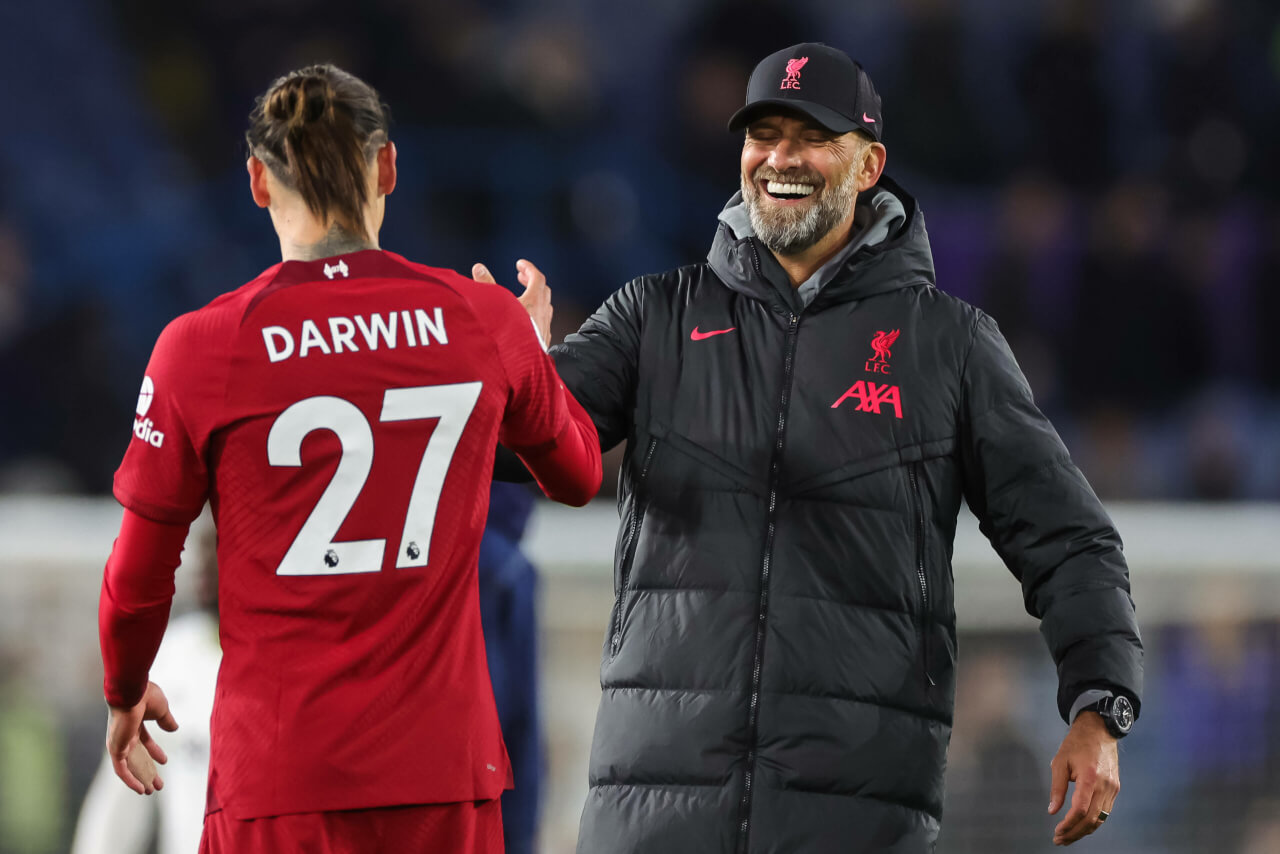 How Darwin Núñez Can Explode Within This New System
Nearly a year ago we welcomed a dynamic, raw, explosive, and exciting young striker to the club. A decision had been made within the halls of the AXA training complex, that a central striker was needed, in order to overcome the common low block which was so often deployed against the reds. With Liverpool searching for a means to catch the sports washing entirety of Manchester City, an adjustment to our forward line was built into our 2022/23 preseason, one which would see (we hoped) our team more prominent in the opposing penalty area.
What was ignored, however, was the glaring deficiencies within our midfield. A plethora of over the hill or untested players were deemed ready to take on that central area for a season, even though we missed out on the signing of the elite Aurélien Tchouaméni. Ignorance, overconfidence, overthinking, and far too much loyalty, saw all our plans altered throughout the disastrous season. Soon, we were hunting for a Bobby like replacement, which came in the form of Dutchman, Cody Gakpo. That great piece of business enabled a more system friendly asset to migrate into the forward line, which inevitably came (largely) at the expense of Darwin Núñez. With a completely new set up and some altered patterns of play, it was decided that a multi-functional attacker was needed in those centre forward zones, so that increased facilitation of others could be achieved. With this new 3-4-3 system likely to be retained in the coming 2023/24 season, I see this current blueprint as something that can absolutely benefit our popular Uruguayan striker, though only time will tell.
Here are the overall statistics on last season (excludes Community Shield), for our raging bull, number 27.

Darwin Núñez
Total appearances – 41
Total minutes played – 2'331
Total goals – 14
Total assists – 4
The above numbers are far from mind blowing, yet multiple situations must be considered. This was a 23-year-old South American that was signing for one of the world's most prestigious clubs, with unfair comparisons already be made to Manchester City's Erling Haaland. In replacing the recently departed Sadio Mané, he was then seen as the eventual heir and attacking upgrade to what Roberto Firmino once offered. With the assumption of total control of the football pitch continuing (from previous years), it took just 32 minutes of the opening game of last season for the league to see the glaring limitations in Jürgen Klopp's team, as Fulham swarmed and overpowered a beleaguered and physicality lacking Reds. From that point, the midfield would then be continually set upon by all adversaries, which created a lack of protection for the backline and very limited creativity and support for the attack.
What was once designed and implemented (during the preseason) to service our former Benfica striker was torn down almost immediately. Despite having bright moments of power and desire, it was a rocky period where indecision and a lack of form became widespread throughout the Anfield squad. With 26 games being deployed through as the centre forward and 15 appearances coming as a left sided attacker, 18 goal involvements is an impressive return for someone that is still learning the English language, in a different country and footballing league.
With the 3-4-3 system being ushered in towards the end of last season, there are still key components that are needed to engineer the new ideals of our German manager. Two new middlemen are still required to add to the Alexis Mac Allister signing, as well as a left sided centre back. Based upon that expected box midfield four, it would surely allow that central striker to be more effective and supported through fluid patterns of play. Our predictable nature appears to have been thrown out for a modernised system of play, one that can better service key attacking players. With Darwin, Cody, and Diogo Jota, all able to all play through the left and central zones, it does create many options which can help overwhelm certain teams. I see Gakpo as the player that will be trusted against the more elite outfits, whereas our 6ft 2inch Uruguayan would be the perfect tip of our spear against teams will more limitations. Diogo Jota will then add depth to the two guaranteed starters, Mohamed Salah, and Luis Díaz.
What the fanbase desire more than anything is that fully equipped and versatile squad which is needed to compete with Manchester City. We must be an entity that can offer varying styles and thus take away the predictability factor that became too obvious to exploit. Some will continue to question the level that our former UD Almería forward can reach, though those people must remember what our world class coach has always emitted from his back catalogue of strikers. A work in progress would probably best describe our turbo charged striker, yet the upside is truly limitless. I see a period at the start of next season where he does initiate as the weapon from the bench, as the new team fully develops into what can control games. Once we have gained that control and the fear factor returns to most of our opponents, then I believe we can start to fully utilise the bespoke attributes of our 16-cap international.
This past season must not define who Darwin will become; it must be the manager that creates a situation that can best serve his style. I believe that is ongoing and we will soon see a devastating striker that can perhaps mirror the exploits of the brilliant Ivan Toney. With time, more support from his teammates, and a consistent nature to Liverpool's play, I trust we will see the confidence in our young man grow and the elite level of performance prevail. The regeneration is ongoing and he is a huge part of that, but much like the current transfer window, it is vital we remain patient and trust the process.
https://twitter.com/TheKop_com/status/1668649436896186370?s=20